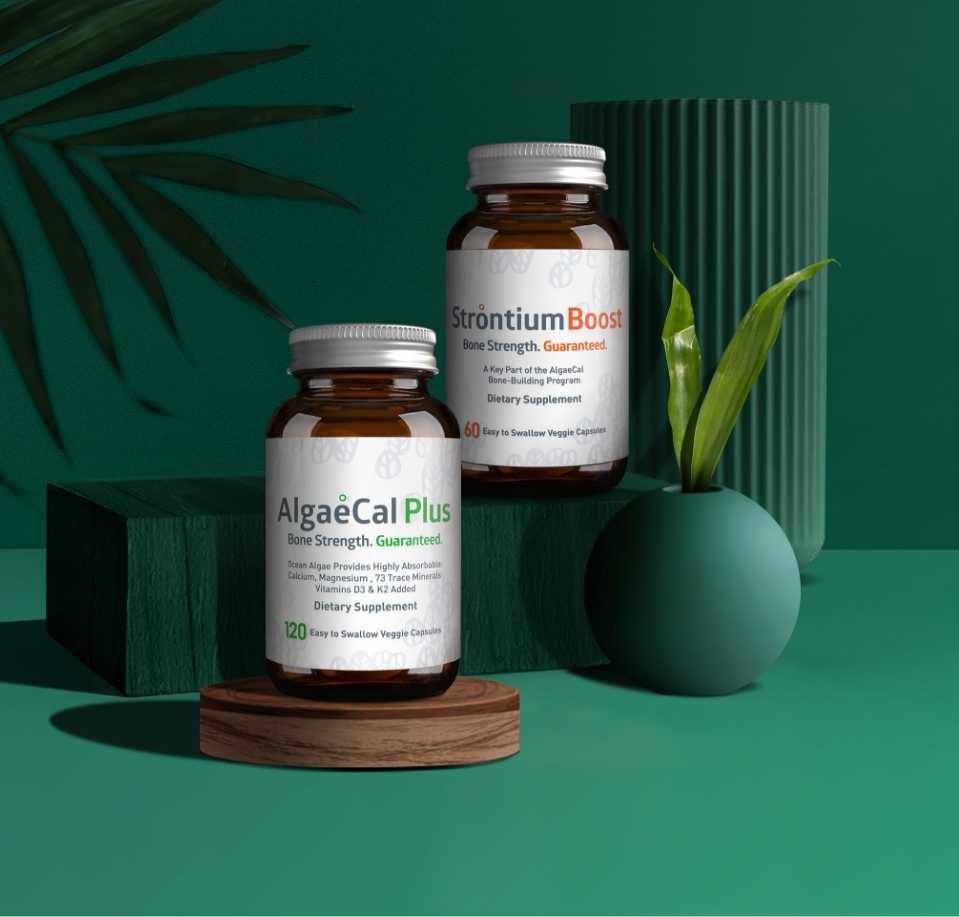 The Bone Builder Pack
AlgaeCal Plus & Strontium Boost
to increase your bone mineral density starting today.
Your daily density increase will be measurable on DEXA in just 6 months. And you will continue increasing it on every DEXA year after year, or be refunded for all products purchased between scans.
One-Time Purchase. Select a Bundle:
Availability: IN STOCK leaves warehouse in 1 business day.
Shipping Fee: Free Shipping Everywhere.
Shown To Increase Bone Density
In Human Clinical Studies
For the first time in medical history, a nutritional supplement increased adult bone mineral density!¹ Even for volunteers in their mid-80s.
⤓
Information to take to your Doctor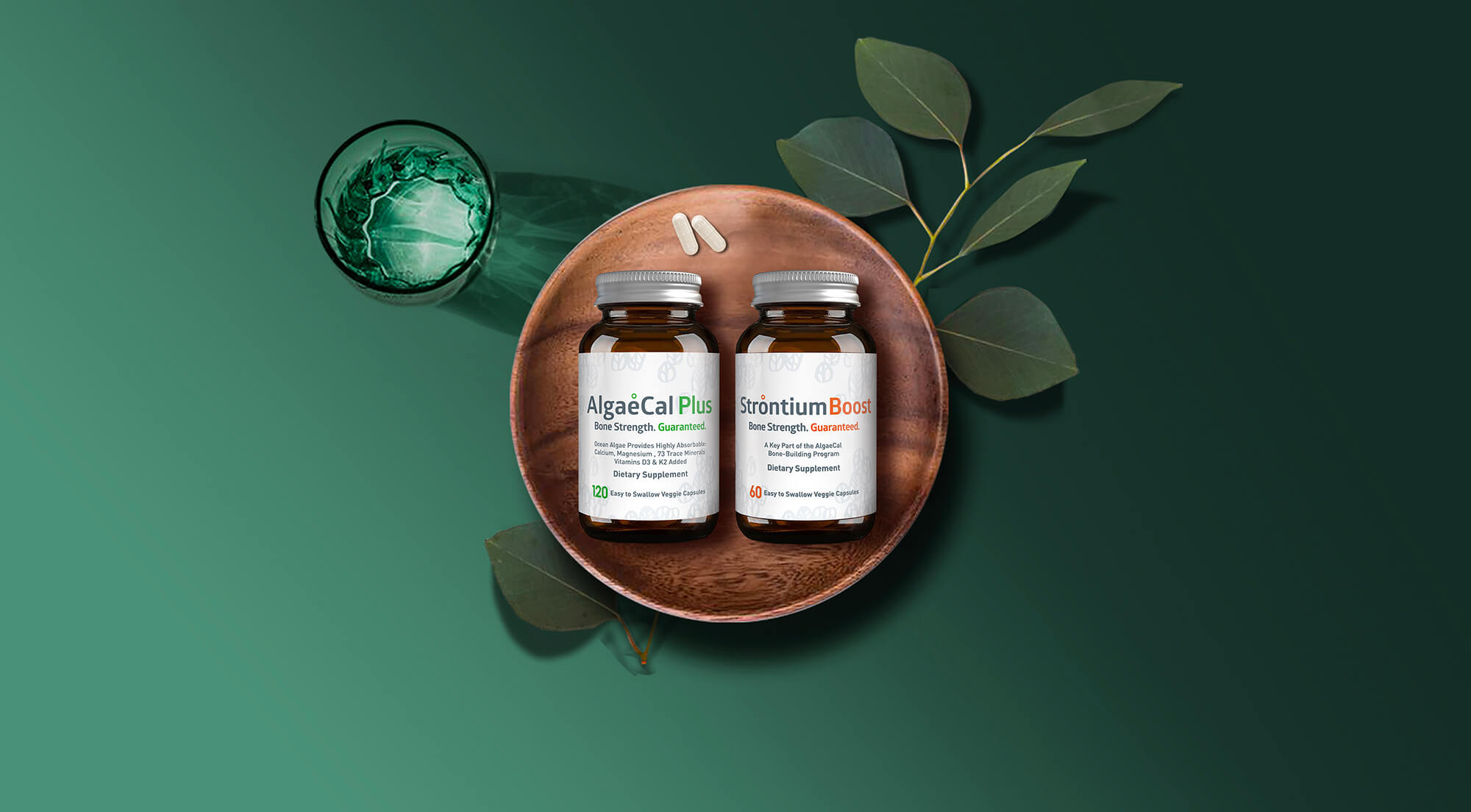 Why Calcium Is Not Enough
Bone Builder Pack
Every day you lose 13 essential minerals from your bones – not just calcium. No wonder you've been losing bone while taking calcium supplements! Over a lifetime it's common to lose half of your bone density, eventually causing fractures.
The Bone Builder Pack replenishes your bones with all 13 minerals plus their supporting vitamins making it the only complete bone builder on the market.
Think of the Bone Builder Pack as a "lifelong partner" which helps you reach your bone density goal. And then keeps you there. Learn more about these two products below.
Let's take a
closer look…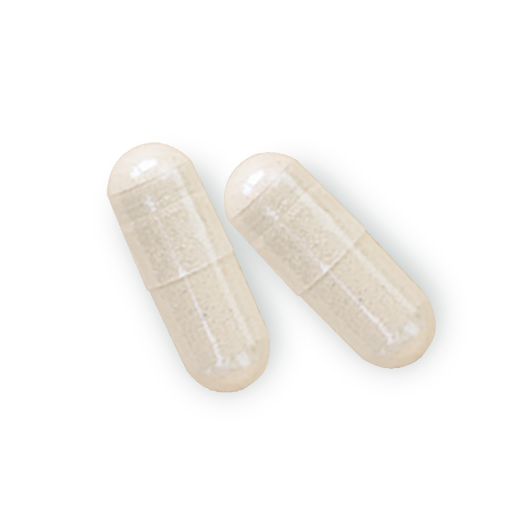 The "Plus"
In AlgaeCal Plus
AlgaeCal Plus
Description:
120 Easy-to-Swallow Veggie Capsules per bottle
Suggested Use:
4 caps daily (2 caps twice a day with meals)
Quantity:
30 Day supply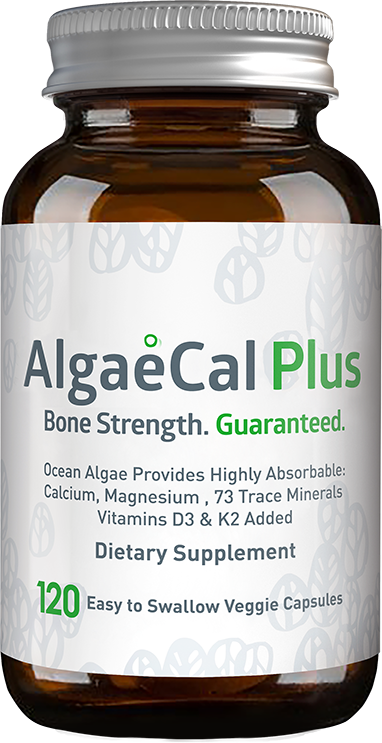 dairy Free
gluten Free
soy Free
Non-GMO
Supplement Facts
Serving Size:
Servings Per Container: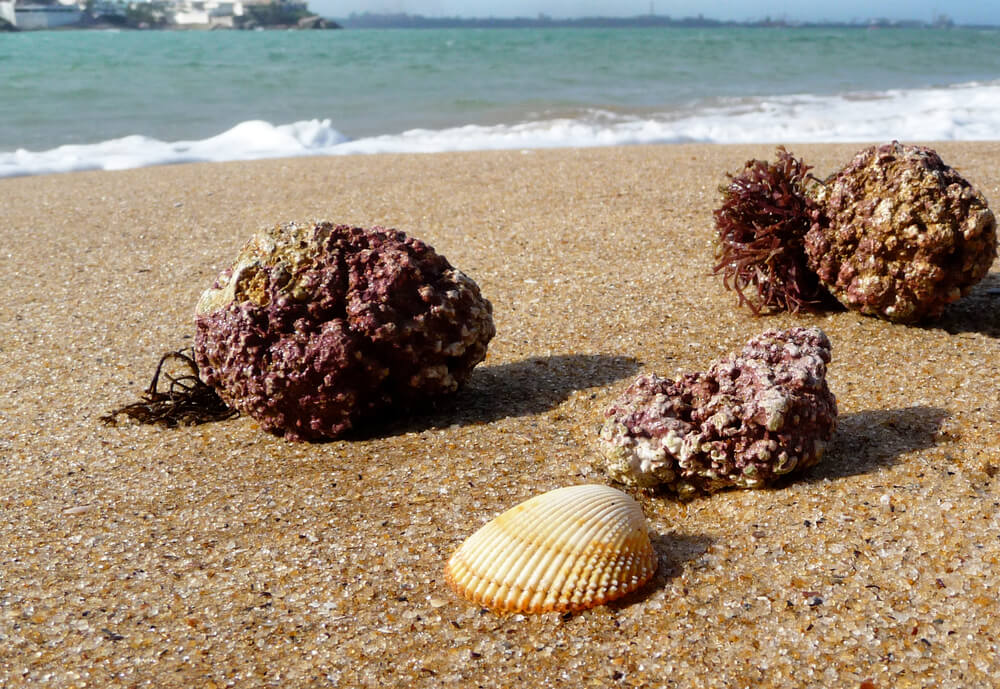 Whole-Food Nutrition Means
Gentle Digestion
Traditional calciuma supplements are made with ground up limestone or marble, making them challenging to digest and absorb. Your body is designed to assimilate minerals from plants such as the marine algae which forms the foundation of AlgaeCal Plus. The algae draws all the bone-building minerals from sea water and absorbs them for its metabolic needs.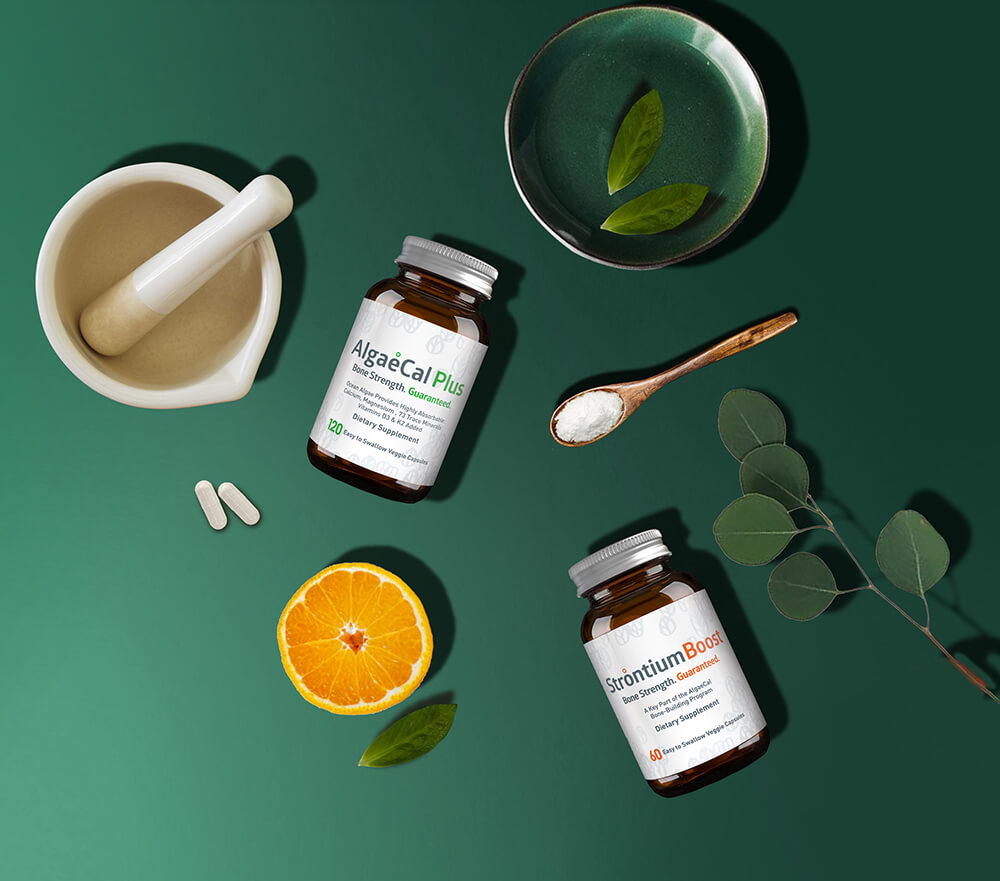 It's much the same as a carrot or potato root breaks down the inedible minerals in soil. You wouldn't think of eating soil to get your minerals, yet the vegetable mineral form is nourishing and healthful.
With AlgaeCal Plus, you get the calcium you need plus all its complementary nutrients from a whole food source. So you enjoy a clean, complete and clinically-supported way to strengthen bone.
Lithothamnion Superpositum is Certified Organic and Kosher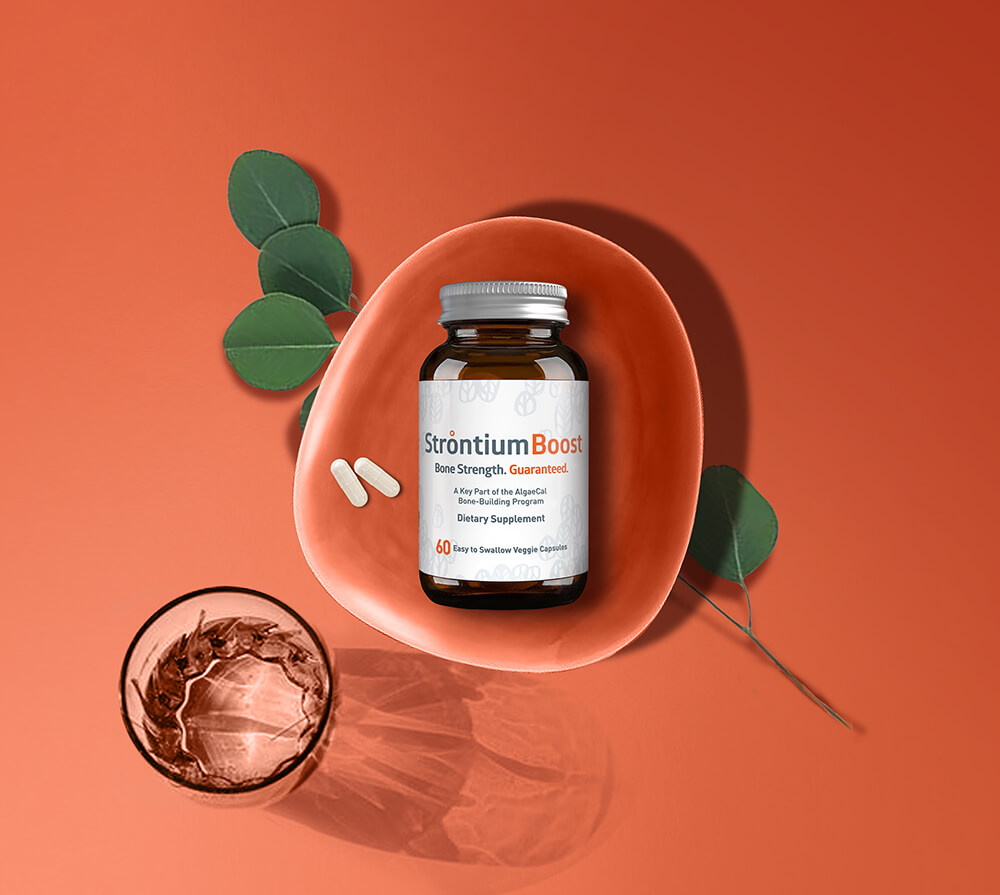 Strontium Boost
Natural Strontium Citrate Helps
Triple Bone Growth
Strontium is the only nutrient known to stimulate bone-building cells and slow down bone-destroying cells at the same time. Study participants who took strontium citrate with their AlgaeCal built on average 3 times more bone than those taking AlgaeCal alone.¹ There were no adverse effects.
Strontium is a similar mineral to calcium. And it's deposited throughout your bone just like calcium.
That's why scientists have spent over 70 years testing different forms of strontium to see their effect on bone strength. And the results have been encouraging.
So when clinical studies revealed strontium citrate's clear bone-building effects, we knew we needed to add it to our multi-nutrient formula.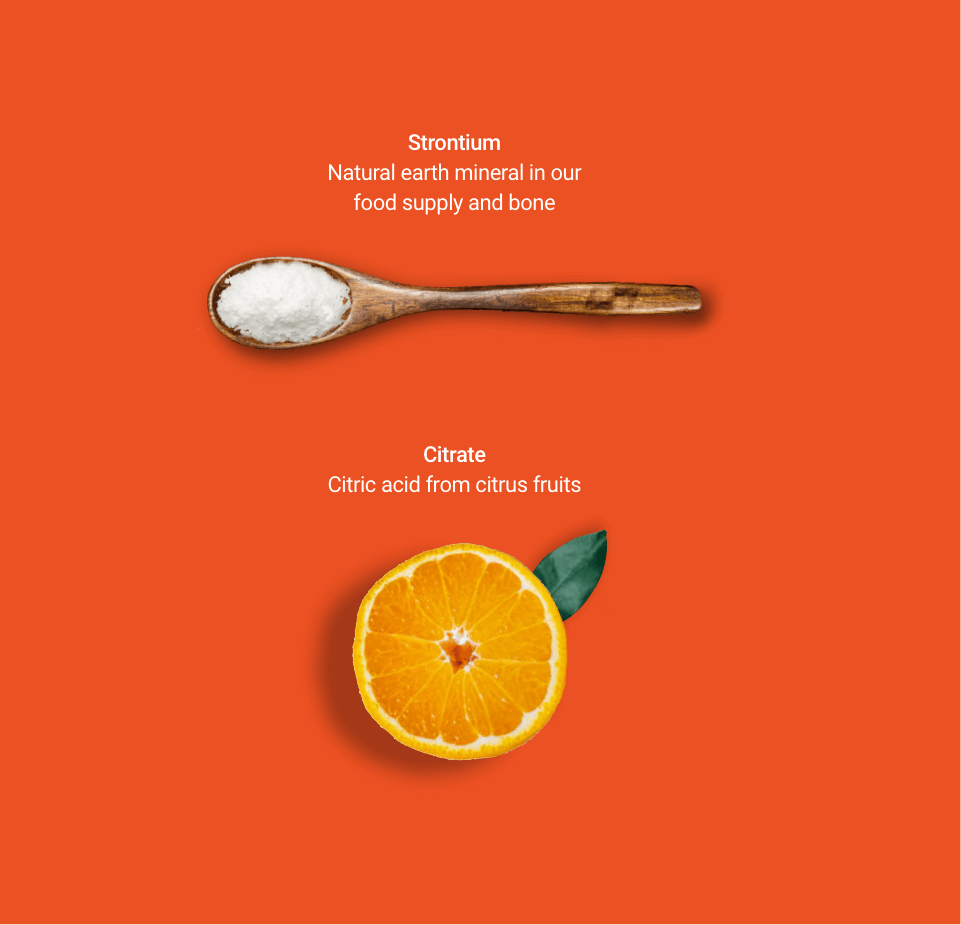 Why You Need Strontium Citrate
Strontium is a critical mineral in our bone. It's the only known mineral to slow down bone-destroying cells while stimulating bone-building cells.
Citrate lowers our body's acid levels. That's important because high acid levels trigger rogue bone cells to eat away at healthy bone.7
Strontium citrate helped produce the dramatic bone density increases in the AlgaeCal studies. In fact, participants who took both AlgaeCal Plus and Strontium Boost saw on average triple the bone density increases of the AlgaeCal group alone.¹
Strontium Boost
Description:
60 Easy-to-Swallow Veggie Capsules per bottle
Pure Clinical Grade Strontium Citrate
Suggested Use:
Take 2 capsules before bed, with or without food, but separate from calcium by at least 2 hours
Quantity:
30 Day supply
dairy Free
gluten Free
soy Free
Non-GMO
Supplement Facts
Serving Size:
Servings Per Container:
For best absorption:
AlgaeCal Plus should be taken with food, either a meal or snack.
Strontium Boost should be taken at least 2 hours from AlgaeCal or other calcium-rich sources.
Here's a common dosing schedule:
Take 2 capsules of AlgaeCal Plus with breakfast and 2 with dinner. Take 2 capsules of Strontium Boost before bed.
Consult your physician before use if you have kidney disease, a medical condition or are taking any medication. Not intended for children and pregnant or nursing women.
Some medications and supplements require separation from AlgaeCal Plus and Strontium Boost to limit any potential interactions. For example, thyroid medication, antacids, and certain antibiotics should be taken at least 4 hours from both AlgaeCal Plus and Strontium Boost.
Iron supplements also should be separated correctly. If you take a standalone iron supplement, please take it 2 hours from AlgaeCal Plus and Strontium Boost to avoid decreased absorption. If your iron comes from a multivitamin, you do not need to separate it from AlgaeCal Plus or Strontium Boost.
Vitamin K, including the vitamin K2 in AlgaeCal Plus, may interfere with certain anticoagulant drugs and should be avoided unless otherwise directed by a physician.
If you have impaired kidney function, please consult your healthcare provider before using Strontium Boost.
For general guidelines about how to take AlgaeCal, please reach out to our Bone Health Consultants at [email protected] or by calling 1-800-820-0184 .
Always check with your doctor for details about possible interactions between AlgaeCal products and your medications.
How Strong Will Your Bones Be In 7 Years?
Bone Builder Pack
The Bone Builder Pack increased bone density each year for an average 1.04%, as shown in clinical study.3
Calcium Supplements
Taking traditional calcium supplements slows annual bone loss a little.
No Supplements
Without calcium supplementation, the average person loses 1% of their bone each year.
Your "Stronger Bones for Life" Guarantee
You need strong bones for the rest of your life to enjoy rather than endure your golden years. With our guarantee, you can continue enjoying your favorite activities for the rest of your days.
Measurable improvements will appear at 6 months from when you start your AlgaeCal Plus and Strontium Boost program. So if your next DEXA scan is scheduled half a year or more from now, we guarantee you will see a bone density increase.
You may choose to wait for your next scheduled scan so that it is paid for by your insurance, or you may choose to pay out of pocket to check your results earlier. Either way is fine.
Just allow at least 6 months of taking the products as directed before your follow-up scan. We encourage you to take a scan every year to make sure you're still building new bone.
IMPORTANT: Ensure you get your DEXA scan at the same clinic every time. Ideally, you'd get your scan on the same machine, too. That way, every scan is directly comparable to the last. If any DEXA does not show an improvement in either hip or spine bone density you will be refunded for all products purchased since your previous scan.
In other words, "scan to scan to scan" improvements MUST be yours for the rest of your life.
Now it's only a matter of making a decision. We hope you choose to join the thousands who have opted to Break Free.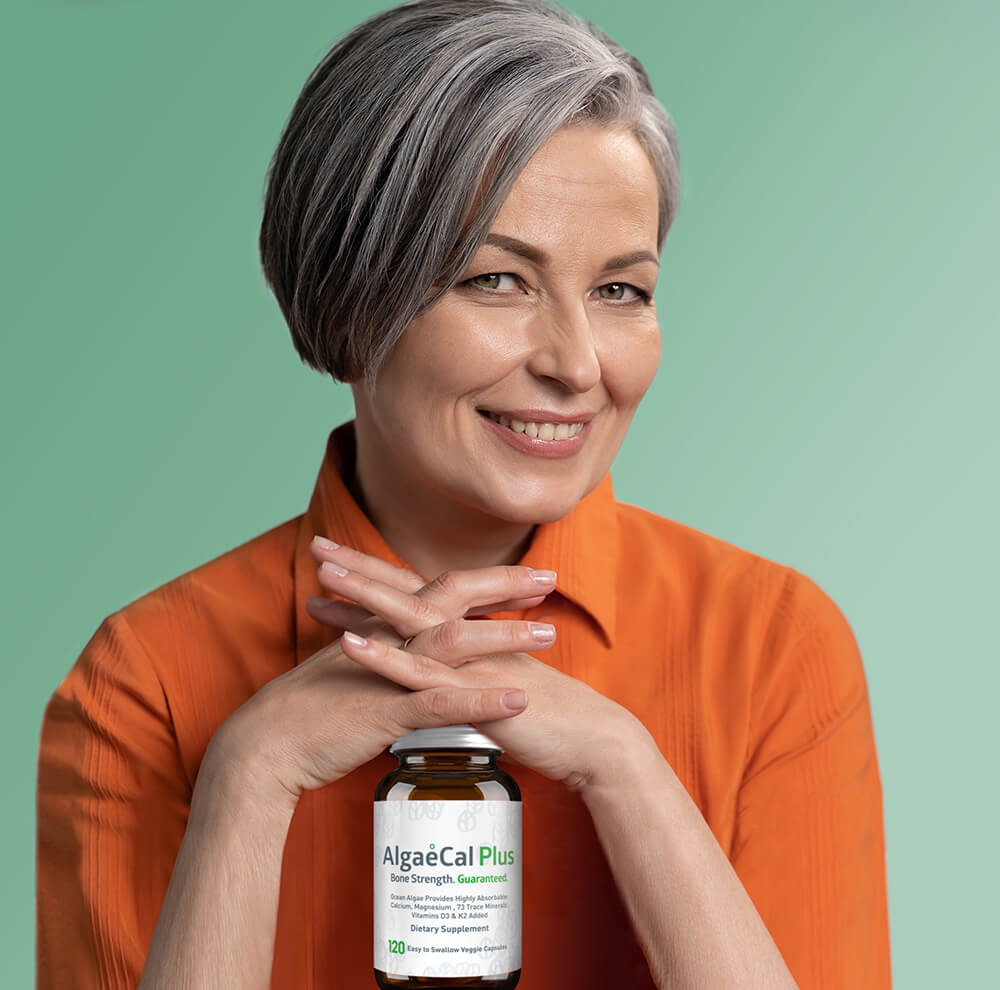 Break Free!
Now is your chance to break free
Break free from the nutrient deficits that led to your bone loss.
Break free from conventional thinking and the system that says your fate is sealed.
Break free from the fear of fracture that darkens your precious time on this planet.
Empower yourself to break free. Take action to improve your health. Exercise well. Get sunshine on your skin as nature intended. Nourish your body with ALL the nutrients it is crying for.
Overcome, against all odds. And feel good about yourself.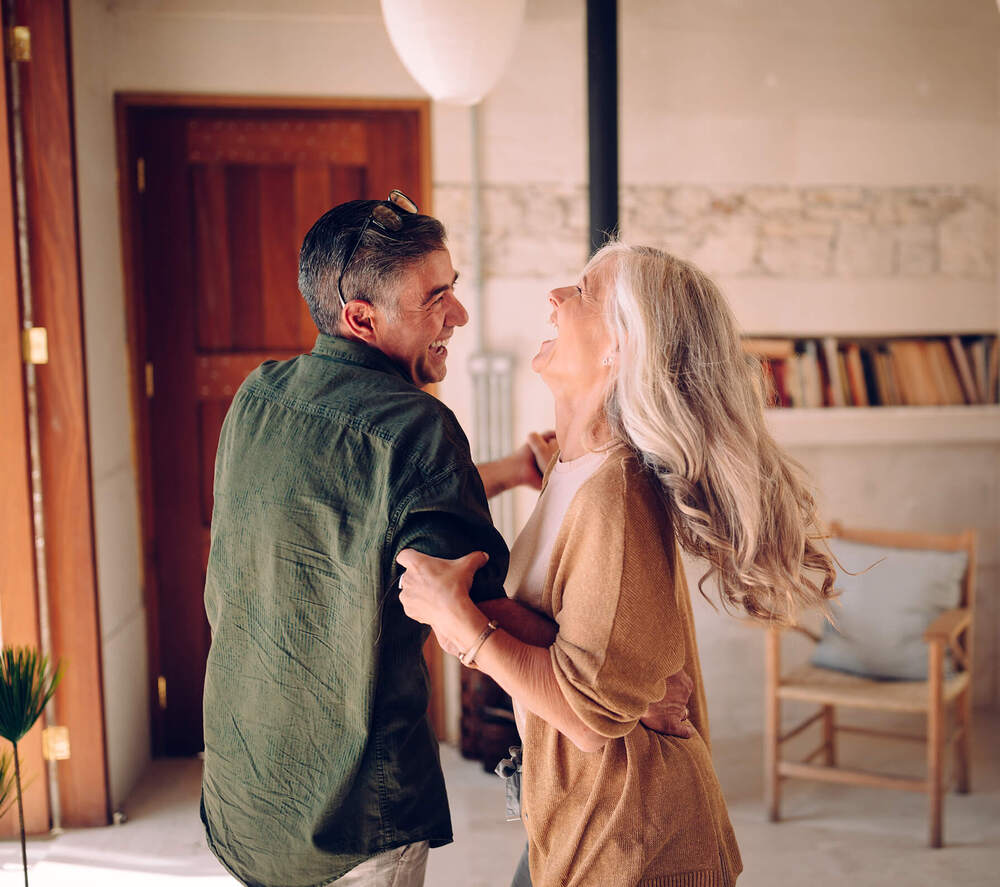 Bone Building Is A Daily Choice
Your bones are either building or losing bone minerals every day so the sooner you start nourishing them, the sooner you can start on the path to a healthier body.
Remember, you need these nutrients for a lifetime, so why not make a "forever commitment" to your bones? It costs as little as $2.10 a day - so get started now. Just select the bundle that's right for you.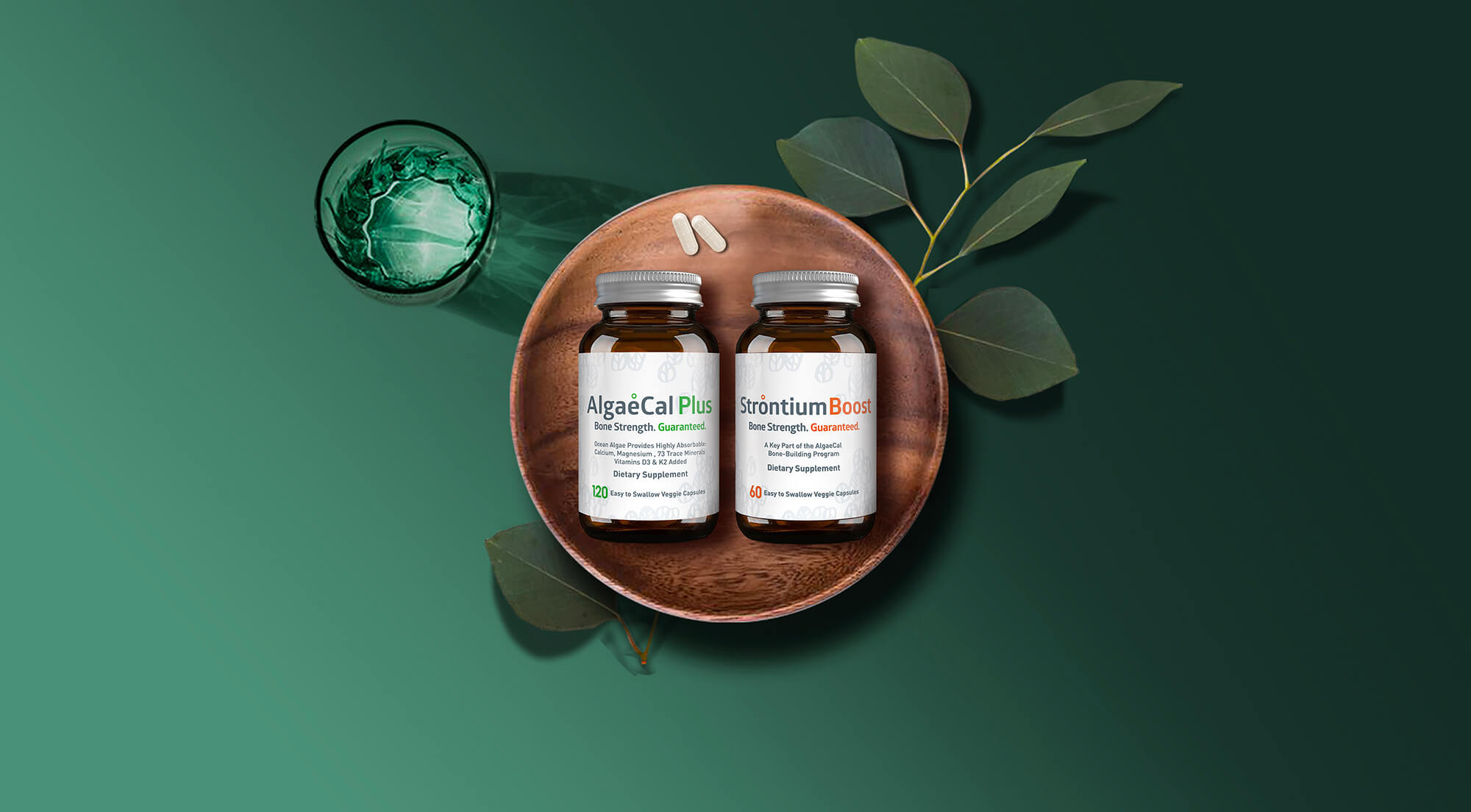 The Bone Builder Pack
One-Time Purchase Select a Bundle:

Availability: IN STOCK leaves warehouse in 1 business day.
Shipping Fee: Free Shipping Everywhere.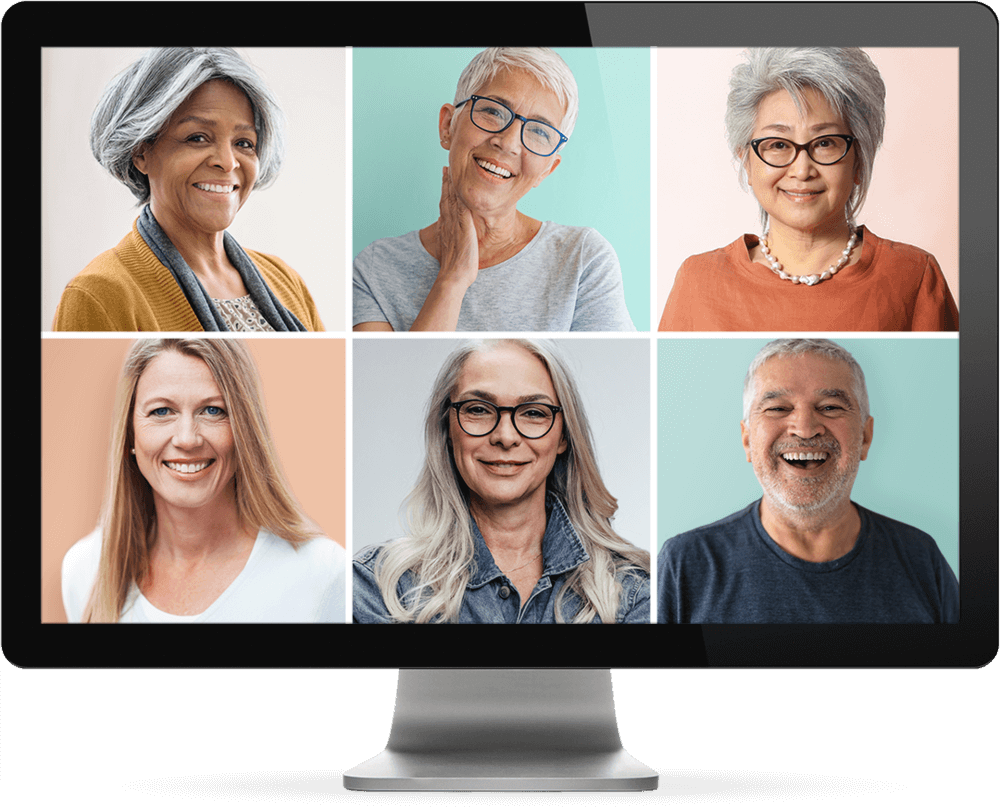 FREE With Your Purchase
Lifetime access to The AlgaeCal Community
The AlgaeCal Community is an exclusive Facebook group for AlgaeCal customers.
As a member of The AlgaeCal Community, you'll have lifetime access to benefits you can't get anywhere else – not even here on the AlgaeCal website. Benefits like:
Sources
Joel E Michalek, Harry G Preuss, Harry A Croft, Patti L Keith, Samuel C Keith, Monika Dapilmoto, Nicholas V Perricone, Robert B Leckie, Gilbert R Kaats. (2011). Changes in total body bone mineral density following a common bone health plan with two versions of a unique bone health supplement: a comparative effectiveness research study doi: 10.1186/1475-2891-10-32.
Gilbert R Kaats, Harry G Preuss, Harry A Croft, Samuel C Keith, Patti L Keith (2011). A comparative effectiveness study of bone density changes in women over 40 following three bone health plans containing variations of the same novel plant-sourced calcium doi: 10.7150/ijms.8.180.
Gilbert R Kaats, Harry G Preuss, Sidney Stohs, Nicholas Perricone. (2016). A 7-Year Longitudinal Trial of the Safety and Efficacy of a Vitamin/Mineral Enhanced Plant-Sourced Calcium Supplement doi: 10.1080/07315724.2015.1090357
https://ods.od.nih.gov/factsheets/Magnesium-Consumer/
S Sahni, M T Hannan, D Gagnon, J Blumberg, L A Cupples, D P Kiel, K L Tucker (2009). Protective effect of total and supplemental vitamin C intake on the risk of hip fracture—a 17-year follow-up from the Framingham Osteoporosis Study doi:10.1007/s00198-009-0897-y
ZB Huang, SL Wan, YJ Lu, L Ning, C Liu, SW Fan (2015). Does vitamin K2 play a role in the prevention and treatment of osteoporosis for postmenopausal women: a meta-analysis of randomized controlled trials doi:10.1007/s00198-014-2989-6
Lara Pizzorno and Jonathan V. Wright, Your Bones: How You Can Prevent Osteoporosis & Have Strong Bones For Life— Naturally (Virginia: Praktikos Books, 2013), 251.