The Only Calcium Supplement That
Increases Bone Density
Only AlgaeCal Guarantees Your Result

Traditional rock-sourced calcium supplements only slow annual bone loss. But AlgaeCal plant-sourced calcium supplement is GUARANTEED to increase bone density in women of any age!
Learn How YOUR Bone Density Increase is Guaranteed
AlgaeCal is a kiwi fruit-sized South American marine algae. This rare algae is simply hand harvested, sun dried, then milled into a powder. There is no extraction process or additives used – just pure whole food calcium and minerals coming from a living plant, making it the best vegetarian calcium supplement and natural osteoporosis treatment available when taken over a lifetime as part of a well-balanced diet. It is this nutrient powerhouse that gives us confidence to guarantee your bone strength improvement.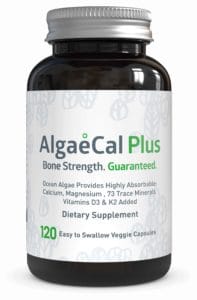 AlgaeCal Inc has pioneered the multi-nutrient approach to bone health.
AlgaeCal is more than a whole-food, plant calcium supplement. This algae also contains ALL 12 other essential bone supporting minerals; magnesium, boron, copper, manganese, silicon, nickel, selenium, strontium, phosphorus, potassium, vanadium, and zinc. On top of that, we have added vitamins D3 and K2-7 to create our flagship product, AlgaeCal Plus. This multi-nutrient approach is clinically supported to be the best natural bone-building supplement on the market (when taken over a lifetime as part of a well-balanced diet). You get a full spectrum of minerals, vitamins and plant nutrients working for you instead of a single element like most calcium supplements provide.
AlgaeCal (Lithothamnion Superpositum – or as the locals call it, algas calcareas), is an organic calcium supplement. This algae superfood "pre-digests" the calcium and minerals in seawater – making it the best-absorbed calcium supplement on the planet.
Want proof? Read the peer-reviewed study on  why Algaecal is the best absorbed calcium supplement.
Is AlgaeCal Your Best Treatment For Osteoporosis?

Clinically superior

Traditional calcium supplements only slow annual bone loss. But 3 human clinical trials show that AlgaeCal products increase bone density at any age

Easy to digest

Unlike traditional (rock-derived) calcium supplements, you won't experience side effects like bloating, constipation or nausea

Not just calcium

AlgaeCal Plus delivers calcium and all 12 other essential bone supporting minerals along with vitamins C, D3, and K2. It gives your bones ALL that they need in their proper proportions – the way nature intended

The world's only USDA certified organic calcium raw ingredient powder

Organic certification attests to both the purity, and to the sustainability of this algae. Plus, it's kosher, non-gmo, gluten-free, soy-free and dairy-free! It's a natural, alternative treatment for osteoporosis you can count on

Guaranteed to work scan after scan for 7 years!

AlgaeCal guarantees that if you don't see an increase in your bone density on every DEXA scan for the next 7 years, you'll get a full refund for all product purchased since the last scan.  Learn more

Science says that once you reach peak bone mass (age 40) you begin to lose about 1% of your total bone density every year thereafter. For your bones, that's not great news.
And until recently, science also said that calcium supplements were only able to slow down this inevitable bone loss. But not anymore…
AlgaeCal has conducted three human clinical trials, which show you can increase bone density at any age – even in your 80s! These comprehensive studies show AlgaeCal is effective in as little as 6 months…and continues to build new bone year after year for at least 7 years.
They are found in prominent peer-reviewed journals: Nutrition Journal, International Journal of Medical Sciences, and the Journal of the American College of Nutrition.
Get the Peace of Mind You Deserve!
Bone Health Questions & Answers