What is a "Bone Density Test?"
Everything you need to know about a DEXA scan
A bone density test, also known as a DEXA scan or DXA, stands for Dual Energy X-Ray Absorptiometry. DEXA scans are the most widely used test to measure bone mineral density.
This measurement reflects the fact that the denser the bone, the less x-rays pass through it.
Usually, the denser your bone, the stronger it is, and the less likely it is to fracture. (Although this isn't always the case, as we'll cover a little further down the page!)
If you've ever had an x-ray, the process is very similar.
A DEXA machine uses low-energy x-rays and sends two different sources (thus the 'D' for "dual" in the name) through the bone in question. The two x-ray sources double the accuracy in measuring your bone density. So, your bone blocks some of the x-rays. And the more dense your bone is, the less x-rays pass through to the detector.
Then, the amount of x-rays passing through the bone is sent to a computer that calculates an average score for the density of your bone.
A DEXA scan is more accurate than a regular x-ray or CAT scan and requires less radiation exposure. More on this in a moment.
But first, let's go over the different types of DEXA scans!
Who Should Get a DEXA Scan?
DEXA scans are the best method to diagnose and monitor osteopenia and osteoporosis. The National Osteoporosis Foundation's guidelines state you should get a DEXA scan if:
you are a woman age 65 or older
you are a man age 70 or older
you break a bone after age 50
you are a woman of menopausal age with risk factors
you are a postmenopausal woman under age 65 with risk factors
you are a man age 50-69 with risk factors
There are numerous factors that can increase your risk of osteoporosis. Below are a few to watch out for. If you say, "That's me" to two or more items on this list, it may be a good idea to ask your doctor about a DEXA scan!
How to Read Your DEXA Scan Results
Even after sitting down with your doctor, you may have follow-up questions or forgotten which numbers meant what!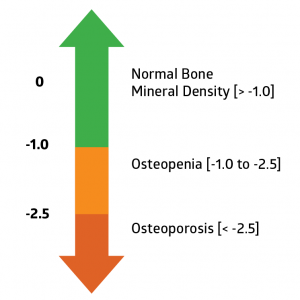 That's totally normal. And that's why we're going to go over your T- and Z-scores (the main numbers shown after your DEXA scan), so you understand exactly what they mean.
Broadly, here's what your T-scores mean:
Above -1 = Your bone density is considered normal
Between -1 and -2.5 = Your score is a sign of osteopenia, a condition in which bone density is below normal and may lead to osteoporosis
Below -2.5 = Your bone density indicates you have osteoporosis
But let's dig a little deeper…