Did you know Galileo Galilei, the "father of modern science," laid the foundation for understanding the link between exercise and bone health over 300 years ago?
The renowned Italian astronomer and physicist noted that body weight and bone size are directly related.¹ But it wasn't until centuries later that German anatomist Julius Wolff expanded on Galileo's theory. Wolff discovered that mechanical stresses applied to bone influence their strength.² Which is just a scientific way of saying exercise makes your bones stronger!
Fast forward to the modern day, and we know that exercise is a crucial component of maintaining healthy bones and avoiding osteoporosis. See, regular exercise puts stress on your bones which helps them become denser and stronger.³ Plus, exercise combats age-related muscle loss (a condition called sarcopenia⁴) which helps to keep you on your feet and avoid fall-related fractures!
So read on to discover the best type of exercises for osteoporosis and how to incorporate them into your routine safely.
The Best Types of Exercises for Osteoporosis
It's important to exercise regularly because it's super beneficial to your overall health! Regular exercise can help you:
Now, as you know, there are hundreds of ways to exercise and reap the benefits listed above. But when it comes to supporting your bone health, there are two types of exercise in particular that stand above the rest. Our Content Manager and Fitness Lead (ACE Certified Personal Trainer), Monica Lam-Feist, explains what they are in the video below. And we have more in-depth information on the rest of this page too:
1.Weight-Bearing Exercise
Weight-bearing exercise is one of the best exercises you can do to strengthen your bones! See, a weight-bearing exercise is an activity that you do while on your feet, so your bones and muscles are forced to work against gravity to keep you upright. Doing weight-bearing activities places stress on your bones, in a good way, which helps them become stronger and increases your bone mineral density.⁸
Now, there are two types of weight-bearing exercise you need to know about; high-impact and low-impact.
High-impact weight-bearing exercises include:
Running/jogging
Hiking
Dancing
Gardening (for example: mowing the lawn, planting and digging actions, and carrying compost bags)
Playing tennis or other racquet sports
High-impact aerobics
Jumping rope
Climbing stairs
Playing soccer
Some people may struggle with the intensity of high-impact exercises right away. So try one of the following low-impact weight-bearing exercises to get started:
Brisk walking
An elliptical machine
Low-impact aerobics
A stair-step machine
Tai chi**
Yoga**
Pilates**
Gentle dancing
**There are times during yoga and Pilates when you perform exercises while lying or sitting on the floor. In these instances, while these exercises may be strenuous, they're no longer weight-bearing exercises as the floor is supporting you. These would be considered non-weight-bearing, which we'll discuss shortly.
A word on non-weight-bearing exercise:
As you can tell from the name, non-weight-bearing exercises don't involve supporting or bearing your own weight. Now, as far as osteoporosis and bone strength are concerned, non-weight-bearing exercises aren't as beneficial as weight-bearing exercises. But that's not to say that they aren't helpful at all.
Non-weight-bearing exercises still provide the overall health benefits we listed above, and can help improve your posture and flexibility. Both of which can improve your balance and reduce your risk of taking a tumble and fracturing a bone! Plus, they're great additions to an osteoporosis exercise regimen and can be the perfect starting point for people who can't begin with weight-bearing exercise straight away because of limitations like:
Limited mobility
Weak or brittle bones that may fracture easily under stress
Joint pain, which makes weight-bearing exercise uncomfortable
Non-weight-bearing exercises include:
Cycling
Seated stretching
Seated exercises (like certain poses during yoga or Pilates)
Paddling a canoe or kayak
Swimming/water therapy
2. Muscle-Strengthening Exercise
The second superstar osteoporosis exercise category is muscle-strengthening exercise. This type of exercise is also known as resistance exercise and involves working your muscles against an opposing force. The opposing force could be a dumbbell, a resistance band, or even your own body weight.
You may be picturing a bodybuilder right now, but don't worry! Muscle-strengthening exercises don't require heavy weights to be beneficial for your bone health. You see, the skeletal and muscular systems are tightly intertwined. The strongest mechanical forces on your bones are those created by muscle contractions. And these muscle contractions condition your bone density, strength, and microarchitecture (the internal structure of your bones.)⁹
Plus, increasing your muscle strength will help you prevent sarcopenia (we'll cover this a little further down the page) which will make you sturdier on your feet and less likely to suffer a fall!
Muscle-strengthening exercises include:
Lifting free weights
Using weight machines
Resistance exercises (using bands or tubes)
Bodyweight exercises (like squats and push-ups)
Functional movements (like standing and rising up on your toes)
The best exercise regimen for osteoporosis and bone health will incorporate both weight-bearing and muscle-strengthening exercises. You don't need to embark on an olympian exercise schedule, but do try to dedicate a bit of time each week to exercises like the ones we've listed above.
To help you get started, we've got a whole host of exercise tutorials that cover weight-bearing, muscle-strengthening, and non-impact exercises. In the "Full Workouts" section of the list below, you'll find video walkthroughs of entire Yoga, Tai Chi, Barre and Pilates sessions led by qualified teachers/instructors.  And in the "Area- Specific Exercises" section you'll find dedicated exercises for specific areas of your body along with short video tutorials and instructions. Just click the exercise you want to do to get started!
In addition, if you'd like an example of a comprehensive exercise plan for osteoporosis, check out our "Osteoporosis Workout Routine for Stronger Bones". This week-long exercise plan provides guidelines for how to use the exercises listed below. You'll also find a handy printable schedule that you can stick to your fridge!
Full Workouts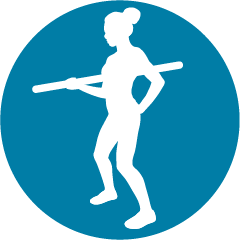 Barre – Barre draws on a combination of ballet, Pilates and yoga concepts. And it utilizes them in a series of movements to help improve your range of motion, strength, and flexibility. All of which are great for your bones too! Check out our "Barre for Bone Health page for 5 Barre workouts" here.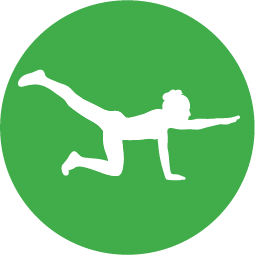 Pilates – Pilates is a great addition to any exercise regimen. The range of movements involved in Pilates strengthen your entire body, align your joints, and promote mental focus. Check out our 7-part Pilates workout series here.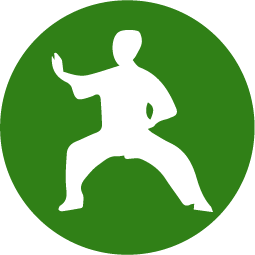 Tai Chi – Tai chi is a full mind and body practice. Studies show that regular Tai Chi can slow bone loss and help improve balance, reducing the risk of a fall. Check out everything you need to know to get started with Tai Chi here!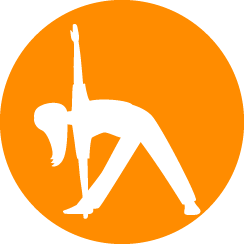 Yoga – Improve your balance, muscle strength, range of motion and general coordination with yoga! Plus, relieve stress and anxiety while you're at it. Our "Ultimate Guide to Yoga for Osteoporosis" is the perfect place to start.
Area-Specific Exercises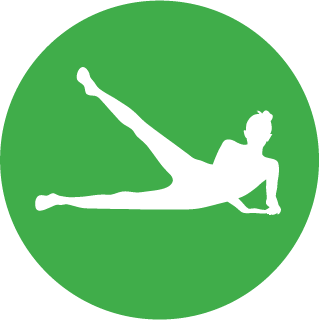 Hip-strengthening exercises – Hip fractures are one of the most common fractures of all. In fact, there are 1.6 million hip fractures worldwide every year!¹⁰ But, hip fractures — like all fractures — are largely avoidable. These exercises are designed to improve your hip strength and the muscles surrounding them!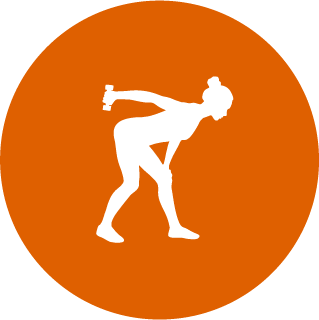 Spine exercises – Anyone who's had a Dual Energy X-Ray Absorptiometry (DEXA) scan will know the spine is one of the places that bone density is measured. Try these exercises and see if you have an improved score at your next DEXA scan. Plus, reduce your risk of vertebral fractures while you're at it! After all, with 700,000 every year in the United States alone, vertebral fractures are the most common osteoporosis-related fractures!¹¹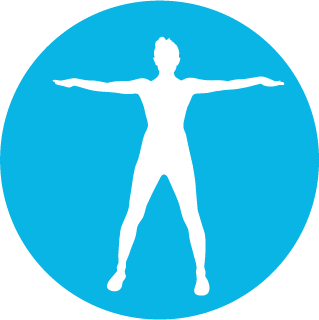 Shoulder-strengthening exercises – Your shoulders are integral to performing everyday tasks and maintaining your independence. So try these shoulder exercises to keep yours strong!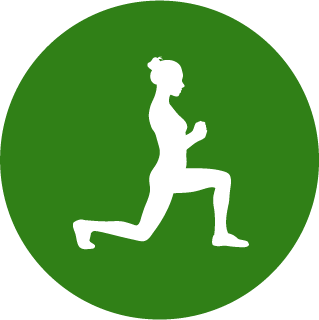 Foot-strengthening exercises – Support your feet and they'll support you! These foot-strengthening exercises will help keep you upright and ease any structural issues too.¹²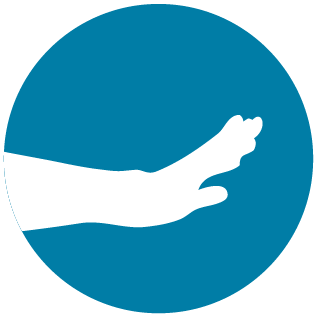 Wrist and forearm exercises – If you were to take a tumble, what would you use to try to break your fall? Your wrists and forearms! So make sure they're strong enough to withstand the impact. After all, it's better to be safe than sorry.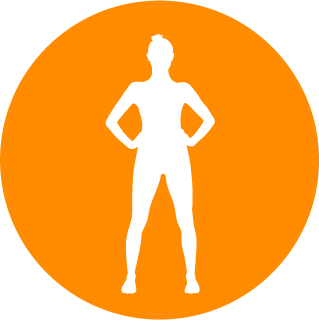 Posture exercises – Your posture actually represents both the cause and effect of osteoporosis. As the bone density in your spine starts to decrease, you'll start to see humped shoulders and a stooped posture.¹³ This can lead to pain and inactivity which can further your bone loss. So get ahead of the game by trying these posture exercises!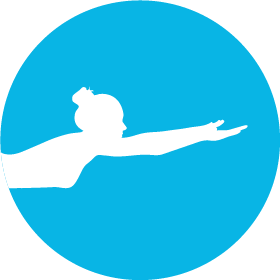 Aquatic exercises – Discover some non-weight-bearing exercises you can do in the swimming pool. Aquatic exercises are perfect for those who are just starting out with osteoporosis exercises.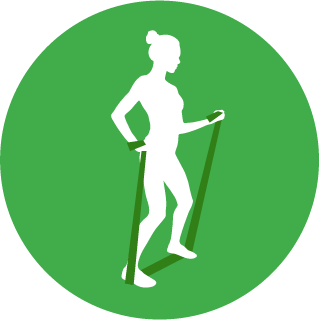 Resistance band exercises  – Resistance band exercises are a great way to do weight-bearing and muscle-strengthening exercise at the same time. Plus, you can do them pretty much anywhere.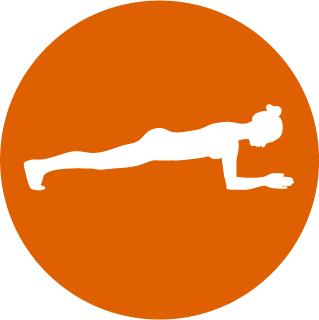 Planking exercises – Workout your core muscles with these planking exercises to improve your mobility and balance.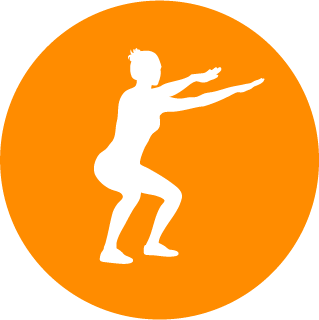 Balance exercises – Try these simple balance exercises to feel confident on your feet.
Todd, J.A., Robinson, R.J. (2003). Osteoporosis and exercise. Postgraduate Medical Journal, 79, 320-323. doi:10.1136/pmj.79.932.320
Wolff, J. (1892). The Law of Bone Remodeling. Springer-Verlag.
Benedetti, M. G., Furlini, G., Zati, A., Letizia Mauro, G. (2018). The effectiveness of physical exercise on bone density in osteoporotic patients. BioMed research international, 2018, 4840531. doi:10.1155/2018/4840531
Walston, J. D. (2012). Sarcopenia in older adults. Current opinion in rheumatology, 24(6), 623–627. doi:10.1097/BOR.0b013e328358d59b
Nystoriak, M. A., Bhatnagar, A. (2018). Cardiovascular Effects and Benefits of Exercise. Frontiers in cardiovascular medicine, 5, 135. doi:10.3389/fcvm.2018.00135
Foster-Schubert, K. E., Alfano, C. M., Duggan, C. R., Xiao, L., Campbell, K. L., Kong, A., … McTiernan, A. (2012). Effect of diet and exercise, alone or combined, on weight and body composition in overweight-to-obese postmenopausal women. Obesity (Silver Spring, Md.), 20(8), 1628–1638. doi:10.1038/oby.2011.76
Kelley, G. A., & Kelley, K. S. (2017). Exercise and sleep: a systematic review of previous meta-analyses. Journal of evidence-based medicine, 10(1), 26–36. doi:10.1111/jebm.12236
Russo C. R. (2009). The effects of exercise on bone. Basic concepts and implications for the prevention of fractures. Clinical cases in mineral and bone metabolism : the official journal of the Italian Society of Osteoporosis, Mineral Metabolism, and Skeletal Diseases, 6(3), 223–228.
Palombaro, K. M., Black, J. D., Buchbinder, R., Jette, D. U. (2013). Effectiveness of exercise for managing osteoporosis in women postmenopause. Physical Therapy, 93(8), 1021–1025. doi:10.2522/ptj.20110476
Osteoporosis Facts and Statistics. (n.d.). Retrieved from https://www.iofbonehealth.org/facts-and-statistics/index.html11-5-2013#category-292
Chou, S., Grover, A., LeBoff, M. S. New Osteoporotic/Vertebral Compression Fractures. [Updated 2018 Sep 19]. In: Feingold KR, Anawalt B, Boyce A, et al., editors. Endotext [Internet]. South Dartmouth (MA): MDText.com, Inc.; 2000-. Available from: https://www.ncbi.nlm.nih.gov/books/NBK279035/
Wesley, V. (2011). Prevention of falls through podiatry care. BMJ, 342, d3052. doi:10.1136/bmj.d3052
Katzman, W. B., Wanek, L., Shepherd, J. A., & Sellmeyer, D. E. (2010). Age-related hyperkyphosis: its causes, consequences, and management. The Journal of orthopaedic and sports physical therapy, 40(6), 352–360. doi:10.2519/jospt.2010.3099
Demontiero, O., Vidal, C., & Duque, G. (2012). Aging and bone loss: new insights for the clinician. Therapeutic advances in musculoskeletal disease, 4(2), 61–76. doi:10.1177/1759720X11430858
Schmitt, N. M., et al. (2009).The role of physical activity in the prevention of osteoporosis in postmenopausal women — an update. Maturitas, 63(1), 34-38. doi:10.1016/j.maturitas.2009.03.002.
Gianoudis, J., Bailey, C. A., Ebeling, P. R., Nowson, C. A., Sanders, K.M., Hill, K., Daly, R. M. (2014). Effects of a targeted multimodal exercise program incorporating high‐speed power training on falls and fracture risk factors in older adults: A community‐based randomized controlled trial. J Bone Miner Res, 29, 182-191. doi:10.1002/jbmr.2014
Chubak, J., Ulrich, C. M., Tworoger, S. S, Sorensen, B., Yasui, Y., Irwin, M.L., Stanczyk, F.Z., Potter, J. D., McTiernan, A. (2006). Effect of exercise on bone mineral density and lean mass in postmenopausal women. Med Sci Sports Exerc. 38(7), 1236-44. doi:10.1249/01.mss.0000227308.11278.d7
Watson, S. L., Weeks, B. K., Weis, L. J., Harding, A. T., Horan, S. A., Beck, B. R. (2018). High‐intensity resistance and impact training improves bone mineral density and physical function in postmenopausal women with osteopenia and osteoporosis: The LIFTMOR randomized controlled trial. J Bone Miner Res, 33, 211-220. doi:10.1002/jbmr.3284
Engelke, K., Kemmler, W., Lauber, D. et al. (2006). Exercise maintains bone density at spine and hip EFOPS: A 3-year longitudinal study in early postmenopausal women. Osteoporos Int. 17, 133–142. doi:10.1007/s00198-005-1938-9
Howe, T. E., Shea, B., Dawson, L. J., Downie, F., Murray, A., Ross, C., Harbour, R.T., Caldwell, L. M., Creed, G. (2011). Exercise for preventing and treating osteoporosis in postmenopausal women. Cochrane Database of Systematic Reviews, 7(CD000333). doi:10.1002/14651858.CD000333.pub2.
Bloomfield, S. A. (2006). Optimizing bone health: Impact of nutrition, exercise, and hormones. Sports Science Exchange, 82(14), 3.
Martone, A. M., Lattanzio, F., Abbatecola, A. M., La Carpia, D., Tosato, M., Marzetti, E., Calvani, R., Onder, G., Landi, F. (2015). Treating sarcopenia in older and oldest old. Current Pharmaceutical Design, 21, 1715. doi:10.2174/1381612821666150130122032
Mitchell, W. K., Williams, J., Atherton, P., Larvin, M., Lund, J., Narici, M. (2012). Sarcopenia, dynapenia, and the impact of advancing age on human skeletal muscle size and strength; a quantitative review. Frontiers in physiology, 3, 260. doi:10.3389/fphys.2012.00260
Borer, K. T. (2005). Physical activity in the prevention and amelioration of osteoporosis in women. Sports Med. 35, 779–830. doi:10.2165/00007256-200535090-00004
Cederholm, T., Cruz-Jentoft, A. J., Maggi, S. (2013). Sarcopenia and fragility fractures. Eur J Phys Rehabil Med. 49(1), 111-7.
Hughes, J. M., Petit, M. A. (2010). Biological underpinnings of Frost's mechanostat thresholds: the important role of osteocytes. J Musculoskelet Neuronal Interact. 10(2), 128-35. doi:
Schwab, P., Scalapino, K. (2011). Exercise for bone health: Rationale and prescription. Current Opinion in Rheumatology. 23(2), 137–141. doi:10.1097/BOR.0b013e3283434501
Rudnicki, M. A., Williams, B. O. (2015). Wnt signaling in bone and muscle. Bone, 80, 60–66. doi:10.1016/j.bone.2015.02.009
Specker, B. L. (1996). Evidence for an interaction between calcium intake and physical activity on changes in bone mineral density. J Bone Miner Res. 11, 1539-1544. doi:10.1002/jbmr.5650111022
Weaver, C. M. (2000). Calcium requirements of physically active people. The American Journal of Clinical Nutrition, 72(2), 579S–584S. doi:10.1093/ajcn/72.2.579S
Ringe, J. D., Kipshoven, C. (2012). Vitamin D-insufficiency: An estimate of the situation in Germany. Dermato-endocrinology, 4(1), 72–80. doi:10.4161/derm.19829
Smith, G. I., Atherton, P., Reeds, D. N., Mohammed, B. S., Rankin, D., Rennie, M. J., Mittendorfer, B. (2011). Dietary omega-3 fatty acid supplementation increases the rate of muscle protein synthesis in older adults: a randomized controlled trial. The American journal of clinical nutrition, 93(2), 402–412. doi:10.3945/ajcn.110.005611
Saxton, R. A., Sabatini, D. M. (2017). mTOR signaling in growth, metabolism, and disease. Elsevier, 168(6), P960-976. doi:10.1016/j.cell.2017.02.004
Feskanich, D., Willett, W., Colditz, G. (2002). Walking and leisure-time activity and risk of hip fracture in postmenopausal women. JAMA. 288(18), 2300–2306. doi:10.1001/jama.288.18.2300
Close References