A Vegetarian's Guide to Protein, Collagen and Healthy Bones

Amino acids are compounds that combine to form protein, and are important for growth, repair and normal body function.
Both lysine and arginine are important for bone metabolism and growth.
We found that lysine can help to prevent the loss of bone mineral density, due to it's ability to increase intestinal calcium absorption.¹ And arginine makes the bone cells responsible for making new bone more active (osteoblasts).² And interestingly, both amino acids are able to stimulate the formation of bone collagen, which runs through the "mineral part" of your bones, adding strength.³
What's the deal with collagen?
I thought we should take a closer look at the link between collagen and your bones.
You've likely heard about how collagen keeps our skin elastic and plump looking. But it's actually found everywhere in our bodies: our muscles, bones, and skin cells. It's the most abundant protein in our bodies.
Your bones are made of protein and minerals, and 90% of bone matrix proteins are made of collagen. In fact, the combination of calcium and collagen is responsible for giving our bones strength and flexibility, which helps them withstand stress.
Here's the annoying thing though – as we age, our ability to produce collagen diminishes.
So what can we do about it?
Eating foods high in lysine and arginine will help spur on collagen production. So getting both of these amino acids from your diet is a good start. Technically there is no official recommended dosage specifically for lysine or arginine, but we do know the RDA for protein is 0.8 grams per kilogram of body weight. Speaking to your doctor about the appropriate dose for your health and weight is the best approach.
Whilst there are lysine and arginine supplements out there, we suggest organic whole food sources first – your body will absorb these better, and you'll get a whole bunch of other nutrients too. The best sources of arginine are turkey, pork, and a large variety of nuts, coconut meat and seeds. And the best sources of lysine are red meat, pork, poultry, dairy (especially cheese), and eggs.
Bone broth is also an amazing source of collagen, and something we recommend to our customers a lot.
I know your next question – what if I'm vegetarian or vegan?
If you don't eat meat or animal products, you can still get your arginine from nuts and seeds pretty easily. But it's a tad harder to get your lysine…
Not to worry though, we've got you covered 🙂
Try these:
Tofu: usually above 450 mg of lysine and 1250 mg of arginine per 100 grams
Kidney beans: 595 mg of lysine and 537 mg of arginine per 100 grams
Black beans: 608 mg of lysine and 549 mg of arginine per 100 grams
Tempeh: 905 mg of lysine and 1250 mg of arginine per 100 grams
Quinoa: 239 mg of lysine and 340mg of arginine per 100 grams
Seitan (basically wheat gluten – meat substitute common in Japanese and Chinese cuisine. Also popular with vegans): typically 75 g of protein per 100 grams, making this a great protein source if you eat gluten. Exact lysine and arginine content data is imprecise
A smart way for vegetarians and vegans to support collagen production is to eat fruits and vegetables that contain vitamin C. It's vital in the collagen production process.
Citrus fruits: lemons and oranges both contain about 53 mg per 100 grams
Broccoli: 89.2 mg per 100 grams
Papaya: 60.9 mg per 100 grams
Kiwi fruit: 92.7 mg per 100 grams
Kale: 80 mg per cup
Red peppers: 95 mg per half cup
The RDA for vitamin C is 90 mg/day for men and 75 mg/day for women, so eating any of the above foods will set you on the right track.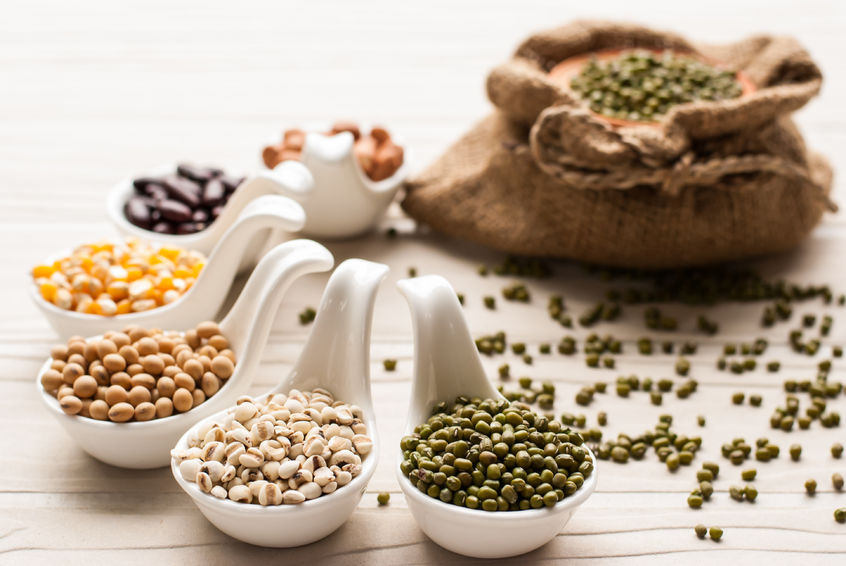 Collagen and calcium for bone strength
Collagen and calcium are responsible for the strength of your bones! So if you're a vegetarian osteoporosis sufferer, you need to ensure you're supporting healthy collagen production by getting enough protein and calcium.
You can add the foods above to your diet in order to support collagen production, as we've discussed. And when it comes to calcium, there's AlgaeCal Plus: an organic plant calcium formulated in perfect balance with magnesium and 70+ trace minerals.
Take your bone building potential to the ultimate level by combining yourAlgaeCal Plus with Strontium Boost. The two are formulated to work together perfectly, as a team, to increase bone density.
How many of you are vegetarians out there? Share your thoughts and favorite protein sources in the comments below.
Sources: