May is National Osteoporosis Awareness Month (+ Enter Our Giveaway!)

Osteoporosis affects millions of people around the world. It causes needless heartache, pain, and misery. But osteoporosis still isn't getting the attention it should.
That's why we want you to join us this National Osteoporosis Awareness Month, to help shed light on the shocking extent of osteoporosis. And more importantly, we want you to join us in sharing the word of the importance of building and maintaining strong, healthy bones!
And as you'll see in just a moment, you'll be entered into our prize giveaway– worth $396 USD– for your efforts!
---
How Much Do You Really Know About Osteoporosis?
Click the video below to take our interactive quiz and test your knowledge of osteoporosis. There are 10 questions in total, and some of the answers may surprise you! How many will you get right?
---
Win a 6-Month Bone Builder Pack from AlgaeCal!
Would you like to win a 6-month supply of AlgaeCal Plus and Strontium Boost (valued at $396 USD)?
Together, AlgaeCal Plus and Strontium Boost form our Bone Builder Pack, which provides every nutrient your bones crave, naturally. And the best part? AlgaeCal's Bone Builder Pack is guaranteed to increase your bone density in as little as six months. No matter your age!
What's more, our lucky winner will also receive an initial consultation, a 3-month follow up call, and a 6-month follow up call with a dedicated Bone Health Consultant to guide them through their bone health journey.
There are several ways you can enter our prize giveaway. And each earns you a separate entry into the draw. That means you can enter MULTIPLE times, increasing your chances to win!
Sign up to our newsletter using your preferred email address.
Visit AlgaeCal on Facebook.
Visit AlgaeCal on Pinterest.
Visit AlgaeCal on YouTube
Follow AlgaeCal on Twitter
Comment on this blog post.
Share this giveaway with family and friends.
Answer our bone health question.
Visit AlgaeCal on Instagram
The more entries you complete, the more chances you have to win your very own 6-Month Bone Builder Pack for National Osteoporosis Awareness Month! Enter below by simply clicking on each option and following the directions!
AlgaeCal's National Osteoporosis Awareness Month Giveaway

---
The AlgaeCal Community Exclusive Giveaway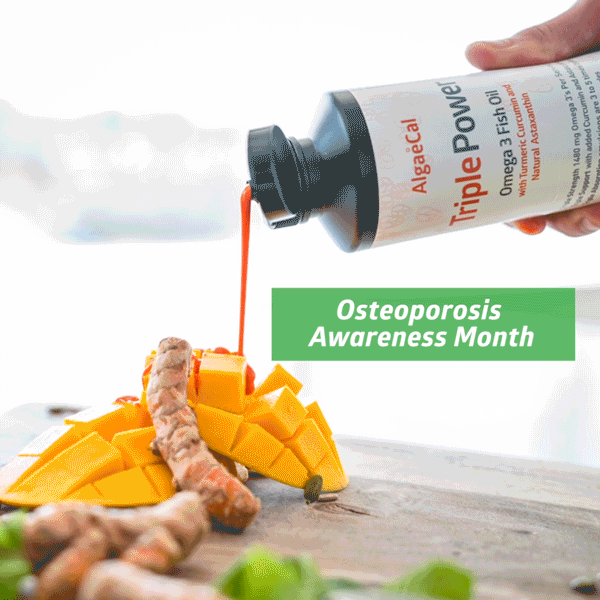 Did you know AlgaeCal customers get exclusive access to the AlgaeCal Community?
The AlgaeCal Community is a Facebook group dedicated to providing extra support to AlgaeCal customers on their bone health journeys.
Members enjoy:
Support and advice from thousands of other AlgaeCal Community members who are on their own bone health journeys!
Members-only videos on bone-healthy exercises, recipes, and the latest news and clinical studies.
Weekly "Ask Lara" live video sessions where best-selling Bone Health Expert Lara Pizzorno answers Community members' questions.
And much, much more!
And the best part? The AlgaeCal Community is completely free for AlgaeCal customers. You'll find all the details on how to join the community here.
If that weren't enough, we like to treat our AlgaeCal Community members every now and then…
This National Osteoporosis Month, we're running an exclusive giveaway over in the AlgaeCal Community. Community members have the chance to win a bottle of Triple Power Omega 3 Fish Oil.
Triple Power contains over 1400 mg of omega 3s per serving, along with two of the most potent anti-inflammatories on the plant– astaxanthin, and curcumin–  to help ease the inflammation that accelerates bone loss!
And the natural mango taste means you'll actually crave your fish oil!
Here's how to enter:
Join the AlgaeCal Community (if you haven't already)!
Find the pinned post about National Osteoporosis Awareness Month at the top of the AlgaeCal Community Facebook group.
Leave a comment on that post telling us a.) what you like most about the AlgaeCal Community, and b.) what you'd like to see in the AlgaeCal Community that we don't currently offer.
---
Thank You and Good Luck!
With your help, we'll be able to reach thousands of people this year and spread the word about osteoporosis and what you can do to prevent it.
So thank you in advance, and best of luck in our National Osteoporosis Awareness Month giveaways! 🙂