Your Bone-Healthy Festive Menu

The holidays have arrived and you know what that means — lots of yummy treats. But one, not-so-merry thing about a festive dinner is that it doesn't always adhere to a bone-healthy diet.
So, we put together a menu with three classic recipes that are sure to make your mouth water and satisfy your bone health too.
Plus, the recipes are easy to make so you won't steal precious time away from your family and friends.
Here's to a full plate, a happy heart, and even happier bones!
Organic free-range turkey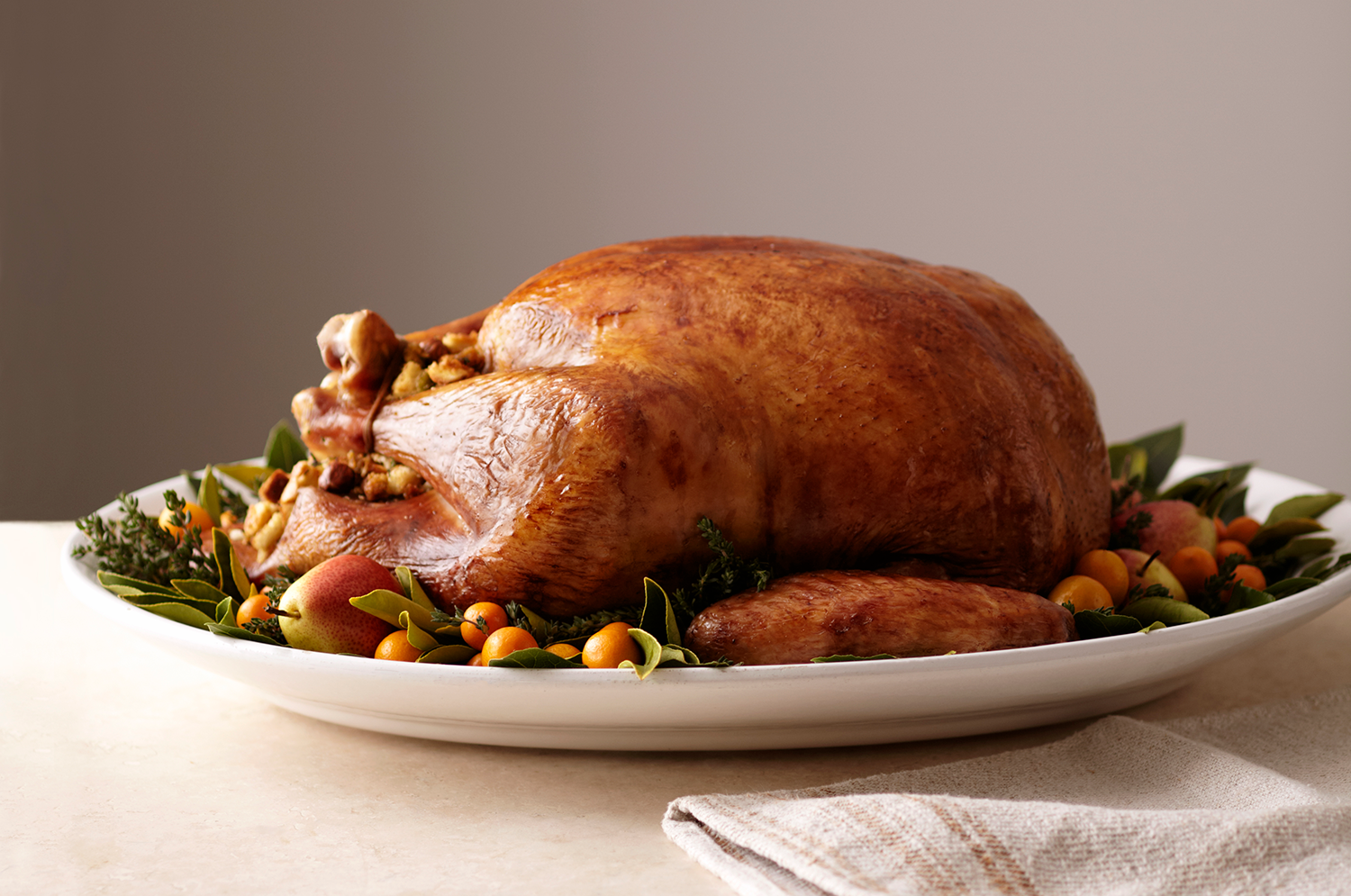 Turkey isn't just for Thanksgiving — at least not in my eyes. If you feel the same way, then I have some tips to help you make a smashing success of this main dish. 
When deciding which turkey to buy, opt for one that's USDA organic and animal welfare approved. These turkeys are raised mostly outdoors. 
What's more, they've eaten a healthy diet free of GMOs, antibiotics, and growth hormones. Plus, they tend to contain more omega 3 fatty acids which are crucial to overall health — and that includes your bones. 
Another reason why turkey makes a good main dish is that it provides plenty of protein. After all, protein makes up around one third of your bone mass and it's crucial for preventing age-related muscle loss (sarcopenia) too.
Of course, you don't want to go through the effort of finding a healthy, protein-packed turkey only to cook it in an unhealthy way. So opt for roasting over deep frying. 
And focus on using fresh herbs for seasoning to keep salt intake to a minimum. My mom used rosemary, thyme, and sage — it always added a lovely touch.
You-can't-tell-it's-not potato mash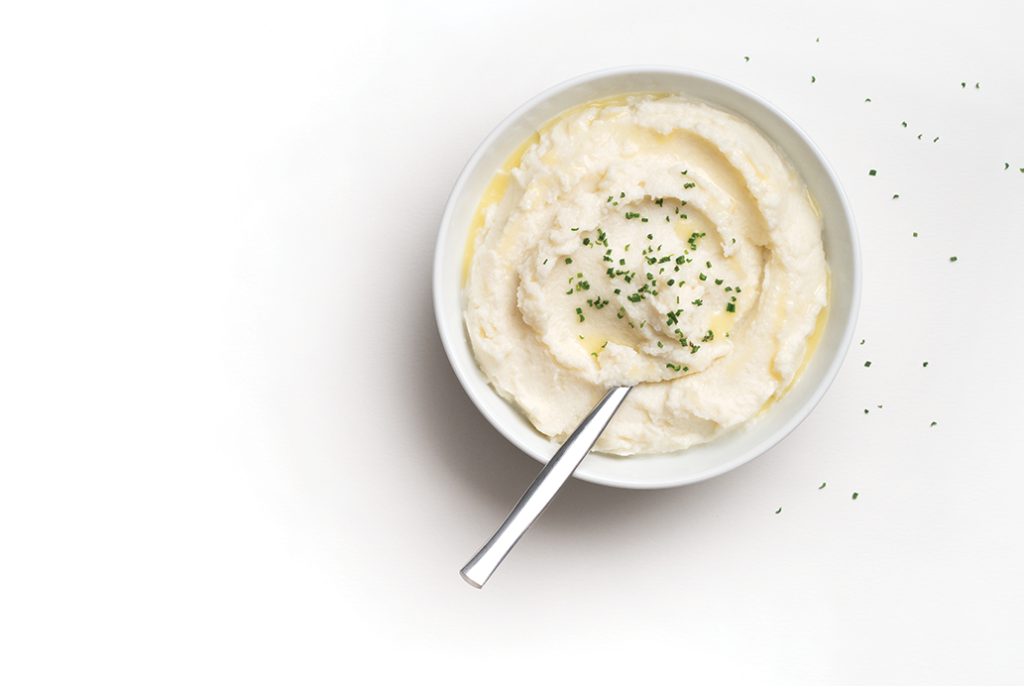 My mom always made buttery mashed potatoes every Christmas. To me, it's just not a holiday feast if mashed potatoes aren't on the menu (or at least something that resembles potatoes!) That's why I'm sharing how to make it as bone-healthy and delicious as possible. 
All you need to do is swap out traditional mashed potatoes with steamed, whipped cauliflower. With its light, creamy full-flavor you won't even miss the potatoes! Plus, with less prep time and no peeling necessary, this recipe is a time saver. 
What's more, cauliflower is carb friendly. And it adds almost twice the amount of calcium that potatoes provide! This dish is the stuff dreams are made of.
You-Can't-Tell-It's-Not Potato Mash!
Course
Side Dish
Cuisine
American
Keyword
cauliflower
Prep Time

10

minutes

Cook Time

15

minutes

Total Time

25

minutes

Servings
4
Calories
65 kcal
Ingredients
1

head

cauliflower

2

tbsp

milk

1

tbsp

butter

organic

rosemary

, dried

Himalayan sea salt

black pepper
Nutrition Facts
You-Can't-Tell-It's-Not Potato Mash!
Amount Per Serving
Calories 65
Calories from Fat 27
% Daily Value*
Fat 3g5%
Cholesterol 8mg3%
Sodium 71mg3%
Potassium 439mg13%
Carbohydrates 7g2%
Protein 3g6%
Vitamin A 90IU2%
Vitamin C 69.3mg84%
Calcium 40mg4%
Iron 0.6mg3%
* Percent Daily Values are based on a 2000 calorie diet.
Instructions
With a hand blender, whip lightly steamed cauliflower. (If you don't have a steamer and decide to boil your cauliflower, make sure to strain it before blending to get rid of any excess water)
Add the organic butter, dried (crushed) rosemary, garlic, Himalayan sea salt and pepper.
To make it creamier, add two tablespoons of milk. (Consider sheep's or goat's milk for easier digestion and nutrient absorption that have as much calcium as cow's milk.) Make sure it's 2% or whole milk because studies show it's more difficult to absorb vitamin D without milk's fat (skim milk).
Recipe Notes
Bone health bonus: In addition to curbing your carb intake, using cauliflower adds almost twice the amount of calcium that potatoes provide. (Cauliflower = 22 mg calcium per 100 grams, potatoes = 12 mg per 100 grams).
Pumpkin pie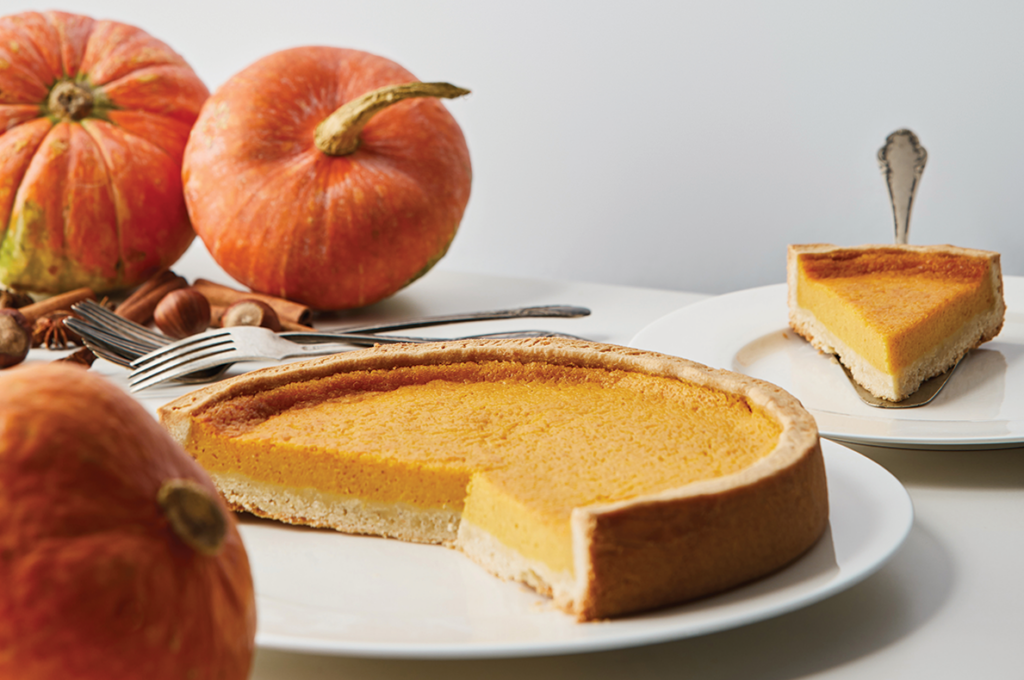 Few things make guests drool more than pumpkin pie.  A holiday favorite, it can be a great option for bone health— especially when you cut down on the cream and sugar most recipes call for. 
Plus, pumpkin has potassium which protects bone density. And it contains vitamin C — a vital co-factor for making collagen. This is important as your bones are made up of about 35% collagen. It provides a framework for your bones, and along with calcium, strengthens them. Turns out you can have your cake (or pie) and eat it too.
If you'd like to add a little flair to your pie, sprinkle some pumpkin seeds on top before baking. It's the perfect way to add an extra dose of omega fats and antioxidants — not to mention show off your presentation skills.
Course
Dessert
Cuisine
American
Prep Time

30

minutes

Cook Time

1

hour

cooling

6

hours

Total Time

1

hour

30

minutes

Servings
9
Calories
256 kcal
Ingredients
For the crust:
1/2

cup

coconut oil or butter

(I use half and half)

3/4

cup

coconut flour

organic

1/4

cup

almond flour

2

large

eggs

1/2

tsp

spice, nutmeg, all-spice, cinnamon

optional

1/2

tsp

vanilla

optional
For the filling:
1 1/2

cups

pumpkin puree

1/2

cup

coconut milk

(or evaporated milk)

3

eggs

1/2

cup

honey (or 3/4 maple syrup)

(I've used 1/3 cup of maple syrup with a 1/2 tsp liquid stevia)

1

tbsp

vanilla extract

1

tbsp

arrowroot or cornstarch

(or 2 tbsp tapioca starch)

2

tsp

cinnamon

1

tsp

all-spice

1/2

tsp

nutmeg

(and/or ginger)

1/2

tsp

salt
Nutrition Facts
Pumpkin Pie
Amount Per Serving
Calories 256
Calories from Fat 117
% Daily Value*
Fat 13g20%
Cholesterol 96mg32%
Sodium 195mg8%
Potassium 169mg5%
Carbohydrates 29g10%
Protein 7g14%
Vitamin A 6499IU130%
Vitamin C 2mg2%
Calcium 47mg5%
Iron 2mg11%
* Percent Daily Values are based on a 2000 calorie diet.
Instructions
To make the crust:
Preheat oven to 400 degrees F.
Grease 9-inch tart pan and set aside (I use a cake pan with great results).
Melt butter and/or coconut oil
Add eggs, vanilla, and spices. Whisk with a fork. 
Stir in coconut and almond flour until well combined.
Press 'dough' into pan evenly going up the sides of the pan.
Use a fork to poke holes in the dough.
Blind bake it by adding a layer of parchment paper covered in dried beans or rice.
Bake for 8 minutes or until edges are brown.
Cool on a wire rack.
To make the filling:
Turn down oven to 325 degrees F.
Combine spices, salt, and arrowroot/cornstarch and whisk with a fork until combined. 
In a bowl, add pumpkin puree, eggs, and vanilla. Stir until combined.
Add spice mix and combine.
Add maple syrup and coconut milk and whisk until well combined.
Pour filling in cooled pie crust.
Bake pie for 45 minutes or until set in center and browned on top.
Let cool completely on wire rack and refrigerate 5 hours or overnight.
Enjoy with some coconut whipped cream and a spiced hot chocolate.
Happy Holidays!
Tip the scale into holiday dinner perfection with these classic, comforting dishes. They're delicious. They're bone-healthy. And they're crowd-pleasers. 
So, I hope you'll do your bones and taste buds a favor and try these recipes.  
They're as easy to make as they are guilt-free. So you can take the stress out of planning a holiday meal.
What's your favorite dish during the holidays? Please share it with us in the comments below!