10-Ingredient Turmeric, Ginger, and Carrot Soup

It's the New Year! For me, a new year means embarking on New Year's resolutions, planning out the year ahead, and trying out a brand new soup recipe (it's a bit of a tradition).

After all, it may be a new year, but there's nothing new about the winter weather!

So today I want to share the latest soup recipe I've discovered that's keeping me warm in early 2019– turmeric, ginger, and carrot soup!

You only need 10 ingredients for this carrot soup recipe, it lends itself to batch preparation, and it's blended for that silky smooth texture. Plus, it contains some delicious bone-healthy ingredients…

Fragrant turmeric and ginger both possess anti-inflammatory properties. (In fact, one study showed that curcumin was more potent than Aspirin and Ibuprofen at suppressing inflammation). And if you're a regular reader of the AlgaeCal blog, you'll know chronic inflammation causes bone loss!
As for carrots, they're chock-full of the antioxidant beta-carotene. Plus, carrots provide a whole host of other nutrients, including manganese, copper, and vitamin E– all essential nutrients for healthy bones!
And to top it off, the spices pair wonderfully with the sweetness of the carrot. Need I say more?
10-Ingredient Turmeric, Ginger, and Carrot Soup
Inflammation-fighting soup with a kick! Turmeric and ginger add an anti-inflammatory punch, while carrots give this soup a natural sweetness. Plus,10 ingredients makes this recipe a delicious winner.
Course
Soup
Cuisine
American
Keyword
carrot,ginger,turmeric
Prep Time

5

minutes

Cook Time

40

minutes

Total Time

45

minutes

Servings
3
Calories
208 kcal
Instructions
Heat the olive oil in a large pot over medium heat.
When the oil is hot, add the onion and saute for about 5 minutes until translucent.
Add the garlic, ginger, turmeric, salt, and pepper and saute for 2 minutes, or until the spices are fragrant.
Add the carrots and saute for 3 more minutes.
Pour in the vegetable stock, and bring the mix to a boil.
When your soup has reached boiling point, reduce the heat and simmer.
You'll want to simmer the mix for 20 to 25 minutes, or until the carrots are cooked through.
This is the fun part! Transfer your soup to a high-speed blender, and puree in batches (you probably won't be able to fit it all in at once.)
Give your soup a taste and add more salt and pepper if necessary.
If you prefer a slightly thinner consistency, return your pureed soup to the pot and stir in some extra vegetable broth.
Sprinkle the parsley and pumpkin seeds over your soup, serve, and enjoy!
Recipe Notes
You may have noticed a high amount of sodium on the nutrition label. The nutrition label pulls data from the USDA nutrition database which uses a store-bought version of the vegetable broth (which tend to be high in sodium) when it calculates nutrition amounts. I usually try to make my own vegetable broth, which will be much lower in sodium! I'd suggest making your own to lower the sodium in this recipe or finding a "low-sodium" broth in store to use.
Ingredients
1

clove

garlic

finely chopped

1

piece

ginger

a thumb-sized pieced peeled and grated

1

medium

onion

finely chopped

2

tbsps

olive oil

2

tsps

turmeric powder

6

cups

vegetable broth

4

cups

carrots

chopped

fresh parsley

to garnish

pumpkin seeds

to garnish

salt and pepper

to taste
Nutrition Facts
10-Ingredient Turmeric, Ginger, and Carrot Soup
Amount Per Serving (8 0z)
Calories 208
Calories from Fat 90
% Daily Value*
Fat 10g15%
Sodium 1998mg87%
Potassium 704mg20%
Carbohydrates 29g10%
Protein 2g4%
Vitamin A 28845IU577%
Vitamin C 14.1mg17%
Calcium 72mg7%
Iron 2.5mg14%
* Percent Daily Values are based on a 2000 calorie diet.
New Year Soup Takeaways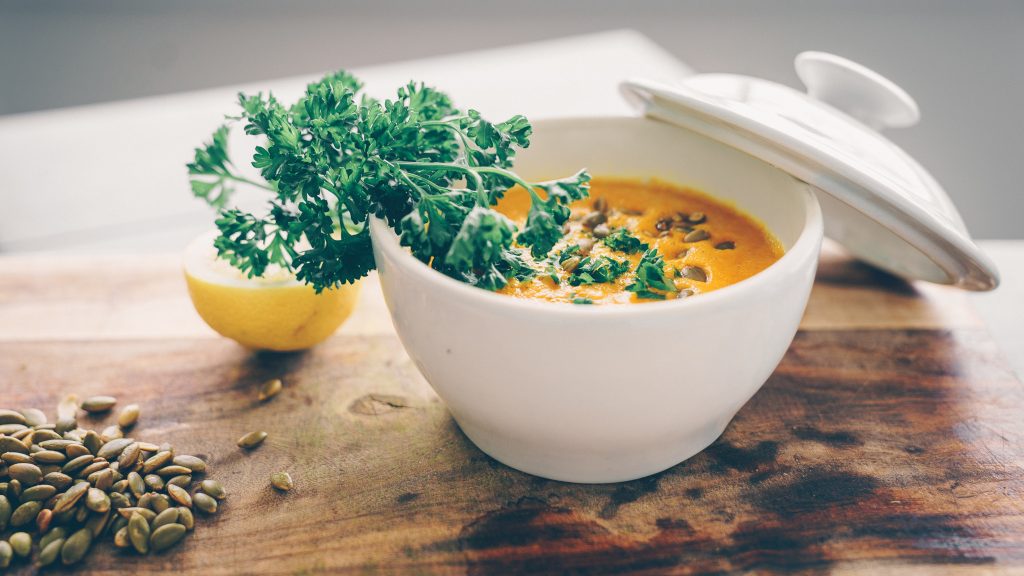 I hope you find this soup as simple to make and yummy as I did! And don't forget, if your New Year's resolution was to look after your bones, this anti-inflammatory soup certainly helps!

I'd love to know how your soup turns out, so please let me know in the comments section below. Or better still, send me a picture with the caption #carrotsoup via the AlgaeCal Community! If you haven't joined yet, the AlgaeCal Community is a dedicated place for AlgaeCal customers to support one another on their bone health journeys — you can check it out by following this link https://www.facebook.com/groups/algaecal/

And if you have any favorite soup recipes you want to share, I'm all ears, so please feel free to tell me about them in the comments section below!