Simple Posture Exercises for Osteoporosis That Make a Difference

I'm someone who has poor posture, which was made even more evident when filming these exercises!
So what does posture mean, exactly?  Posture is the position of a person's body when standing or sitting.  When you have good posture, your body will work how it should.  But bad posture can lead to decreases in physical activity (due to limitations) and even headaches and neck and back pain.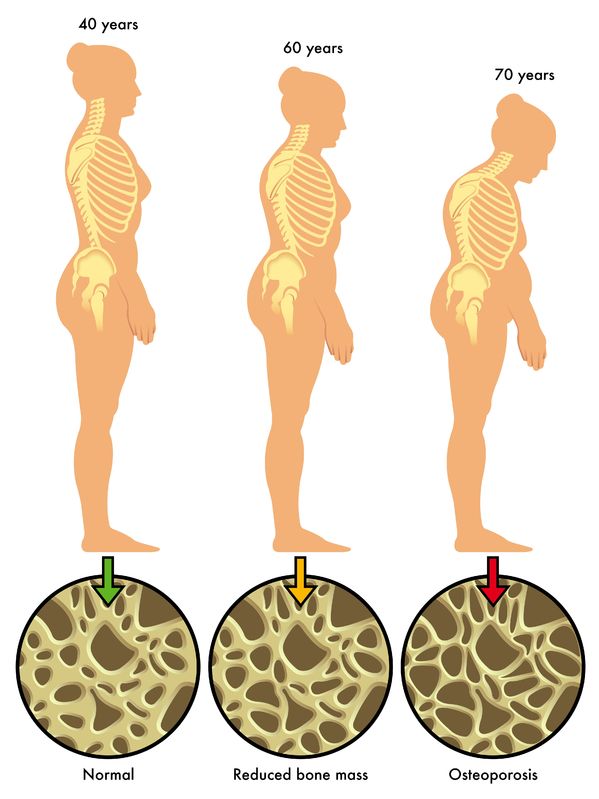 Having proper posture alignment will reduce the amount of strain you put on your body's ligaments and muscles.  It can also prevent forward hunching and injuries.
Posture exercises are important at any age, but especially when you are suffering from low bone density or osteoporosis.
Have you seen your friends or relatives start to hunch or form a small hump on their back?
This is known as a Dowager's hump (Kyphosis). Technically speaking, it's the forward curvature of the spine that results in a stooped posture. This is typically seen in women with osteoporosis and is actually caused by the collapse of some of the front edges of the thoracic vertebrae!
The bones become porous and weak and can result in a fracture by simply bending over.
The crazy thing is, most people don't feel it. That's why osteoporosis is also known as 'the silent disease.'
So don't wait until your posture starts to decline and your risk of Dowager's hump and spinal fractures are upon you.
Try these simple posture exercises you can practice regularly.
Simple Posture Exercises for Osteoporosis
Shoulder Rolls
Sit in a comfortable position
As you inhale, raise your shoulders and shoulder blades to the back of your ears (a rolling motion).
As you exhale, pull your shoulder blades down.
Repeat 10 times.
Take a 2-minute break and repeat.
Progression: Stand in a comfortable position while you practice this exercise.
Benefits: It relieves shoulder and back tension and also prevents forward hunching.
Adjustment: Simply squeeze the shoulders back and relax them down (if your shoulders already tend to be raised toward the ears)
Head Press
Sit comfortably in a well-supported chair.
More your head straight back as far as you can.
Do not tilt your chin or forehead.
Hold your head in this position for 1-2 seconds.
Relax back into your starting position.
Repeat 10 times.
Progression: Stand comfortable while practicing this exercise.  Repeat with 2 sets at a time.
Benefits: Relieves tightness in your spine and muscles in your neck.  Also, it helps to align your shoulders and head. (As you can see, I tend to lean my head and neck forward naturally, so this is an exercise I need to continue doing to correct this!)
Adjustment: People who have tight neck muscles will compensate by leaning backwards. To prevent this and isolate the movement of the head, you can either stand against a wall or press the head back into your bed/couch while lying down.
If you have osteoporosis or low bone density, you may need to avoid or adjust exercises accordingly. If you are unsure, you should check with your healthcare provider.