EWG's 2019 Dirty Dozen and Clean Fifteen Lists

The 2019 Dirty Dozen and Clean Fifteen lists are here!
Every year the Environmental Working Group (EWG) produces the lists as part of their Shopper's Guide to Pesticides in Produce.
The United States Department of Agriculture (USDA) tests thousands of samples of produce sold in America. And the EWG analyzes the list to determine which produce has the most pesticide residues (the Dirty Dozen) and which has the least pesticide residues (the Clean Fifteen.)
If you're familiar with the Guide to Pesticide in Produce, you'll recognize a lot of familiar faces on the lists this year. Although there are a few surprising newcomers!
The USDA found evidence of 225 different pesticides and pesticide breakdown products. What's more, nearly 70% of the tested samples were contaminated by pesticide residues!
But why should you be aware of pesticide residues on produce? Well, pesticides are bad news for your bones, because many are pro-oxidant, which means they produce free radicals in your body. And free radicals can trigger low-grade, chronic inflammation which causes bone loss! You can read all about pesticides and bone health on our "Top Causes of Osteoporosis" page.
Plus, pesticides have been linked to fertility issues in both men and women.
Here at AlgaeCal we recommend buying organic produce whenever you can. But we also know that depending on the time of year or where you live, organic options aren't always available. The Clean Fifteen and Dirty Dozen lists make it easier for you to decide which conventionally grown foods are safe and healthy to eat, and which are worth spending a little extra on to go organic.
---
The Dirty Dozen
The following 12 fruits and veggies tested positive for a number of different pesticide residues and showed the highest concentration of pesticides overall.
Strawberries maintain top spot again this year– that's the third year running! 90% of strawberry samples tested positive for at least two pesticides.
Perhaps the biggest surprise on this year's Dirty Dozen list is the appearance of the popular "superfood" kale. Kale didn't feature at all on last year's list, but this year it's the third most pesticide-contaminated produce! In fact, a single sample could contain as many as 18 different residues.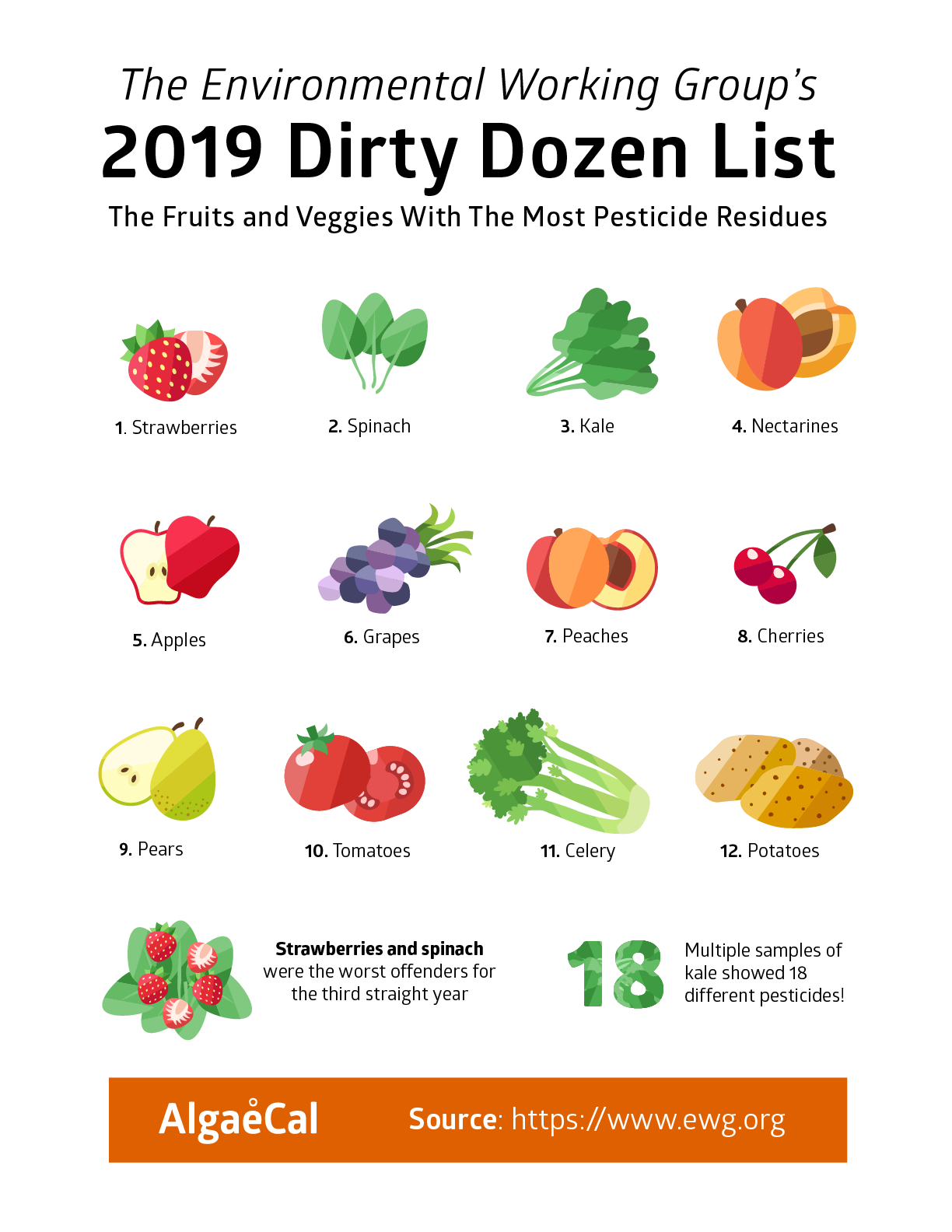 The Clean Fifteen
The following 15 fruits and veggies showed the least amount of pesticide residues and the lowest concentration of pesticides.
The cleanest of all, for the second year running, is the healthy, fat-rich avocado! Less than 1% of avocado samples showed any detectable pesticides.
The rest of the Clean Fifteen are largely the same as last year, bar a few position changes in the middle of the pack. The only newcomer is the mushroom, who squeezed out mangos.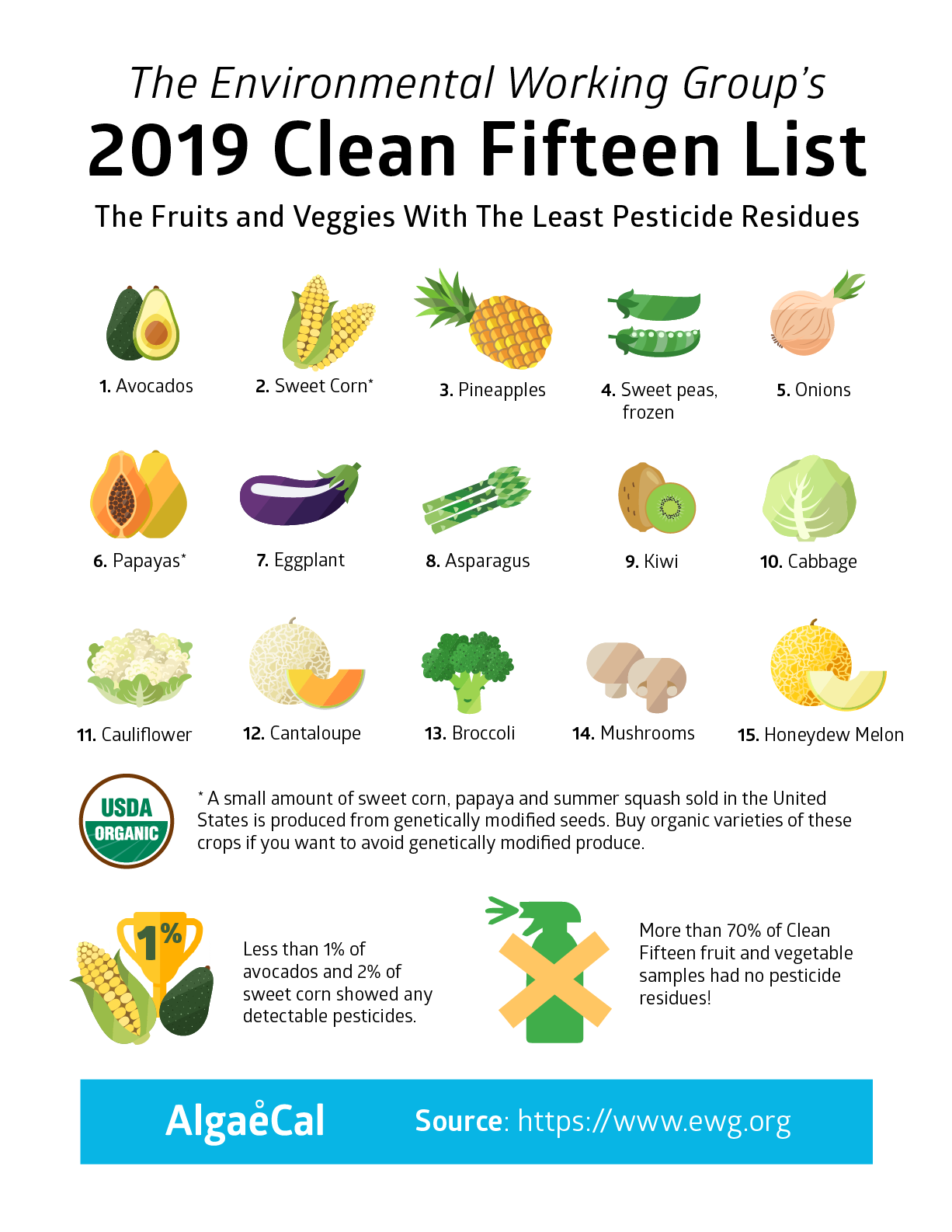 Want these lists for yourself?
Download the PDF here, print it out and take it grocery shopping!
Or if you'd rather have a pictureless version, click here for the picture-free PDF. (I like to stick my list to my kitchen cupboard as a reminder).
If you'd like to delve a little further into clean and dirty produce, the EWG publishes a full version of their produce guide. Check out the full 47 and see how other produce — like lettuce and bananas — stack up against the Clean Fifteen and Dirty Dozen.
So now that you have your lists at the ready — what do you do with your fruit and veggies after purchasing them? You wash them. Properly, we hope….
---
How to Wash Your Fruits and Veggies
Now, the produce in the Dirty Dozen and Clean Fifteen lists was washed and peeled before testing, just as people would prepare food for themselves. This shows that washing doesn't remove all pesticides. But the EWG states that unwashed produce will contain more pesticides than washed produce.
So, it's important to wash your produce whether it's organic or not. While the Clean Fifteen boasts less pesticide residue than the Dirty Dozen list, you still need to wash your produce to ensure you're consuming the least possible amount of dirt, dust, and pesticide residue.
But do you know how to properly do that? Here are a few tips to help you out…
Don't:
Wash fruit and veggies with soap or detergent
Use an abrasive brush on delicately skinned fruit
Do:
Wash your hands ahead of preparing fruit and veggies
Place fruit and veggies in your sink and fill with cold, distilled water for two to three minutes. Soak produce with ridges and crevices (like broccoli and cauliflower) for a few minutes longer.
For produce with thick skin, use a gentle vegetable brush to help lift away additional pesticides and microbes.
Drain your sink and dry your fruit and veggies when you've finished washing.
You may be thinking that commercial produce washes are missing from our Do list. But studies have shown that cold, distilled tap water is just as effective, if not more so, than costly veggie rinses.
Researchers at the University of Maine tested three commercial wash treatments:
J0-4 Multi-Functional Food Sterilizer
Fit®
Ozone Water Purifier XT-301
All three products were tested according to package directions and the researchers used low-bush blueberries as the produce.
In addition to the three commercial washes, a water wash was also tested. The blueberries were put in distilled water for one to two minutes.
Here were the head-to-head results:
Fit® wash was able to get rid of the same amount of microbes as distilled water. Both reduced the level of pesticide residue compared to unwashed samples.
The J0-4 Multi-Functional Food Sterilizer and The Ozone Water Purifier XT-301 removed microbes from the blueberries. But the distilled water was more effective than both of the ozone washes.
Simple water for the win!
But why distilled water? Distilled water has been purified and filtered to remove contaminants. If you don't have distilled water available to you, you can also use very clean, cold tap water instead.
I hope you found this post useful 🙂 Let me know what surprised you most in the comments section below!