Hip Strengthening Exercises You Can Do Anywhere, Anytime

Nearly 75% of all hip fractures occur in women.¹
Hip fractures are invariably associated with reduced mobility, chronic pain and an increasing degree of dependence.²
Ladies, the stats are not in our favor. However, who says we have to be a statistic?
The following three hip strengthening exercises are designed to improve the strength of your hips and the muscles surrounding and around them.
Plus, these exercises have other benefits…
The Benefits of Hip Strengthening Exercises
By 2050, the worldwide incidence of hip fracture is predicted to go up by 240% for women and 310% for men compared to rates in 1990, respectively.³
So the benefits of regularly participating in hip workouts is huge, as it will:
Reduce your risk of falls

. Hip muscle strength decreases with age. The ability to maintain this hip strength has been shown to maintain balance and mobility and prevent falls. ⁴ Which will also…

Reduce your risk of hip fracture

.

Increase hip mobility

. Your hips are connected to the rest of your body.  When your mobility in this area is limited, you start to overcompensate in other areas such as the lower back and knees, which can cause pain.

Strengthen additional muscles

. Such as your glutes and core.
Three Exercises to Strengthen Hips
You can pretty much do these three exercises anywhere. There is no equipment required and all you need is a little bit of space.
#1 The Clamshell
The clamshell is a great exercise to strengthen hips, pelvis, and glutes (specifically the gluteus medius).
In fact, one study published by the Journal of Orthopedic and Sports Physical Therapy found that the clamshell and the unilateral bridge (an advanced exercise that we will discuss below) are some of the best exercises to strengthen hips for injury treatment and prevention.⁵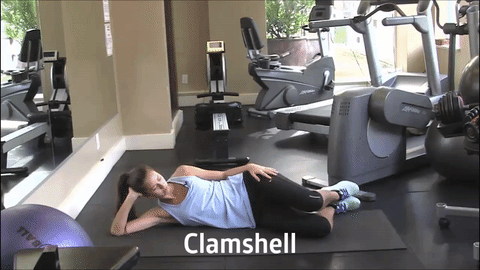 How To Do a Basic Clamshell:
Lie on your side with your legs stacked on top of each other, with your legs bent at a 45-degree angle.

Rest your head on your lower arm or prop it up as I have done in the GIF below.

Ensure that your hips are also stacked on top of each other. You don't want your hips to rock backward.

Engage your abdominal muscles by pulling your belly button in (think of it as pulling it towards your back).

Then, raise your upper knee as high as you can while your feet as still touching. Do not shift your hips or pelvis or move your bottom leg off of the floor.

Hold for 1-2 seconds and then slowly bring your top leg back down to its starting position.

Complete 15-20 times on each side for two sets.

 
Advanced: There are many different variations of the clamshell. The one above requires no equipment and is the most basic form. Once you have mastered this exercise, you can challenge yourself with more reps or try using a resistance band. Place the resistance band around both of your legs, just above your knees. And continue the exercise as instructed above.
# 2 Hip Raise or Glute Bridge
The glute bridge is one of my favorites. It activates your glutes and stretches your hips, which can prevent and alleviate back pain.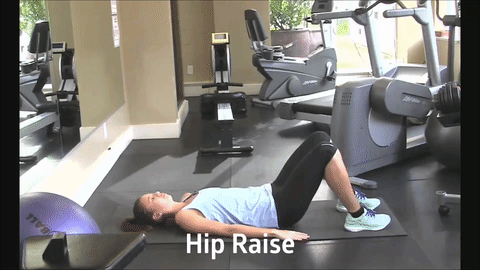 How to Do a Basic Glute Bridge:
Lay down on a mat with your feet on the ground, arms by your side and your knees bent. Your feet should be about shoulder-width apart. You can change how far your feet are from your butt. The closer in will engage more glute, the farther out will engage more hamstring.

Engage your glutes and abdominals and lift straight up through your heels and upper back – as high as possible. Keep your belly drawn in so your back is protected.

Hold and squeeze your glutes for 2-3 seconds at the top.

Then release back down slowly to your starting position.

Repeat 10-15 times.
Advanced: Just like the clamshell, there are many variations of the bridge. Once you have mastered the basic glute bridge, you can try the Unilateral (Single Leg) Bridge. Remember the study above? It talked about the unilateral bridge being one of the best exercises to strengthen hips. To do the unilateral bridge, follow the same directions as you would for the basic glute bridge. But when you lift, you are only raising one leg up off the ground. You can lift that leg straight up towards the ceiling, or lower at about 90 degrees.
#3 Side Leg Raise
Side leg raises predominantly work on your abductor muscle group, although it's also a great exercise to tone your hip area and increase its mobility.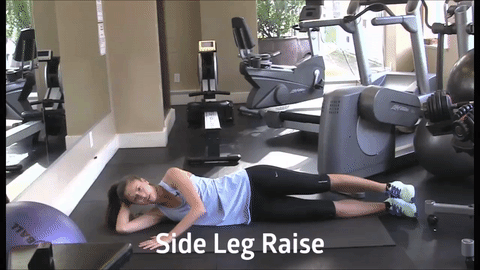 How To Do a Basic Side Leg Raise:
Lie on your side on a mat with your legs stacked on top of eachother with your head resting down on your bottom arm or supporting your head like I am in the GIF below.

Use your other hand to stabilize yourself by placing it on the floor in front of you.

Engage your glutes and abdominals by pulling your belly in.

Then without moving your upper body, lift your top left straight up as high as possible.

Lower down slowly.

Complete 15-20 times on each side for two sets.
Advanced: Once you have mastered the side leg raise, you can use a resistance band to challenge yourself. Place a resistance band just above both ankles. The movement of this exercise will be the same as the side leg raise, but now you will have some tension from the resistance band.
These three hip strengthening exercises are great to do as a full lower body workout. Try doing them every other day so you give your muscles some time to recover.
Interested in strengthening your core, too? Check out our planking exercises for stability and bone strength.
And let me know if there are any other areas you would like exercises for in the comments below!
---
Sources:
Jordan KM and Cooper C (2002) Epidemiology of osteoporosis. Best Pract Res Clin Rheumatol 16:795.

Keene GS, Parker MJ, Pryor GA (1993) Mortality and morbidity after hip fractures. BMJ 307:1248.

Gullberg B, Johnell O, Kanis JA (1997) World-wide projections for hip fracture. Osteoporos Int 7:407.

Seong-Il Cho and Duk-Hyun An. 

Effects of a Fall Prevention Exercise Program on Muscle Strength and Balance of the Old-old Elderly.

J Phys Ther Sci. 2014 Nov; 26(11): 1771–1774. Published online 2014 Nov 13. doi:  10.1589/jpts.26.1771

Selkowitz DM, Beneck GJ

.

Which exercises target the gluteal muscles while minimizing activation of the tensor fascia lata? Electromyographic assessment using fine-wire electrodes.J Orthop Sports Phys Ther. 2013 Feb;43(2):54-64. doi: 10.2519/jospt.2013.4116. Epub 2012 Nov 16.