How to Make Hibiscus Tea (2 Ways)

You may be familiar with the hibiscus flower, Hibiscus sabdariffa, which is made into a popular tea and makes for a refreshing summertime drink. In other parts of the world, it is also known as bissap, roselle, red sorrel, agua de Jamaica, Lo-Shen, Sudan tea, and sour tea.(1) It does indeed have a sour taste, similar to cranberry juice. But it's low in calories and caffeine-free – making it a fantastic choice for every day (and all day) consumption.
Hibiscus imparts a vibrant red color when steeped that not only looks beautiful but also boasts beneficial health properties. Published research on hibiscus have focused on its effects on blood pressure and cholesterol, in particular:
Blood Pressure: One study found that consuming hibiscus sadariffa (HS) tea was just as effective at lowering blood pressure as a common blood pressure medication known as Captropril, but less effective than Lisinopril.(2)
Cholesterol: A 2009 study looked at HS tea's ability to support cholesterol maintenance.(3) Participants were given either HS tea or black tea for one month. After the month, researchers saw that participants who drank HS tea were able to help maintain total,

LDL

, and

HDL

cholesterol levels. Black tea on the other hand only impacted HDL levels.
Hibiscus is safe and has shown no adverse side effects.
However, positive studies have used the following doses:
For blood pressure maintenance: One cup of hibiscus tea 2x daily
For cholesterol maintenance: One cup of hibiscus tea 2x daily
This is my current go-to tea when I want something refreshing. I even make a big batch of it iced (recipe below) and take it in my water bottle to the gym or on hikes. Let me know what you think in the comments below!
Hibiscus tea is just as wonderful cold and can be made into a refreshing lemonade, too!
Course
Drinks
Prep Time

2

minutes

Calories
8 kcal
Instructions
Using a single serve tea steeper or tea bag, place hibiscus flowers in the steeper.
Squeeze fresh lemon juice into your cup.
Add hot water.
Let steep for 5 minutes (or longer for strength). Enjoy!
Ingredients
1

tsp

hibiscus flowers

dried, organic

1 – 2

tbsp

lemon juice

fresh, organic
Nutrition Facts
Lemon Hibiscus Tea
Amount Per Serving
Calories 8
% Daily Value*
Total Carbohydrates 2g 1%
* Percent Daily Values are based on a 2000 calorie diet.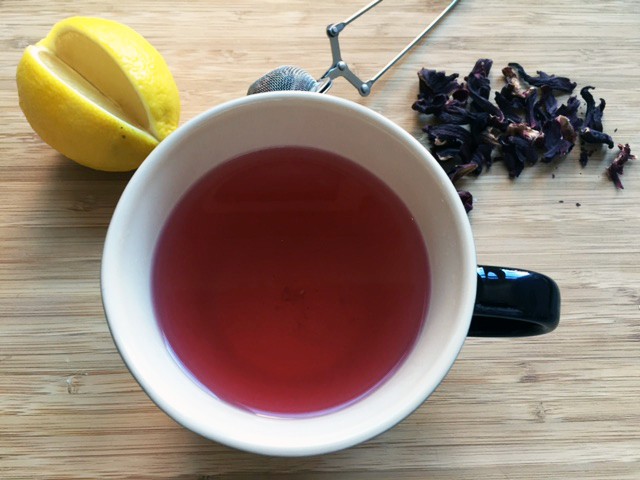 Refreshing and healthy!
Course
Drinks
Prep Time

3

minutes

Calories
239 kcal
Instructions
Place hibiscus flowers in a tea bag.
Add tea bag, mint leaves and water to a pitcher.
Stir briefly to combine and then place in the fridge overnight to steep.
When the tea is finished steeping (when the flavor and color are to your liking) add your ice and serve!
If you've decided to sweeten, use simple syrup as regular honey and sugar won't dissolve well in the cold tea. To make simple syrup heat equal parts sugar (I use coconut sugar) and water in a pan. Stir until the sugar has dissolved and then add to your ice tea.
Ingredients
1

tbsp

hibiscus flowers

Handful of ice

4

cups

cold water

1/4

cup

mint leaves

1/4

cup

simple syrup

to sweeten (optional)
Nutrition Facts
Hibiscus Mint Ice Tea
Amount Per Serving
Calories 239
% Daily Value*
Sodium 52mg 2%
Potassium 117mg 3%
Total Carbohydrates 64g 21%
* Percent Daily Values are based on a 2000 calorie diet.
Have you tried hibiscus tea before? Let me know in the comments below.
Want more refreshing drink recipes like this one? Download your FREE Recipes for Stronger Bones Ebook now.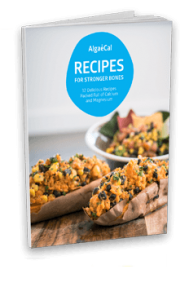 Free eBook:
Recipes

for stronger bones

32 Delicious Recipes Packed
Full of Calcium and Magnesium

Next Step
---
Sources:
jn.nutrition.org/content/140/2/298.full
ncbi.nlm.nih.gov/pmc/articles/PMC3593772/
ncbi.nlm.nih.gov/pubmed/19678781