Cannellini Beans with Basil Pesto and Kalamata Olives

This is a new recipe I thought up and cooked over the weekend because my son, Galen, can actually eat all the ingredients! At the moment, he is avoiding dairy, all the grains and more. So, I've had to get a little creative.
Thankfully, this turned out really well – and looks beautiful!
Pesto is so versatile. It makes a great pasta sauce, it also works well with steamed vegetables, potatoes, even in omelets! There are tons of uses and thus, lots of ways to sneak more bone-healthy greens into meals.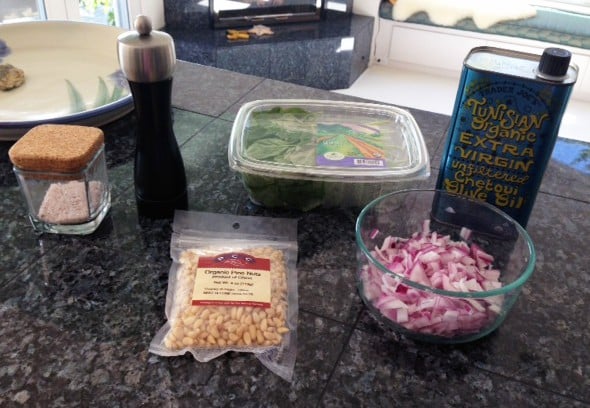 Cannellini Beans with Basil Pesto and Kalamata Olives
| | | |
| --- | --- | --- |
| | Course | Salad |
| | Calories | 1799 kcal |
Ingredients
1

quart

cannellini beans

, organic (least $ in the bulk section of your grocery)

4

ounces

basil

, organic

1/4

cup

olive oil

, extra virgin and organic (avoid oils packaged in plastic, look for glass or metal containers)

3

ounces

pine nuts

(if you cannot find organic pine nuts, substitute organic walnuts or pecans)

1

red onion

, large and organic

4

ounces

kalamata olives

, organic

parsley

a few sprigs for decoration

salt

to taste

pepper

to taste
Nutrition Facts
Cannellini Beans with Basil Pesto and Kalamata Olives
Amount Per Serving (200 g)
Calories 1799
Calories from Fat 1170
% Daily Value*
Fat 130g200%
Sodium 3315mg144%
Potassium 1050mg30%
Carbohydrates 137g46%
Protein 57g114%
Vitamin A 6425IU129%
Vitamin C 28.5mg35%
Calcium 728mg73%
Iron 24.9mg138%
* Percent Daily Values are based on a 2000 calorie diet.
Instructions
Rinse the cannellini beans in cool, running water.
Place the beans in a large bowl that has enough room to add water to cover them fully plus a couple of inches to spare, so they can absorb water and still remain covered.
Cover the bowl and soak the beans for 8 hours (overnight is easiest). Then drain and rinse the beans in cold water.
Transfer your beans to a pressure cooker. Add water to cover plus several extra inches too, a heaping tablespoon of miso and a piece of kombu. Bring the pressure cooker to full pressure over high heat (the indicator button will pop up; typically, achieving full pressure takes about 20 minutes).
When the indicator button on your pressure drops back down, open the lid, remove the kombu, drain the beans and place them in a large serving bowl. You can now toss them with the basil pesto or leave as is and store, covered in your refrigerator where they will keep for 5-7 days.
Toss the cannellini beans with the basil pesto, kalamata olives and diced red onion. Decorate with parsley if desired. Serve immediately or store in your refrigerator for up to one week. This bean salad is good eaten cold, but the flavor of the basil is richer if it's gently reheated.
Basil pesto
While the beans are cooking, prepare the basil pesto. You'll need to rinse and chiffonade your basil.
To chiffonade basil (or any other green leafy vegetable) place the rinsed leaves one on top of another until you have a stack of them. Then roll from the outside edge in as if you were rolling up tobacco leaves to make a cigar. Slice horizontally every 1/4″ or so. You'll end up with narrow ribbons of greens. (Chiffonade works especially well for kale, too.)
Combine basil, extra virgin olive oil, pine nuts, a 1/4 cup of the red onion (diced), salt and pepper in a food processor (or blender) and process until smooth.
Recipe Notes
*If you forget to soak the beans overnight, they can be "pre-pressure cooked," so you don't have to soak them for 8 hours. Basically, you just rinse the beans, put them in the pressure cooker, bring it to pressure, cook for just 2 minutes, then drain and rinse the beans, put them back in the pressure cooker, cover with water, add miso and kombu, bring back up to pressure, and pressure cook them again for the full 8 minutes. This comes in really handy if you decide you want to cook beans and hadn't thought about it the night before!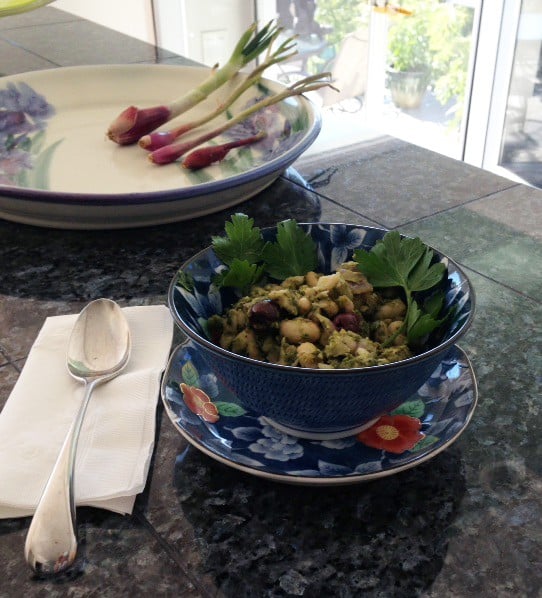 Looking for more bone-healthy recipes like this one? Download our FREE Recipes For Stronger Bones Ebook below.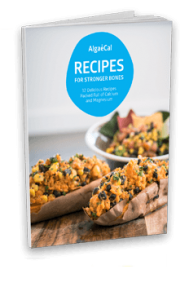 Free eBook
Recipes
for stronger bones
32 Delicious Recipes Packed Full of Calcium and Magnesium
Next Step