Pea Pesto Pasta

A new twist on the classic pesto, this pea pesto uses frozen peas and fresh mint in place of basil. The peas 'meaty-up' the pasta and the mint gives a fresh element to the dish. I like to play around with my herbs sometimes and this one worked out very nicely!
Nutrition info: 1 cup of cooked green peas contains 39% of vitamin K, 36% manganese and 26% copper – all important when it comes to building bone health.
Yield: 4 -6 servings
Prep Time: 15 mins
Cook Time: 15 mins
Total Time: 30 mins
Ingredients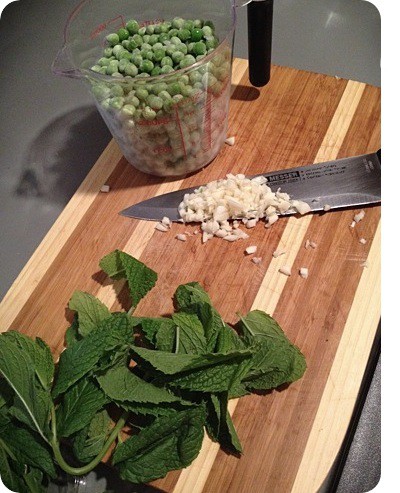 Suitable add ons:
sautéed prawns or scallops
1 pkg. organic whole wheat pasta
3 cups organic frozen peas
2 organic garlic cloves, minced
1/2 cup organic mint leaves, chopped
3/4 cup parmesan, grated
1 tbsp. organic lemon zest
1 organic lemon, squeezed for juice
1/4 cup organic raw pine nuts
1/2 cup extra virgin olive oil
salt and pepper to taste
Directions
Prepare pasta to packaged directions
While pasta is cooking blanch frozen peas in boiling water for 1-2 minutes
Then add 2 cups of peas, garlic, mint, lemon zest, lemon juice, pine nuts and extra virgin olive oil in a food processor or blender until smooth
Add parmesan and blend until smooth and add salt and pepper to your liking
Add 1 cup of leftover peas to the pesto, but do not blend
Once pasta is ready mix with pea pesto and serve!
---