Lamb Chops with Lemon Mint Sauce

This dish is as healthy as it is tasty! Lamb is an excellent source of high quality protein and is a source of iron, B vitamins and trace elements such as copper, manganese and selenium. By topping the lamb chops with the lemon mint sauce, it not only freshens the dish, but also provides high amounts of vitamin K, C, and A.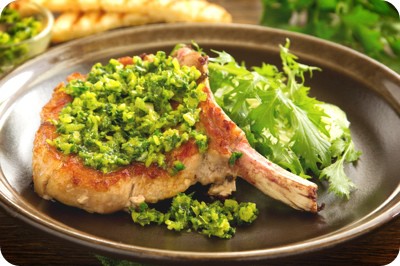 Yield: 4 servings
Prep Time: 10 minutes
Cook Time: 20 minutes
Total Time: 30 minutes
Ingredients
4 (1 inch thick) lamb shoulder chops
1/2 cup flour
1-2 garlic cloves, finely chopped
2 cups parsley, finely chopped
2 cup cilantro, finely chopped
2 cups mint, finely chopped
1 lemon, freshly squeezed
1 tbsp. balsamic vinegar
3/4 cup of olive oil
Salt and pepper to taste
Directions
Mix garlic, cilantro, parsley, mint, lemon juice, vinegar, olive oil, and salt and pepper in a bowl. Let sit for 15 minutes
Lightly salt lamb chops and thoroughly coat the chops with a thin layer of flour
Heat 1 1/2 tablespoons of olive oil in large skillet over medium heat. Add chops to the heated skillet and cook to desired doneness. Personally, I cook each side for 4-5 minutes per side (medium-rare)
Serve with lemon mint sauce!
---