The Ultimate Guide to A Bone-Healthy Christmas

The holiday season is here! But besides the quality family time, festive activities and giving, the holiday season presents a bit of a dilemma…
Trying to stick to a nutritious, bone-healthy diet! At this time of year, it can be difficult to stay on track and avoid the temptation of sugary, fatty snacks and foods that do your bones no favors. But don't worry, we've got your entire festive menu planned out. And you don't need to sacrifice flavor or your bone health!
We've compiled a menu of 19 festive recipes to fight osteoporosis that will keep your taste buds and your bones happy. Our dishes range from healthful entrées, sides, snacks and deceivingly-indulgent desserts that'll please even the pickiest palates.
So read on to discover your most delicious, bone-healthy Christmas yet!
---
Your Bone-Healthy Holiday Menu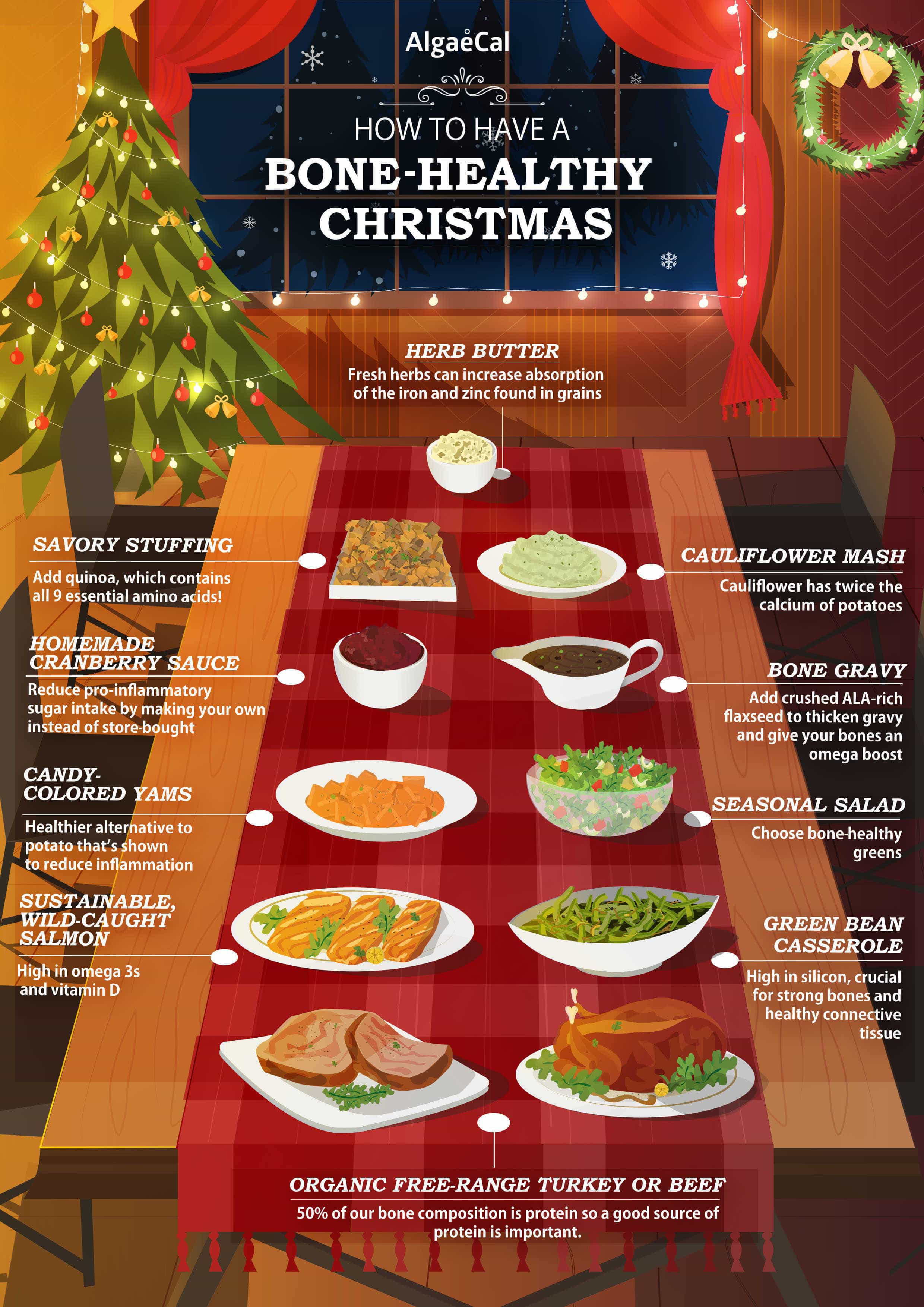 The following are 19 menu items for you to try this holiday season! Some are traditional favorites with a few bone-health tweaks, while others are completely new. Scroll down to read through the entire menu or click on the items below to jump to that dish.
10 Festive Dinner Foods That Fight Osteoporosis
3 Party-Pleasing Snacks for Healthy Bones
Deck the Halls with 6 Desserts and Drinks
---
10 Festive Dinner Foods That Fight Osteoporosis
The following dinner recipes provide a symphony of farm-fresh flavors to your festive table. Wow your family and friends with free-range roasts, leafy greens that won't be leftovers, and stuffing that can stand on its own. But best of all, these recipes all contain bone-healthy ingredients! There's no festive guilt hangover here!
Boast About Your Roast
A nice roast is always the main event at my family's festive dinner. And we always opt for organic or free-range turkey or beef.
Why? Well, naturally-raised animals are void of antibiotics, hormones and pesticides. So they're more healthy, with less saturated fat, and more omega 3 fatty acids.
Of course, these meats are good sources of protein which is important for bone and muscle health. Turkey, in particular, is also high in B vitamins (B2, B6, B12). These play a key role in preventing osteoporosis and fractures.
(Note: Organic or free-range pork/ham is difficult to find. And pigs are fed grain and soy meal unnatural to their forager diets, which disrupts their omega 3-6 fat balance.)
Not a big meat eater?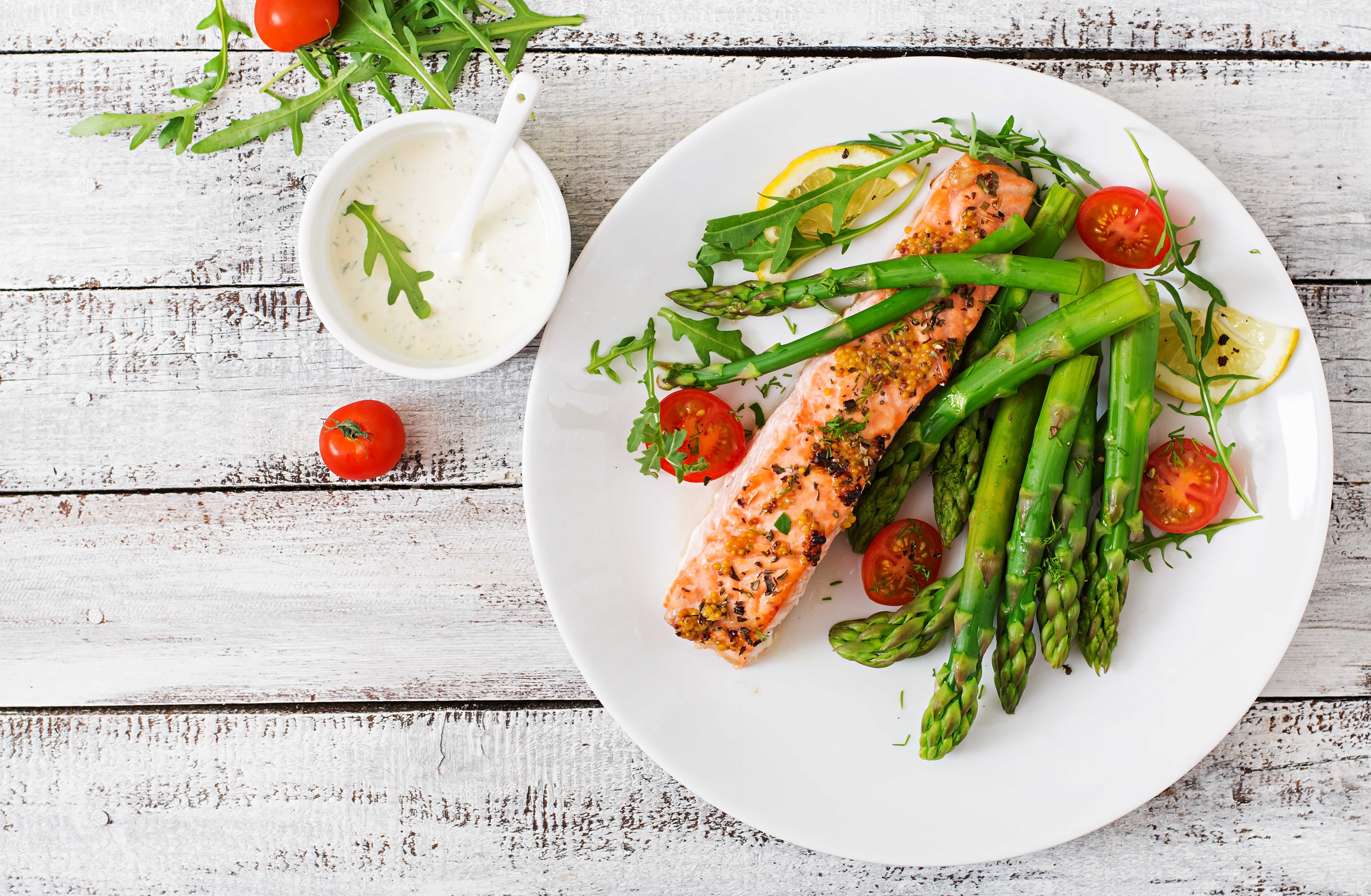 Look To The Sea for Alternative Proteins
Consider wild-caught salmon instead. My favorite is Chinook (also called King or Spring salmon) because it's absolutely delicious and packed full of vitamin D and omega 3 fatty acids! (As you may know, omega 3s are crucial for easing the inflammation that can accelerate bone loss!)
Try stuffing your salmon with lemon slices, dill and almonds and baking it whole. It's sure to offer "wow" factor as a table centerpiece.
You-Can't-Tell-It's-Not Potato Mash!
Mashed potatoes are a staple of almost any family feast, but I've got a tip for you to give this classic dish a bone health makeover…
Replace traditional mashed potatoes with steamed, whipped cauliflower, and see if anyone notices!
Course
Side Dish
Cuisine
American
Keyword
cauliflower
Prep Time

10

minutes

Cook Time

15

minutes

Total Time

25

minutes

Servings
4
Calories
65 kcal
Instructions
With a hand blender, whip lightly steamed cauliflower. (If you don't have a steamer and decide to boil your cauliflower, make sure to strain it before blending to get rid of any excess water)
Add the organic butter, dried (crushed) rosemary, garlic, Himalayan sea salt and pepper.
To make it creamier, add two tablespoons of milk. (Consider sheep's or goat's milk for easier digestion and nutrient absorption that have as much calcium as cow's milk.) Make sure it's 2% or whole milk because studies show it's more difficult to absorb vitamin D without milk's fat (skim milk).
Recipe Notes
Bone health bonus: In addition to curbing your carb intake, using cauliflower adds almost twice the amount of calcium that potatoes provide. (Cauliflower = 22 mg calcium per 100 grams, potatoes = 12 mg per 100 grams).
Ingredients
1

head

cauliflower

2

tbsp

milk

1

tbsp

butter

organic

rosemary

, dried

Himalayan sea salt

black pepper
Nutrition Facts
You-Can't-Tell-It's-Not Potato Mash!
Amount Per Serving
Calories 65
Calories from Fat 27
% Daily Value*
Fat 3g5%
Cholesterol 8mg3%
Sodium 71mg3%
Potassium 439mg13%
Carbohydrates 7g2%
Protein 3g6%
Vitamin A 90IU2%
Vitamin C 69.3mg84%
Calcium 40mg4%
Iron 0.6mg3%
* Percent Daily Values are based on a 2000 calorie diet.
Seasonal Salad with Omega Dressing
Who said salads have to be boring? Add a splash of color to your spread with a festive green and red salad with a mixture of salad greens.
Here's how to make the dish:
Include collard leaves (84 mg calcium per cup), kale (137 mg calcium per cup) and other high-calcium greens. There's plenty to choose from, including spinach, watercress, and arugula.
Add vitamin C-rich red bell pepper and orange slices. These ingredients give the salad a little extra texture, and they'll help you absorb the minerals in the greens.
Dress the salad with lemon juice, apple cider vinegar, and virgin olive oil. (Assemble the salad ahead of time and add the dressing at the last minute).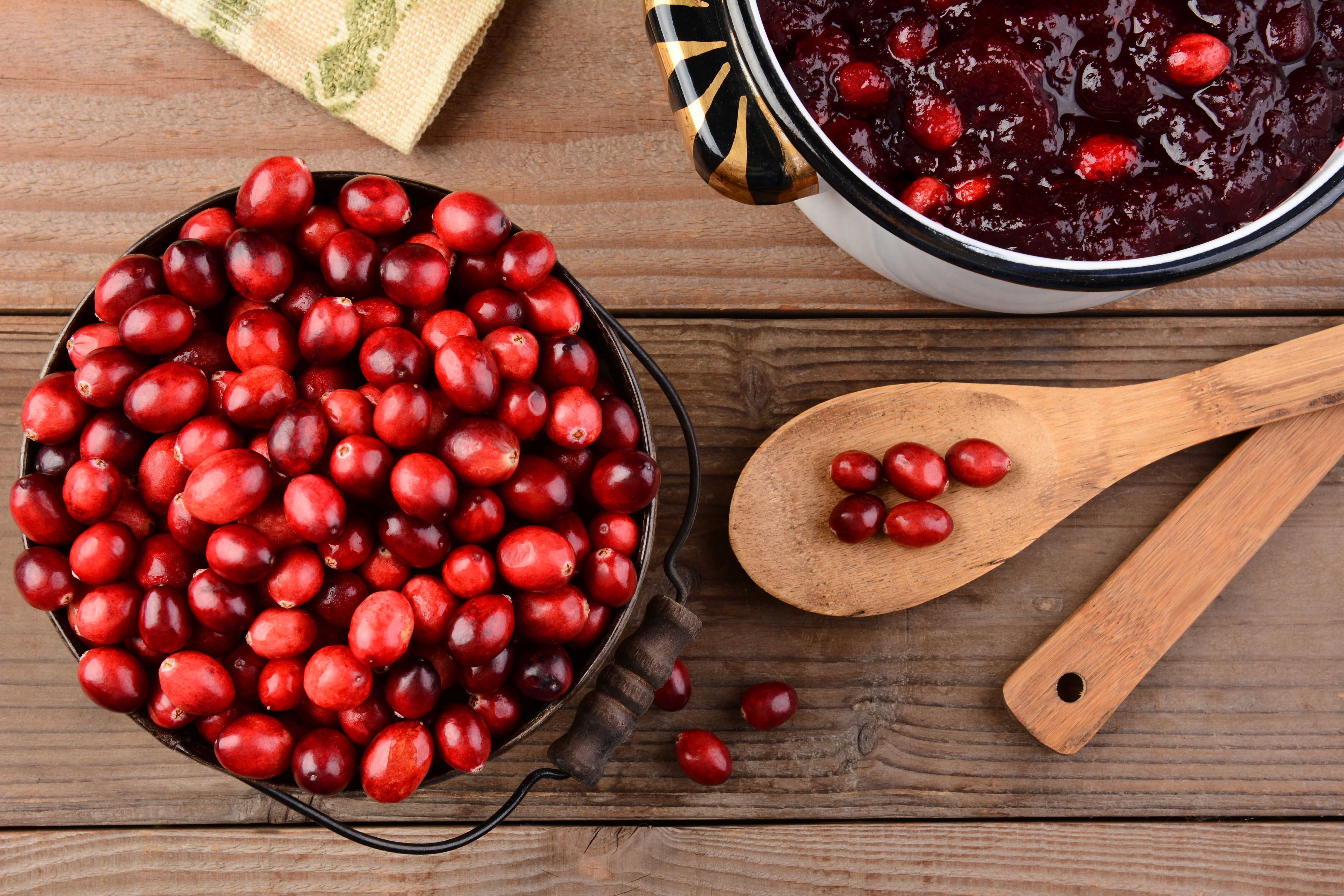 Homemade Cranberry Sauce
Besides Santa Claus and Rudolph, I'm not sure there's a more iconic Christmas duo than turkey and cranberry sauce! Now, it's convenient to just pick up a jar of cranberry sauce at the store, but did you know making your own gourmet cranberry sauce is super simple? 
Here's how to make the dish:
Add 2 cups of fresh or frozen cranberries to a medium bowl.
Stir in 1/2 cup of sugar (this is about two-thirds the amount of sugar in traditional cranberry sauce)
Add the freshly-squeezed juice of one orange, one tablespoon of orange (peel) zest, and one teaspoon of cinnamon.
Transfer your mixture to a pot and cook over low heat until the sugar dissolves – about 10 minutes.
Increase the heat to medium until the cranberries start to break down – about another 10 minutes.
Reduce the heat to low and keep stirring for ~5 minutes. Taste your sauce and adjust taste accordingly (by adding extra salt, pepper, cinnamon or orange if necessary).
The Bone Health Bonus
Your homemade cranberry sauce will get rave reviews with less sugar, no preservatives, and an extra 40 mg of calcium and 85 mg of vitamin C from the orange! (Did you know orange peel has more vitamin C and calcium than the flesh?)
You probably know that fresh cranberries are rich in vitamin C, but they're also plentiful in bone-building calcium, magnesium, manganese, vitamin K, and iron. Phytonutrients are in the cranberries' skin and flesh (not the juice). These phenolic acids, anthocyanins, and flavonoids fight inflammation that can increase bone degeneration.
Savory Stuffing
Create memorable stuffing by using cooked quinoa in place of bread.
Quinoa works well with traditional ingredients like chopped celery, onion, mushrooms and apple, dried cranberries, poultry seasoning, chicken broth, walnuts, garlic, and pinches of cinnamon and ground allspice. So you can experiment with your favorite stuffing flavors to make a stuffing your guests are sure to enjoy!
So why quinoa? Well, besides working well with multiple ingredients, quinoa provides a large amount of protein. In fact, quinoa is a complete protein, which means it provides all nine essential amino acids your body can't make by itself– a rare attribute for a plant-based protein! Plus, quinoa's flavonoid antioxidants (quercetin and kaempferol) are potent anti-inflammatories that protect bone and tissue health. And it has more oleic acid, omega-3s, and ALA fats than other grains. Stuffing ingredients such as mushrooms (with nutrients including vitamin D) and celery (with high polyphenol antioxidants) also play healthy roles.
Good To The Bone Gravy
Gravies are traditionally made with fat drippings from the cooking pan. But by using a chicken stock, you can cut the amount of dripping in half without sacrificing the flavor! 
Here's how to make the dish:
Sautee the stock and drippings with whole grain flour instead of white flour or cornstarch to thicken the gravy. Crushed flax seeds also thicken gravy well.
Add dried spices and herbs instead of heavily salting. Powdered garlic, chives, parsley, rosemary, and pepper, are all great options!
Tip: If you can, make your own homemade broth as it offers more digestive, anti-inflammatory and immune boosting benefits.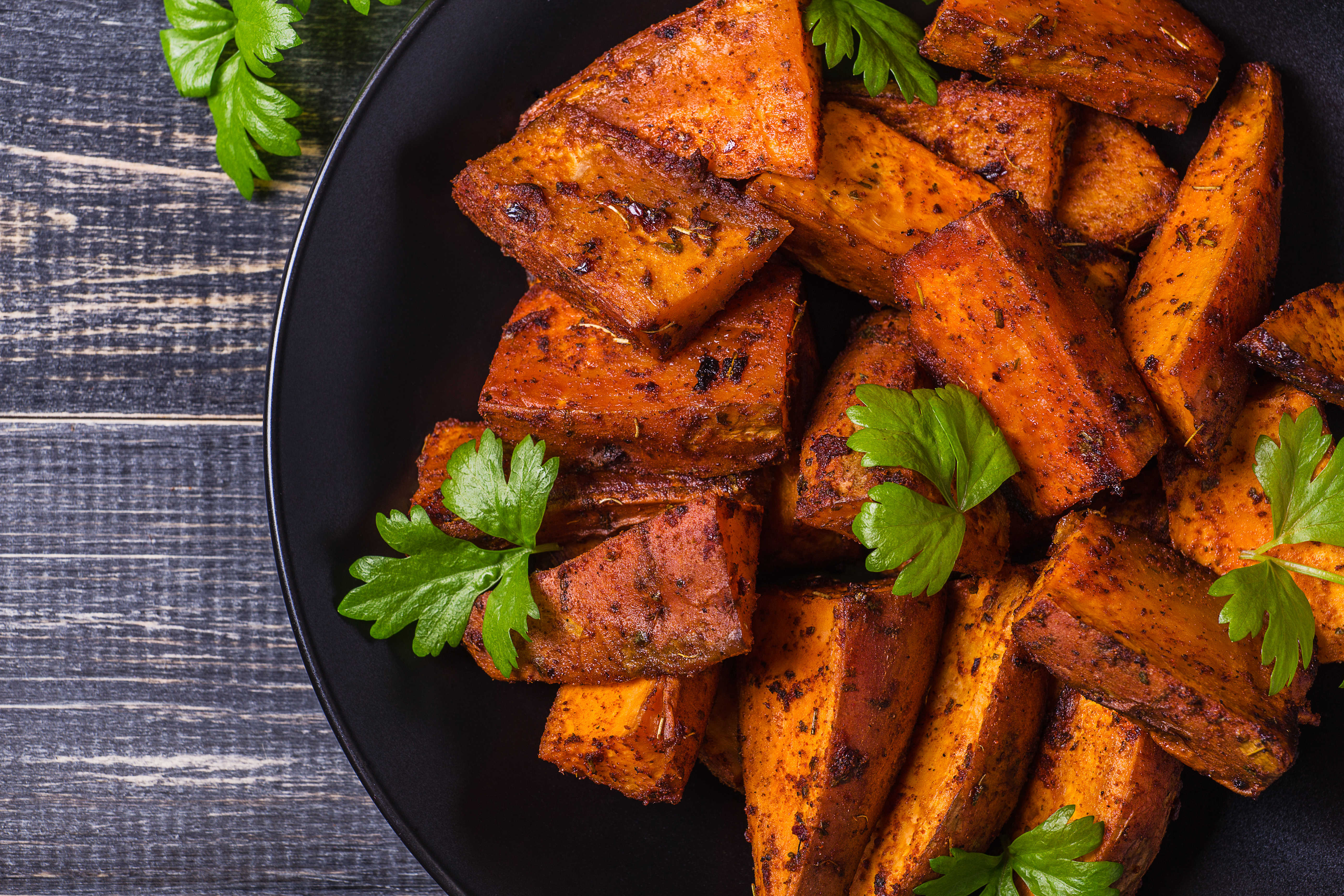 Make this holiday favorite just as mouth-watering without using the marshmallows or sugar.
Course
Side Dish
Cuisine
American
Keyword
maple syrup,sweet potato
Prep Time

20

minutes

Cook Time

20

minutes

Total Time

40

minutes

Servings
4 people
Calories
133 kcal
Instructions
Roast maple-glazed red garnet sweet potatoes (often mistakenly called yams) at 350 degrees F (175 degrees C) until tender.
To intensify the natural sweetness, cut your sweet potatoes into one-inch pieces, and lightly coat with virgin olive oil, before you roast them.
Add the maple syrup, organic butter, orange juice, vanilla, Himalayan sea salt, pepper, cinnamon, and nutmeg.
Bake for another 20 minutes.
Take out and present in a serving dish!
Recipe Notes
The Bone Health Bonus
Sweet potatoes are a top source of beta-carotene (the precursor for vitamin A).  And when you add olive oil, the fat significantly increases absorption of beta-carotene. Sweet potatoes' antioxidants, called anthocyanins, have potent anti-inflammatory properties. These are beneficial for bone and joint health:in studies, sweet potatoes reduced NF-kB, iNOS and COX-2–  all of which are markers of inflammation.
Ingredients
2

sweet potatoes

2

tbsp

maple syrup

1

tbsp

butter

, organic

1

tbsp

orange juice

1

tbsp

vanilla extract

1

tbsp

cinnamon

1

tbsp

nutmeg

Himalayan sea salt

black pepper
Nutrition Facts
Candy-Colored Yams
Amount Per Serving (250 g)
Calories 133
Calories from Fat 27
% Daily Value*
Fat 3g5%
Cholesterol 7mg2%
Sodium 62mg3%
Potassium 241mg7%
Carbohydrates 23g8%
Protein 1g2%
Vitamin A 9310IU186%
Vitamin C 3.7mg4%
Calcium 53mg5%
Iron 0.6mg3%
* Percent Daily Values are based on a 2000 calorie diet.
Healthwise Green Bean Casserole
Green bean casserole is another staple side dish for a family gathering during the holiday season. But you can make this recipe healthier with the following swaps…
Here's how to make the dish:
Pour 1 can of mushroom soup into a casserole dish
Add 4 cups of organic green beans, ½ cup of milk, 1 teaspoon of soy sauce and a dash of pepper
Now the traditional recipe calls for deep-fried onions to be added to the mix too, but to make your casserole healthier you can use sliced sautéed onions.
To saute onions, add breadcrumbs and sliced onions to a pan and gently fry in a very small amount of olive oil until both are crispy, and sprinkle with Parmesan. (Don't add them all to the mixture, as you'll want to save some for the topping).
Bake your casserole at 350° Fahrenheit for about 25 minutes (you want to see your mixture starting to bubble)
Give your mixture a good stir and sprinkle an extra handful of your sautéed onions on top.
Bake your casserole for 5 more minutes or until your onions are golden
Fun Fact: Did you know green bean casserole was invented in the test kitchen of Campbell's Soup in 1955?
The Bone Health Bonus
Onions support bones!
Studies show that onions can increase bone density in menopausal and older women and may lower their risk of hip fractures! It's the sulfur in onions that researchers believe could be the reason.
And the beans? Green beans are high in calcium. But perhaps the most important mineral they offer is silicon. Silicon is known as the "strength and beauty nutrient" because it builds collagen in connective tissue, skin, and bone. Few foods have silicon, which is constantly depleted (through urine, hair loss and nail clipping), so deficiency is common in older adults.
Baked Bread with Herb Butter
Bread is perfect as a side dish and for mopping up any extra gravy! But bread made with inflammatory white flour and refined grains should be avoided. (Remember, inflammation can accelerate your bone loss!) So why not bake your own festive bread using ancient whole grains like spelt, kamut, and rye flour? (Or use gluten-free quinoa, buckwheat or amaranth flour).
It's much easier than you might think, and to get you started, our resident Bone Health Expert, Lara Pizzorno, has shared her very own Gluten-Free Sourdough Recipe.
When your bread is done, serve it warm with special herb butter.
Here's how to make the butter:
Whip organic butter with fresh minced garlic and parsley, which actually help absorption of the iron and zinc in the grains!
---
3 Party-Pleasing Snacks For Healthy Bones
The concept of healthy Christmas snacking seems impossible when you're faced with party bowls filled with potato chips, crackers, and nachos. These addictive treats may stimulate your taste buds, but they're high in fat, salt, and refined flour, and are devoid of nutrients. In this section I've got a few tasty and nutritious snacks you can make yourself – to safely nibble your way through perilous party snack trays.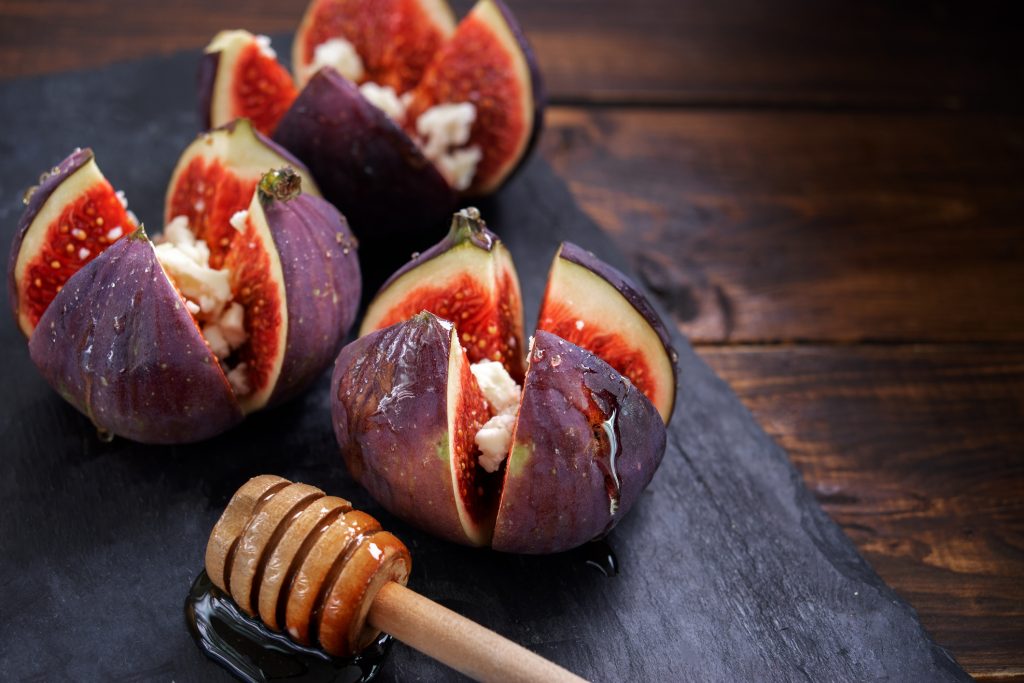 This snack offers a one-two punch: calcium to build bones and vitamin D to help your body absorb it.
Course
Snack
Cuisine
Middle-East
Keyword
dates,figs
Prep Time

5

minutes

Cook Time

20

minutes

Total Time

25

minutes

Servings
12
Calories
183 kcal
Instructions
Pit the dates and cut an X into the top of each of your figs.

Slide a sliver of cheese into each date and fig
Bake the fruit in the oven to give it crunchy and soft, sweet and salty taste sensation! Bake the dates for 15 minutes at 400 degrees Fahrenheit, and the figs for 5 minutes at the same temperature
Drizzle a little honey over the figs and dates and serve warm.
Recipe Notes
Figs and dates may be the best fruit sources of calcium. At 241 mg of calcium per cup (13 mg each fig), a few figs go a long way to getting your daily calcium and satisfying your sweet tooth. Dates, too, are a natural treat, and each date contains a whopping 15 mg of calcium. For a decadent treat, and to add more calcium and some vitamin D, stuff these with a sliver of goat cheese. Goat cheese is full-flavored and easier to digest than cow cheese (it has less lactose, the fat molecules are smaller and fewer, and it's higher in vitamins D and K).
Ingredients
12

fresh figs

12

Medjool dates

6

oz

goat cheese

1/2

cup

honey
Nutrition Facts
Stuffed Dates & Figs
Amount Per Serving (15 g)
Calories 183
Calories from Fat 27
% Daily Value*
Fat 3g5%
Cholesterol 6mg2%
Sodium 53mg2%
Potassium 294mg8%
Carbohydrates 39g13%
Protein 3g6%
Vitamin A 255IU5%
Vitamin C 1.1mg1%
Calcium 54mg5%
Iron 0.7mg4%
* Percent Daily Values are based on a 2000 calorie diet.
Half & Half Nuts
Nuts are festive staples that contain a double dose of bone-and-body-boosting nutrients; calcium and polyunsaturated essential fats.
For a quick, easy and healthy snack, roast your own nuts! Try roasting half of your nuts and leaving the other half raw, before combining the two in a bowl. This gives the benefits of omega 3 and 6 fatty acids from raw nuts, but still provides the rich flavor of roasted nuts. And it offers lots of calcium from both raw and roasted nuts.
Nuts are also high in protein vital for muscle and bone development. Almonds contain about 20% protein, and one ounce offers 12% of your daily protein needs. Walnuts contain over 15 grams of protein per 100 grams of nuts, equivalent to a 3.5 ounce serving of chicken! This protein makes you feel satiated so you won't be as tempted to gorge on other foods.
Pecans, almonds, walnuts, and hazelnuts all work well raw and roasted.
Here's how to make it:
Choose 2 cups of your favorite nut mix and separate them in half.
You can roast half of them dry on a baking sheet, but if you decide to add sea salt, it will stick better if you add a touch of virgin olive oil or virgin coconut oil when roasting.
Bake at 250 degrees for ~15-20 minutes (check every 10 minutes or so) as nutrients are best retained if you slow roast nuts in the oven at this temperature.
You may be wondering why homemade roasted nuts have the edge over store-bought ones. Well, store-bought pre-roasted nuts go rancid quickly because roasting damages the fats and they "oxidize." Oxidized fats are pro-inflammatory and can be unhealthy, contributing to bone and joint diseases including arthritis.
Kale Chips
Yes, you read that correctly. Kale chips!
Kale makes for a perfect, crunchy chip to satisfy your snack cravings. Plus, kale provides powerful antioxidants and is high in vitamin C and calcium making it a healthy and satisfying alternative to the run-of-the-mill fatty potato chip!
Click here for the full recipe!
---
Deck the Halls with 6 Healthy Desserts and Drinks
What is a treat? When you think of the word "treat", don't you think of it as (the dictionary definition):"a source of special pleasure"? To keep it special, meaning not every day, savor a small portion of decadent dessert occasionally. And consider healthier alternatives as main players. In this section I've got a few healthy ideas for the end of your Christmas meal.
Dark Chocolate
Some people describe dark chocolate as "the perfect pleasure food" for its energy-boosting minerals, calming fats, and ability to raise serotonin and dopamine.
These are the fall-in-love neurotransmitters that create a feeling of elation and happiness.
The 70-85% cocoa varieties of dark chocolate are very high in iron, magnesium, copper, and manganese. They also offer potassium, zinc, and selenium that all support bone health. Cocoa (also known as cacao) also has polyphenols, flavanols, and catechins that fight premature aging. High-cocoa versions are low in cholesterol and sugar, but even during the holidays, enjoy chocolate in moderation as it's high in saturated fat.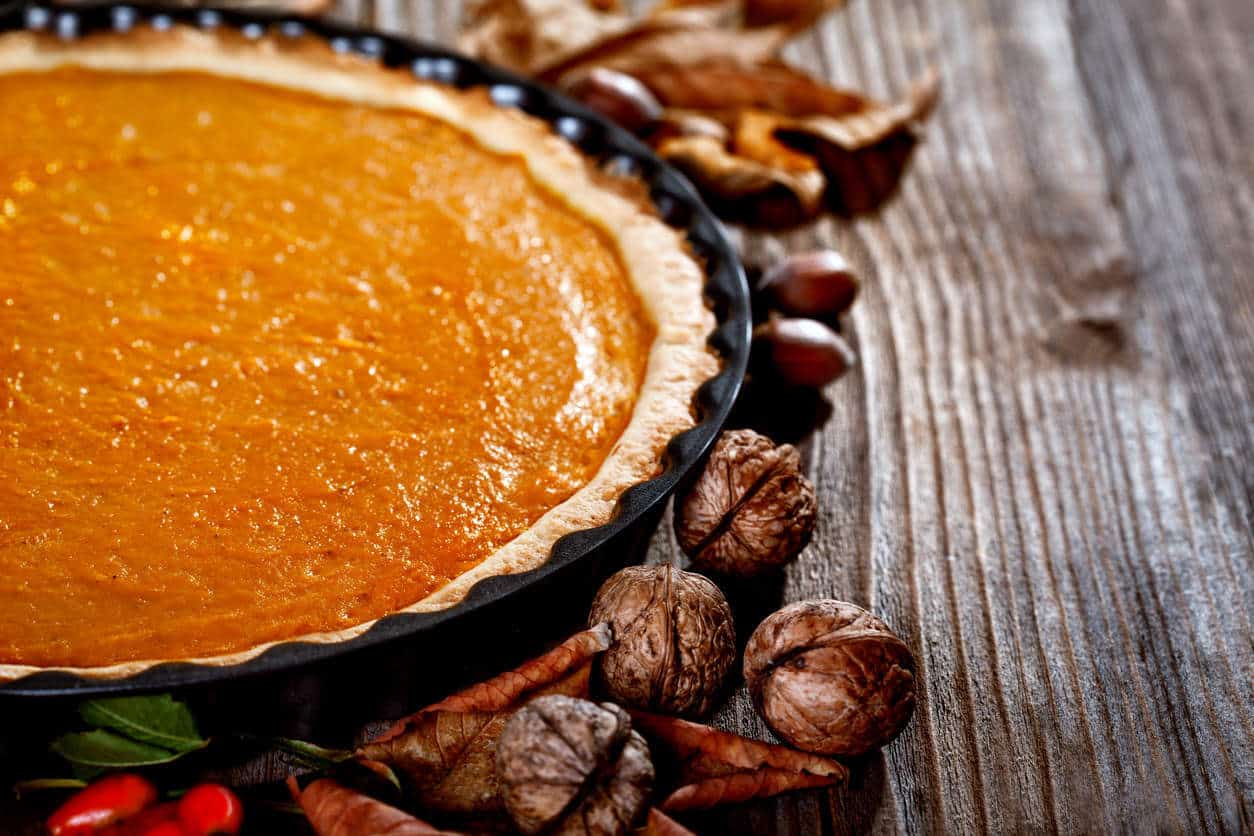 Pumpkin or Mincemeat Pie
Here's a tip to make holiday-favorite mince pies that bit healthier: make them with whole wheat filo pastry (now available in most frozen food sections) instead of traditional high-fat shortcrust, flaky or puff pastry. If you do use shortcrust pastry, only use a thin layer and leave the pies open rather than latticed or covered (the less pastry you use, the less carbohydrates your pies will have!) Check the label of the fruit mince, if store-bought, and choose one without suet (raw beef or mutton fat).
If your Christmas favorite is the traditional Thanksgiving pie, you have healthy taste! Pumpkin pie, especially made with less sugar and cream than the recipe calls for, is a great choice for bone health. Pumpkin is nutrient-dense! It has potassium to protect bone density, vitamin C as a vital cofactor to make collagen, and beta-carotene, a powerful antioxidant to reduce inflammation. For a decorative touch, sprinkle raw pumpkin seeds on top before baking for added omega fats and antioxidants.
Looking for a vegan or gluten-free version of Pumpkin Pie? Check out our recipe here.
Festive Fruit Kebabs
I adore this dessert recipe! It's fun, it looks amazing, and you can load it with bone-healthy superstars!
Personally, I like to use papaya and bananas in my fruit kebabs, because they contain potassium, and strawberries, tangerines, and kiwifruit as they're high in vitamin C and calcium.
But the great thing about this easy recipe is that you can customize it to suit your personal taste! Experiment with different fruits, berries and toppings to find a festive winner!
Here's how to make the dish:
Thread chunks of papaya, kiwifruit and strawberries (or your choice of fruit) onto skewers.
Add tiny white marshmallows and dried red cranberries between the slices of fruit.
Chocolate-covered strawberries add special-occasion flair. Melt dark chocolate in a double boiler, in the microwave, or in a bowl over boiling water. Dip strawberries so that they are half covered, and allow them to cool on wax paper.
Assemble your skewers with your chosen ingredients and serve.
What To Drink?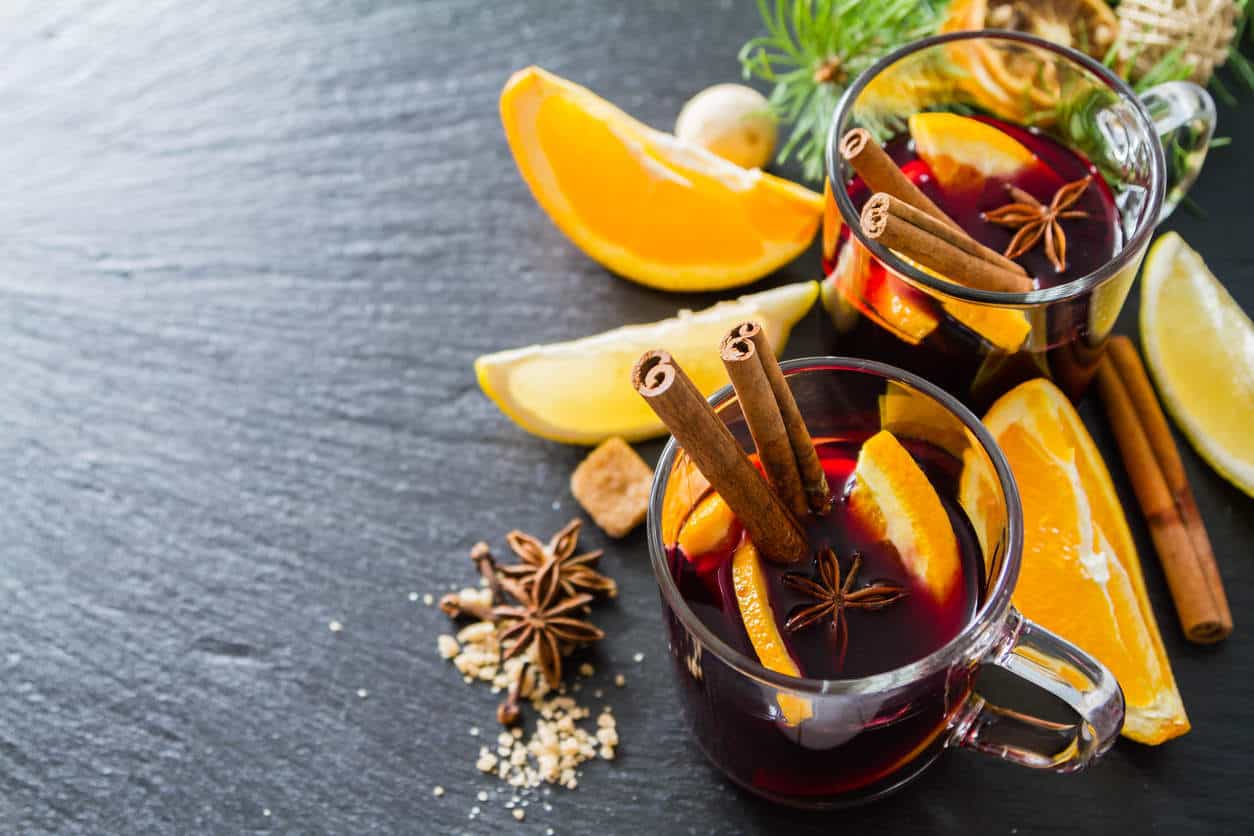 Mulled Wine
To me, mulled wine is Christmas in a glass. And when you make your own mulled wine you get the added benefit of your entire house smelling divine!
Now, high alcohol consumption is associated with bone loss. It reduces calcium absorption and vitamin D metabolism, lowers estrogen levels and increases your levels of cortisol and parathyroid hormone that accelerate bone breakdown.
However, having a 3-ounce glass of wine may have bone health benefits. This is because the resveratrol in wine has positive effects on inflammation and metabolic syndrome (metabolic syndrome increases the risk of many diseases including osteoporosis). So the good news is that you can enjoy a glass or two of wine over the holiday season… including mulled wine! Plus, adding mulling spices like cinnamon, nutmeg, ginger to festive drinks provides a little extra health boost too!
Here's how to make it:
Combine 1 bottle (750 ml) of dry red wine, 1 orange (sliced into rounds), 1/4 cup of honey or sugar, 8 cloves, 2 cinnamon sticks, and 2-star anise into a saucepan on medium heat. Optional additions: nutmeg, vanilla, cardamom, and ginger.
Bring to a simmer, but not a boil! You don't want to boil the alcohol out.
Reduce the heat to low and simmer for a minimum of 15 minutes and a maximum of 2 hours
Strain and serve!
You can also add garnishes, such as cinnamon sticks and freshly sliced oranges to the rims.
Eggnog
Eggnog is now available in lower fat versions that still offer milk and eggs – good for bone health because of their calcium and vitamin D content.
Nogs made from milk substitutes such as my personal favorite Coconut Holiday Nog (with organic coconut, cane sugar, and spices, without egg) and Almond Milk Nog are deceptively similar to the original if you're avoiding dairy. They're available at many grocers now too.
Tip: Add water to your eggnog to make it go further, especially if you're having it with a shot of rum. And grate fresh nutmeg on top (rather than powdered) for extra flavor.
Holiday Cocoa
A tempting and comforting alternative to caffeinated coffee and teas is to make hot cocoa from scratch, using just a teaspoon of sugar. This slightly bitter cocoa (also known as cacao) is now offered as a coffee substitute in some coffee shops with just a splash of milk. Or it even forgoes milk, depending on how you take your coffee. (See Dark Chocolate for cocoa nutrition.)
---
Happy Holidays from AlgaeCal!
It may be the holiday season, but that doesn't mean you have to sacrifice a healthy diet or a delicious festive feast!
I hope you'll try some of the bone-healthy recipes and twists on traditional classics I've shared in this post. They should take the stress and guilt out of making a special Christmas meal the whole family will enjoy!
What's your favorite dish during the holidays? Please share it with us and the community in the comments below…