Thank You For Caring Enough to Share Your Experience With AlgaeCal Products!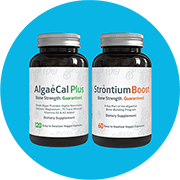 How did you discover AlgaeCal?
Did you discover AlgaeCal through Google, YouTube, or Instagram?
Did you take our Bone Density Quiz on Facebook?
We'd also love to hear about your bone health journey:
How did you find out about your bone loss?
How did you go about trying to improve your bone health?
Please share your DEXA scan improvement numbers if you can
Quick Tips For A Helpful Video
Please make sure you're in a well-lit room, 2-3 feet away from your computer or mobile device.
To ensure your audio is nice and clear, please limit background noise like street traffic, pets, etc. A steady camera also helps ensure audio isn't distorted.
If you're filming on your phone, be sure to have the phone horizontal, not vertical. This way your video appears in a landscape format, so we can clearly see you!
Please include a photo of yourself along with your video. It doesn't need to be anything fancy. Just a nice clear photo that includes your head and shoulders. When you click on the green "Record Your Video Online" button below, you'll see an option to "Include a photo" on the next page. Simply click "Browse" to upload your photo!
Things to Avoid in Your Video
Please avoid all discussion of bone medications in your video. Focus on what AlgaeCal products have done for your health.
Avoid mentioning a disease name, such as osteoporosis or osteopenia. It's best to discuss "bone loss" instead. If you would like to mention how poor your condition was prior to taking AlgaeCal, you can express that by mentioning your T-scores or how low your bone density was.
We understand these rules may seem unusual, but all this is to help us comply with FDA guidelines.
(If you already have a video filmed, not to worry! Click the button above and select the "upload a video file" option on the next screen.)
By submitting your testimonial to AlgaeCal you acknowledge and consent to any form of editing that may occur and its use on the AlgaeCal.com website, newsletters, and any other promotional materials.
Need To Contact Us?
If you have any questions, please feel free to call one of our Bone Health Consultants toll-free at or if you prefer email, you can reach us at [email protected].
Hours of Operation:
Monday–Friday: 6:00am to 4:00pm (PST)
Saturday: 6:00am to 4:00pm (PST)
Sunday: 6:00am to 4:00pm (PST)