Bone Healthy Zucchini Pesto Noodles

Did you know that zucchinis are fruits? Well botanically speaking that is! Just thought I'd start off this recipe with a little fun fact for you. 🙂
I've always loved cooked zucchini. In my mom's ratatouille (french Mediterranean-style vegetable stew) or grilled on the barbecue. But I had never thought of having it raw until a few years ago when my roommate in Montreal bought a spiralizer and made raw zucchini noodles.
Since then, I quickly bought my own and have made all kinds of spiralized vegetable salads and dishes.
My favorite has to be the classic, pesto zucchini noodles. I used to use only store-bought pesto sauce out of convenience until one summer in France, my aunt made pesto in her food processor in less than 5 minutes!
I didn't even know how simple it was to make, but most importantly how much better it tasted! But don't get me wrong, any pesto is delicious and I still keep a jar around for the times when I run out and I am too lazy to make it from scratch (we all get those days no?)
Alright without any further ado, here's the recipe: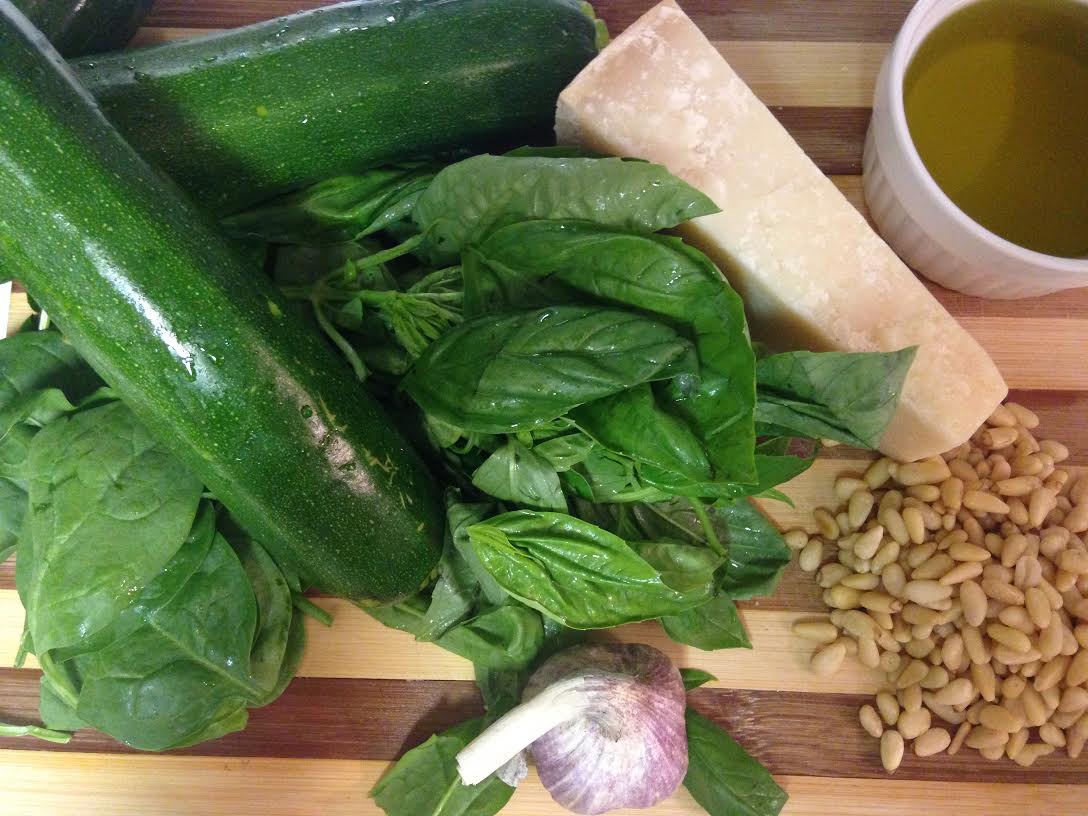 These are just the perfect answer to those carb cravings we all get when winter is coming. But this is packed with nutrients and a lot less carbohydrates but most importantly: no processed ingredients or wheat gluten.
Course
Main Course
Cuisine
American
Keyword
low-carb,zucchini noodles
Prep Time

20

minutes

Cook Time

15

minutes

Total Time

35

minutes

Servings
4 people
Calories
402 kcal
Ingredients
Equipments:
food processor

Spiralizer or julienne peeler
The Pesto Sauce - makes 1/2 cups fresh pesto
1 1/2

cups

fresh basil leaves

organic, packed (50g)

1

cup

baby spinach

organic, packed

1/2

cup

parmesan

freshly grated

1/3

cup

pine nuts

2-3

garlic cloves

minced

1/2

cup

olive oil

extra virgin, organic

Salt and Pepper

to taste
The Zucchini Noodles
Nutrition Facts
Zucchini Pesto Noodles
Amount Per Serving
Calories 402
Calories from Fat 342
% Daily Value*
Fat 38g58%
Cholesterol 8mg3%
Sodium 223mg10%
Potassium 658mg19%
Carbohydrates 8g3%
Protein 8g16%
Vitamin A 1670IU33%
Vitamin C 39.3mg48%
Calcium 205mg21%
Iron 2.1mg12%
* Percent Daily Values are based on a 2000 calorie diet.
Instructions
For the Pesto
Add the washed and dried basil and spinach to the food processor with the pine nuts, parmesan, and garlic. 
Pulse and scrape down side until finely chopped.
With the food processor running, add the olive oil in a thin stream. This will help emulsify (blend) the pesto.  
Add salt and pepper and pulse to incorporate.
Use for your zucchini noodles or any type of pasta or transfer to container to store in the fridge.
For the Noodles
Wash and dry zucchini.
Cut off ends and spiralize!
Recipe Notes
You can have the zucchini noodles raw with your homemade pesto sauce and some sliced cherry tomatoes for a wonderful salad. Or you can sauté the zucchini noodles with the pesto sauce for a warm noodle dinner!
For a vegan alternative, omit the parmesan or use ground almond and nutritional yeast instead!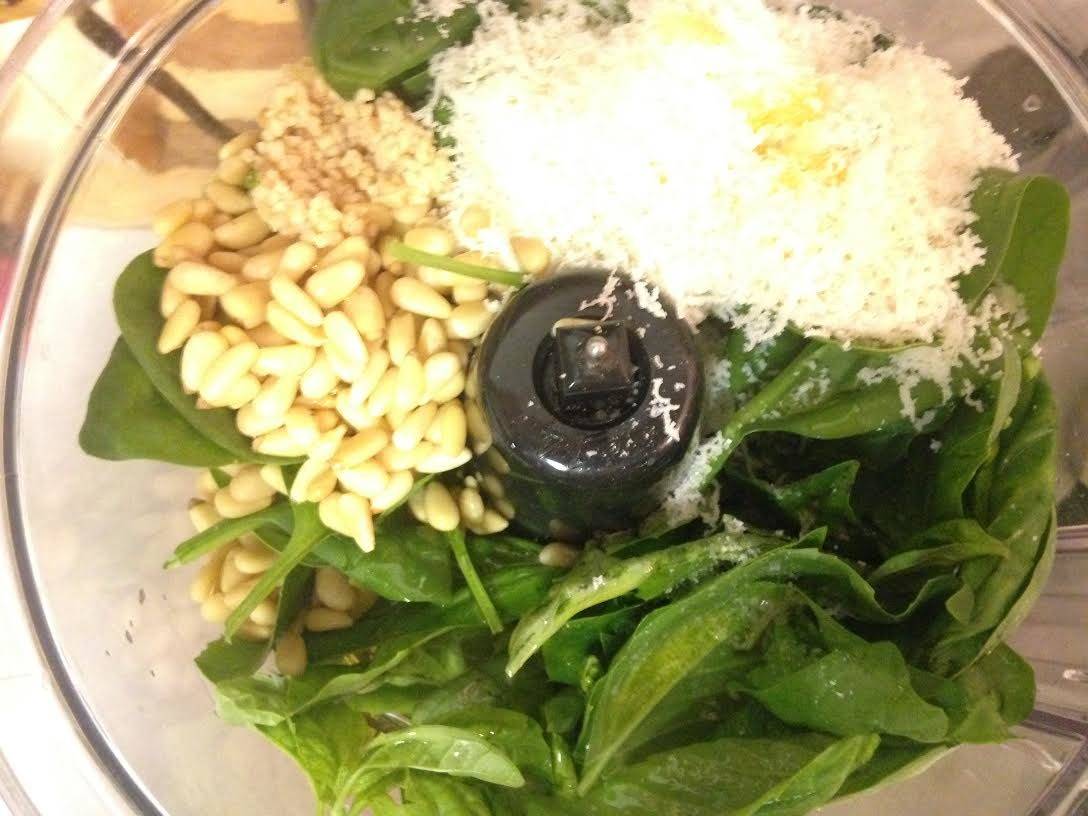 Zucchinis are low in saturated fat and sodium and very low in cholesterol. They are a good source of Vitamin A, Thiamin, Niacin, Phosphorus and Copper. Did you know that they are actually a good source of protein too? Awesome right!? And they are a very good source of Dietary Fiber, Vitamin C, Vitamin K, Riboflavin, Vitamin B6, Folate, Magnesium, Potassium, and Manganese.
Interestingly, they are also a source of omega 3 fatty acids! One medium sized zucchini has 92.1 mg of Omega-3 fatty acids and 54.9 mg of omega 6 fatty acids!
That's a bone-healthy fruit right there!
I hope you enjoy this super simple recipe and get very creative with all the different sorts of noodle/sauce variations! Are you a tomato sauce person or a cheesy alfredo? Let me know in the comments below!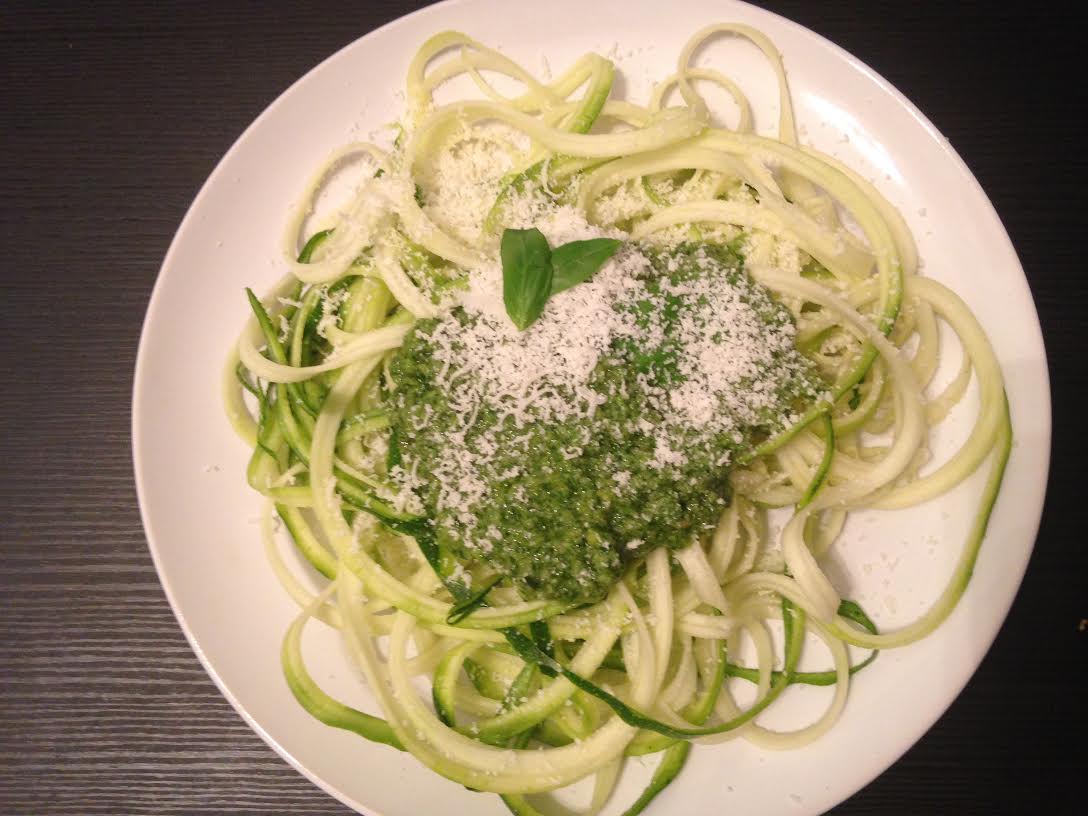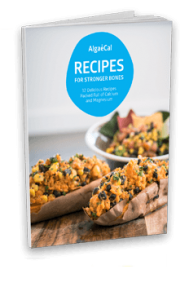 Free eBook
Recipes
for stronger bones
32 Delicious Recipes Packed Full of Calcium and Magnesium
Next Step