Vietnamese Rainbow Rolls

These light and delicious Vietnamese rolls are a great all-year round appetizer, especially in the summer! The combination of fresh vegetables and herbs as well as your choice of a protein, make these rolls simple and refreshing. The peanut dipping sauce in this recipe not only tastes good, but boasts fresh ginger, which has anti-inflammatory properties.
Did you know: 1/4 cup of peanuts contains 35% of your Daily Value of manganese, which aids in calcium absorption.
Yield: 8 rolls
Cook Time: 25 minutes
Calories Per Serving:
Roll – 180 kcal,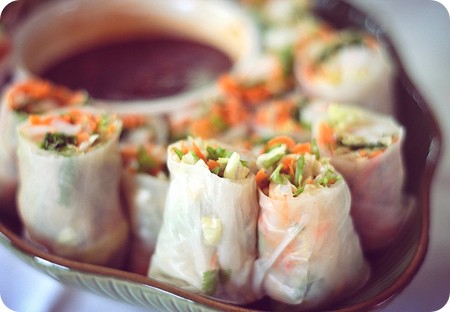 Peanut Sauce 1/4 cup – 78 kcal
Ingredients:
1 cup cooked vermicelli
6-8 rice paper sheets
1 organic carrot
1 organic avocado
1/3 organic cucumber
1 cup organic basil
5-8 organic kale leaves
1/2 organic red pepper, sliced
* Can add cooked wild shrimp or organic grass-fed chicken
Peanut Sauce:
1/3 cup peanut butter
2 garlic cloves, minced
1 tbsp. ginger, peeled and finely chopped
2 tbsp. each of tamari, maple syrup, and lime juice Chili powder, to taste
1/3 cup water
Directions:
Peanut sauce:
Blend or mix together all the ingredients until smooth. To bring out more of the flavors saute the garlic and ginger first. Set aside in a bowl.
Summer Rainbow Rolls:
Cut all the veggies into thin strips
Dip your rice paper sheets in warm water so they soften and then arrange your fillings in the middle
Fold over two ends, then wrap it, making it as tight as possible
Serve with peanut sauce
---