Bone Healthy Recipe: No Greens Salad

What is a "no-greens" salad?
A no-greens salad, is when you leave out the leafy greens part of the salad: the typical kale, arugula, lettuce combo.
Don't get me wrong. I love salad. But sometimes it's nice to mix it up and do something a bit different. So with this "no-greens" salad the stars are the beans, olives, fresh herbs and whatever else you can find. And it is SO good.
How to Make A Salad with No Greens
It might sound a little funny – to make a salad that has no-greens, but I guess I would compare it to a Greek salad. Where the star isn't the greens – it's about combining everything and making it work.
So where to start?
Choose a base for your salad. For traditional salads, this is going to be your greens (lettuce, kale, arugula). But because this is a "no-greens" salad. I chose 1/2 cup of cucumbers and tomatoes.
Choose a protein (optional). 1/2 cup of cannellini beans, also known as white kidney beans. These are high in protein – about 7 grams per half a cup(1) and protein is crucial for bone health. In fact, protein makes up roughly 50% of the volume of bone and about 1/3 of its bone mass.
Add fresh herbs. I love using fresh herbs in my salads. Parsley, mint, thyme and cilantro are on steady rotation in my household. (I used 1 tbsp. chopped parsley and a two sprigs of fresh thyme here.)
Do a fridge clean. A great way to get rid of extra or aging produce is to toss it into a salad. In this recipe, I had about a 1/4 red onion, a handful of green olives and a bit of feta.
Choose a healthy fat. Avocado, some nuts such as, walnuts or sliced almonds, or cold-pressed olive oil. These not only add great, "healthy fats" to your salad, but did you know that nuts and avocado can also help relieve stress?
Season with Himalayan salt and freshly ground peppercorns. I know what you're thinking…salt and pepper, really?! But quality ingredients matter! Table salts are a major no-no and extremely inferior to sea salts. They are not only stripped of their minerals but are also bleached, heated and chemically cleaned.(2) Choose Himalayan sea salt. It has trace minerals and also boasts less sodium per serving. As for pepper, I always buy the whole black peppercorn and grind it during use. This not only ensures its freshness, but some powdered pepper is also mixed with preservatives or spices.(3)
Want more bone healthy recipes? Fill in your information below and receive AlgaeCal's Recipes for Stronger Bones eBook!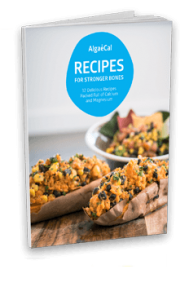 Free eBook
Recipes
for stronger bones
32 Delicious Recipes Packed Full of Calcium and Magnesium
Next Step
---
Sources:
livestrong.com/article/475908-cannellini-beans-for-weight-loss/
fitlife.tv/10-amazing-benefits-of-pink-himalayan-salt/
whfoods.com/genpage.php?tname=foodspice&dbid=74