Balsamic Brussels Sprouts with Bacon

I must confess that before 6 months ago, I had never tried brussels sprouts in my life! The first time was at the famous Jean Georges Steakhouse in Las Vegas. I remember the flavor and texture being enhanced by a balsamic reduction and chopped walnuts – I was in love. Who thought the star of a meal could be a side of brussels sprouts?! After that night, all I could think about was recreating my own version and fortunately it only took me a couple of tries to perfect it. This dish is simple, has little prep time, and is sure to be a crowd-pleaser!
Yield: 4~6 servings
Prep Time: 10 minutes
Cook Time: 40 minutes
Total Time: 50 minutes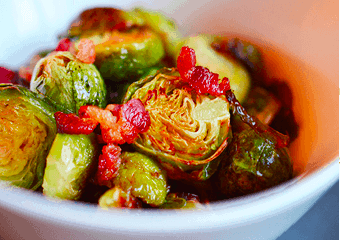 Ingredients:
1 1/2 lb brussels spouts, cut in half through the core
2 tablespoons olive oil
4-6 bacon sliced, diced
1/2 cup pecan and walnut mix, coarsely chopped
1-2 tablespoons aged balsamic vinegar
1 avocado, diced
1 shallot, finely chopped
Salt and pepper to taste
Directions
Preheat oven to 400 degrees F
Mix brussels sprouts and shallot in a bowl and toss with olive oil, salt and pepper
Pour onto a baking pan and spread diced bacon evenly on top
Bake uncovered for 20 minutes. Then rotate and flip the sprouts and bake for another 20 minutes  * Rotating and flipping helps the brussels sprouts brown evenly so they are crispy on the outside and tender on the inside
In the mean time, spread pecan and walnut mix evenly on another backing pan and bake in the oven for 10-12 minutes
Mix all ingredients in a serving bowl and toss with balsamic vinegar
Check for seasoning and serve!
---