Protein and Bone Health

According to Centre for Disease Control and Prevention (CDC), proteins are part of every cell, tissue, and organ in our bodies. [1] These body proteins are constantly being broken down and replaced. The protein in the foods we eat is digested into amino acids that are later used to replace these proteins in our bodies.
Protein is a vital component to building healthy and strong bones. In fact, protein makes up roughly 50% of the volume of bone and about 1/3 of its bone mass.
But how much protein do I need?
Below are the recommended dietary allowances (RDA) for different age groups from the (CDC). [2]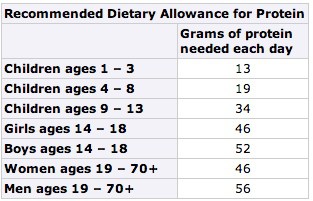 Unfortunately, the current guidelines for protein intake for older and younger adults is identical. The problem with this is, it doesn't take into account the changes that occur with aging. As we age, our body's ability to process and function is not the same as in young adulthood. Therefore, you may need more of certain vitamins, minerals and in this case, protein, in order to maintain bone health.
Robert P. Heaney, M.D. and investigator at Creighton's Osteoporosis Research Centre, suggests that the recommendations should actually be 1.5 grams per kilogram to ideally support bone health and that less than 0.8 grams per kilogram is too low. 
Protein Sources
WebMD recommends the following protein sources below. [3] Keep in mind that choosing organic and sustainably raised options are best whenever possible.
Red Meat: Make sure to choose lean meat options such as sirloin, tenderloin or top round.
Poultry and Eggs: Skinless chicken and eggs have great protein content. In fact, a 3-ounce chicken breast has 31 grams, more than half the protein you need each day. An egg has 6 grams.
Seafood: Besides being a great protein source, seafood is high in omega 3 fatty acids and is heart healthy alternative!
Dairy: Dairy foods are full of muscle-building protein. Milk, yogurt or cheese are all great options.
Soybeans: Such as edamame or organic soy products such as soy milk and miso are great alternatives.
Vegetables and Beans: You can get just as much protein from plant-based sources such as veggies and beans.
Protein drinks: It's always best to get protein from food, but to make up for the shortfall, you can make yourself a protein drink.
Nuts and seeds: This is a quick way to get a quick boost of energy and protein. Grab a handful of pistachios, sunflower seeds or walnuts if you're in a hurry!
---
SOURCES: