Bone-Building Nourish Bowls

It's tough to come up with ideas for meals that are delicious,nutritious, and don't take all day to make, right?

It was for me… until I discovered the concept of nourish bowls (also called Buddha bowls, hippie bowls, or macro bowls!).

The idea behind nourish bowls is simple. You basically load a bowl full of everything you need for a well-rounded meal! You combine nutrient-dense leafy greens and veggies with your choice of healthy fats, a complex carb, and protein. And for an extra nutritious kick, you can finish off your bowl with toppings like fruits or seeds.

The great thing about these bowls is they're super easy to prep ahead of time, and you can adjust the ingredients based on your preference!

Plus, like their name implies, nourish bowls are full of everything your body needs for fuel. The trick is to pick ingredients that provide a balance of all the nutrients your body craves.

And, of course, the nourish bowl I'm sharing with you today contains a perfect balance of bone-healthy nutrients!
In my version of a nourish bowl, you get:

Here's how it works: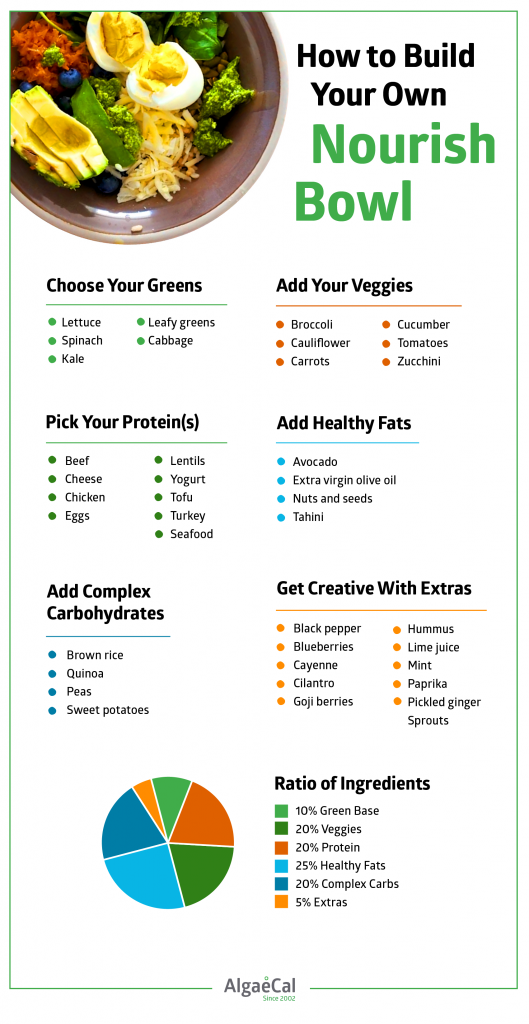 Bone-Building Nourish Bowls
Course
Main Course
Cuisine
American
Prep Time

5

minutes

Cook Time

10

minutes

Total Time

15

minutes

Servings
1
Calories
864 kcal
Ingredients
1

cup

spinach

2

tbsp

carrot

grated

2

cups

brown rice

1

egg

2

tbsp

cheese

grated

2.5

ounces

avocado

(half an avocado)

1

tbsp

olive oil

extra virgin

1/2

cup

blueberries

1

tbsp

sesame seeds

1

tsp

pesto

to top

1/2

fresh squeezed lemon
Nutrition Facts
Bone-Building Nourish Bowls
Amount Per Serving
Calories 864
Calories from Fat 351
% Daily Value*
Fat 39g60%
Cholesterol 70mg23%
Sodium 185mg8%
Potassium 873mg25%
Carbohydrates 112g37%
Protein 20g40%
Vitamin A 8160IU163%
Vitamin C 24.5mg30%
Calcium 265mg27%
Iron 4.6mg26%
* Percent Daily Values are based on a 2000 calorie diet.
Instructions
Start by prepping your ingredients!
Cook your brown rice as per package instructions.
Place your egg in a pot and add cold water until the whole egg is covered and there's an additional 1 inch of water on top. Bring to a boil over medium-high heat, then cover. Remove from heat and set aside for 8 to 10 minutes. Drain and place in a bowl of cold water to cool. Once cool, you can peel your egg.
Wash all your fruits and veggies. Grate your carrots and cheese, and slice your avocado. 
Once all your ingredients are prepped, it's time to assemble your bowl. Start by placing your rice at the bottom of the bowl. Then, make it look pretty by arranging the rest of your ingredients separately on top— like I do in the video!
Squeeze half a lemon over your bowl and finish with a drizzle of olive oil! 
Recipe Notes
You can easily switch out any of these ingredients depending on what you like best! Refer to the infographic above for a list of healthy ingredient options.
Nourish Bowl Final Thoughts

This recipe is so versatile, and a great option for when you need a quick answer to the "dinner" question!

You can easily make it your own too by switching in ingredients— just make sure you maintain a balanced ratio of nutrients like I described in the infographic above.

Better still, if you have a spare moment, you can prep all these ingredients ahead of time. That way, when you're short on time, you'll have everything you need to put together a delicious, nutritious meal in just a couple minutes!

I hope you enjoy this recipe, and I'd love to hear what you put in your bowl! Share your ideas with me in the comments below. 🙂