Sourdough Goes Gluten-Free!

After I developed great gluten-free recipes for bread, scone, cake, pie crust, muffin, crackers and even pizza dough for my son, Galen, giving up wheat was easy, with just one exception: sourdough bread.  
If you love the tangy flavor of sourdough (and the health benefits of fermented foods) as much as I do, I have great news for you: it's easy, although a bit time-consuming just at first, to make wonderful gluten-free (GF) sourdough bread.
I've done the research and have combined the information in several excellent books on GF bread-baking* to make the process easy, fun, and most importantly, the result, consistently delicious, for you. Follow my directions below for a reliable, hearty GF sourdough starter and two foolproof loaves of GF sourdough bread—one lighter, one heartier.
Before you start, you need to create a sourdough starter. Here's how to get yours off to a robust start, followed by two surefire recipes for GF sourdough bread you – your family, friends, and your bones — will love.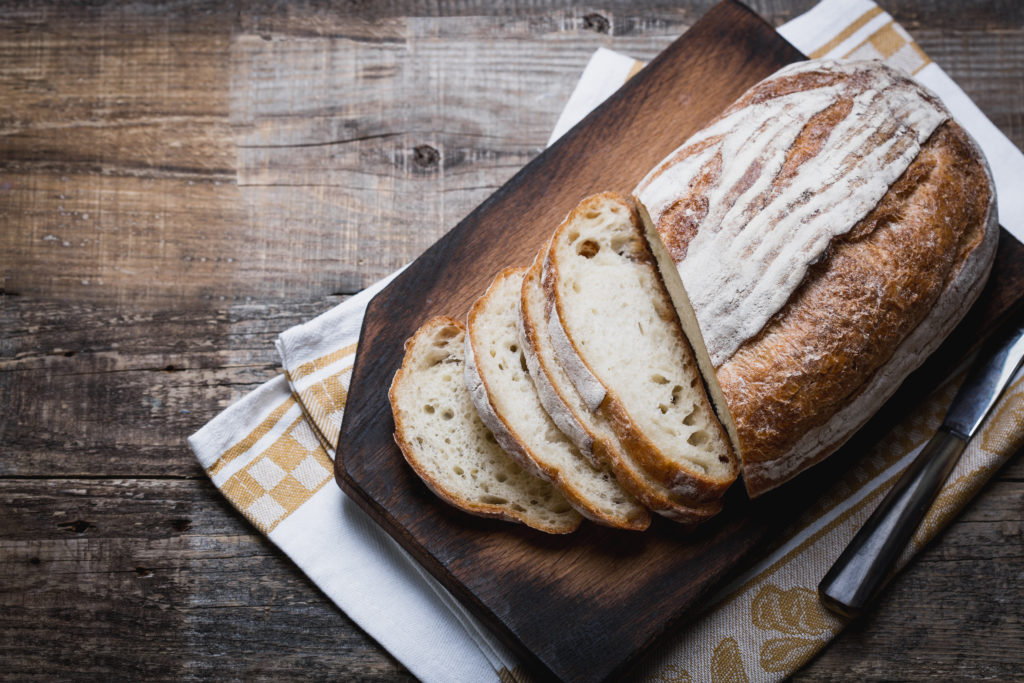 Make Your Own Sourdough Starter
After spending several weeks experimenting with the best (least costly–both financially and time-wise—and easiest) way to create a robust sourdough starter, mine has become a family pet. I've named her "Gertrude."
Currently, Gertrude's sleeping in my refrigerator, but when put in a warm place and awakened (by stirring in a ½ cup of water and a ½ cup of GF flour), she has quite the bubbly personality. And she's a very low maintenance pet. All she needs is to be taken out of the refrigerator, put somewhere warm (~70 degrees) and fed ½ cup of water and a ½ cup of GF flour. Then she usually perks right up and, in 4 hours, is ready to create a loaf of a wonderful loaf of sourdough bread. If she's still getting her act together, a second feeding (another ½ cup flour and just enough let it mix in well – so somewhere between ¼ and 1/3rd cup), will do the trick.
---
Feeding Your Sourdough Starter
At least 4 hours before you will want to use your starter, take it out of the refrigerator, uncover it and stir with a wooden spoon until the hooch is fully incorporated, and the starter is smooth.
Remove 1 cup of the starter and discard it. This sounds wasteful, but what you are trying to do is concentrate the yeast, so you have a very potent starter. (And you can always give this cup of starter to a friend, who can use it to create another starter.)
Add 1 cup of slightly warm water (just test on your wrist, about 100 degrees is what you want and will feel just slightly warm) and 1 cup of flour (you can use a cup of any of the flours listed above or a half cup each of two of them). Stir with your wooden spoon to combine until smooth. Cover loosely and let the starter sit out in a comfy spot (around 70 degrees, no drafts) for at least 4 hours, or overnight. Once it's bubbling and thick, it's fed and ready for baking. If it's not already bubbling in the morning, feed it again with ½ cup flour and ¼ cup water and give it 3-4 more hours to become active.
Take out the amount of starter your recipe calls for (typically 1 cup), feed the remaining "mother" starter with ½ cup warm water and 1 cup flour, stir with a wooden spoon to combine, cover loosely and put back in the refrigerator. If the result is too thick, just add ¼ cup more water.
OK, from now on, all you'll need to do is feed your starter about once a week 4 hours before you want to use it. And you've got your 1 cup of active starter, so you are ready to bake wonderful GF sourdough bread!
---
Good for Your Bones:
I definitely learned all of the above the hard way. Now, the morning prior to baking, I take my starter out of the refrigerator and feed it, then feed it again in the afternoon, and prepare my dough in the evening after dinner. I let the dough ferment and rise overnight, then bake my bread first thing the following morning.
If you're up by 7:30 AM, your bread will be done and ready to leave out to cool by 8:30 AM.  You can slice it by 9:30 AM or just wait until you get home.
---
Good for Your Bones:
It's okay to leave your bread out for several hours after baking. Sourdough bread keeps very well and will be fine for several days if not refrigerated. If refrigerated, sourdough will keep for at least a week to 10 days.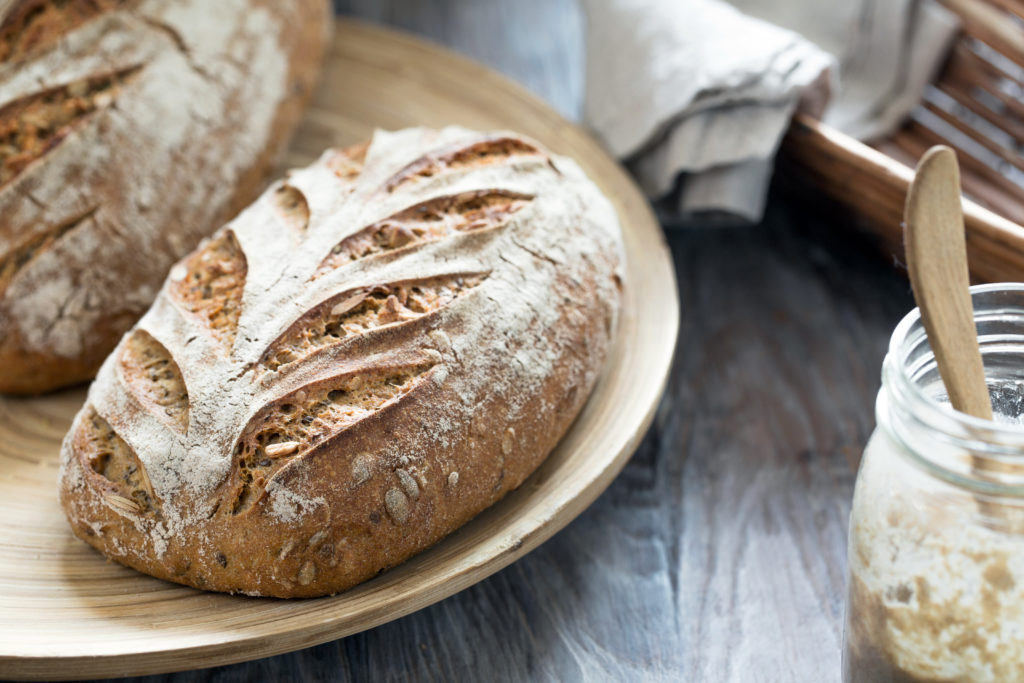 You Can Feel Good About Eating These GF Sourdough Breads
Not only are they loaded with many nutrients your bones require, (as the nutrient lists show), but the fermentation process that creates sourdough also:
Produces gut-friendly lactobacillus bacteria, which not only crowd out unfriendly bacteria that wreak havoc in the digestive tract, but themselves produce B12 and other B vitamins, improve immune function and lessen inflammation.
Produces acetic acid, which in addition to being responsible for the unique flavor of sourdough, is a natural preservative that inhibits the growth of mold, so your sourdough will stay fresh longer — in the unlikely event any is still around after a couple of days.
---
Sorghum, a Grain with Unique Bone-protective Benefits
Sorghum has special health-protective properties superior to those of other staple grains – insights just confirmed in a meta-analysis of 19 studies published in the September 2016 issue of Nutrition Reviews.
The results of current studies indicate that sorghum helps maintain healthy blood sugar and insulin levels and decreases oxidative stress. When sorghum is consumed, the increase in blood sugar that typically occurs after a meal is up to 26% less compared to the increases in blood sugar seen after consuming wheat, corn or rice.
Not surprisingly, since blood sugar rises so much less, the amount of insulin produced to usher that sugar inside our cells is also significantly lower – a full 55% lower when sorghum is consumed compared to wheat, maize or rice!
In addition, after sorghum is eaten, levels of beneficial polyphenols are higher, while those of markers of oxidative stress (free radical damage) are much lower:
Two hours after eating pasta containing 30% red sorghum, a 24% increase in blood levels of protective polyphenols was seen. In contrast, the consumption of wheat pasta caused a 1% decrease in polyphenols over the same 2-hour time period.
In addition, a 34% increase in the activity of a powerful antioxidant our bodies produce called superoxide dismutase (SOD) was recorded after consumption of red sorghum pasta, while consumption of wheat pasta produced a puny increase in SOD of just 0.7%.
Lastly, protein carbonyl, a marker of oxidative stress/free radical damage to proteins in the body, decreased by 26% after red sorghum consumption but increased by 8% after wheat pasta consumption.
---
Why is This Important for the Health of Your Bones?
High blood sugar and high insulin levels promote oxidative stress, and all three (high blood sugar, high insulin levels, oxidative stress) promote inflammation. When the foods we consume at every meal trigger large increases in blood sugar and insulin, and cause oxidative stress, we are constantly in a state of low-grade inflammation. And when chronic, inflammation, even low-grade inflammation, activates osteoclasts, causing bone loss. 
*If you're looking for more info, I highly recommend:
Nicole Hunn's

Gluten-Free on a Shoestring Bakes Bread

, Da Capo Lifelong, 2013.

Jennifer Katzinger's

Gluten-Free and Vegan Bread: Artisanal Recipes to Make at Home

, Sasquatch Books, 2012.

Sharon Kane's

The Art of Gluten-Free Sourdough Baking,

Cultures for Health.com