Gluten and Dairy-Free Thanksgiving Pumpkin Pie

To be honest, I was never a fan of pumpkin pie. Like most pies, I found them too sweet or with too much cinnamon. That was until I made it from scratch.
This pumpkin pie has just the right amount of sweetness and spice. It's also gluten free and dairy free!
The crust is so simple to make, so much easier than regular pie crusts. And although the filling requires many ingredients, you just add them all to one bowl and you're done!
This recipe makes one 9 inch pie
Prep time: 30 minutes + 6 hours cooling
Total cook time: 1 hour
Ingredients
For the crust:
½ cup coconut oil or butter (I use half and half)

¾ cup organic coconut flour

¼ cup almond flour (or coconut flour)

2 large eggs

½ tsp vanilla (optional)

½ tsp spice, nutmeg, allspice, cinnamon (optional)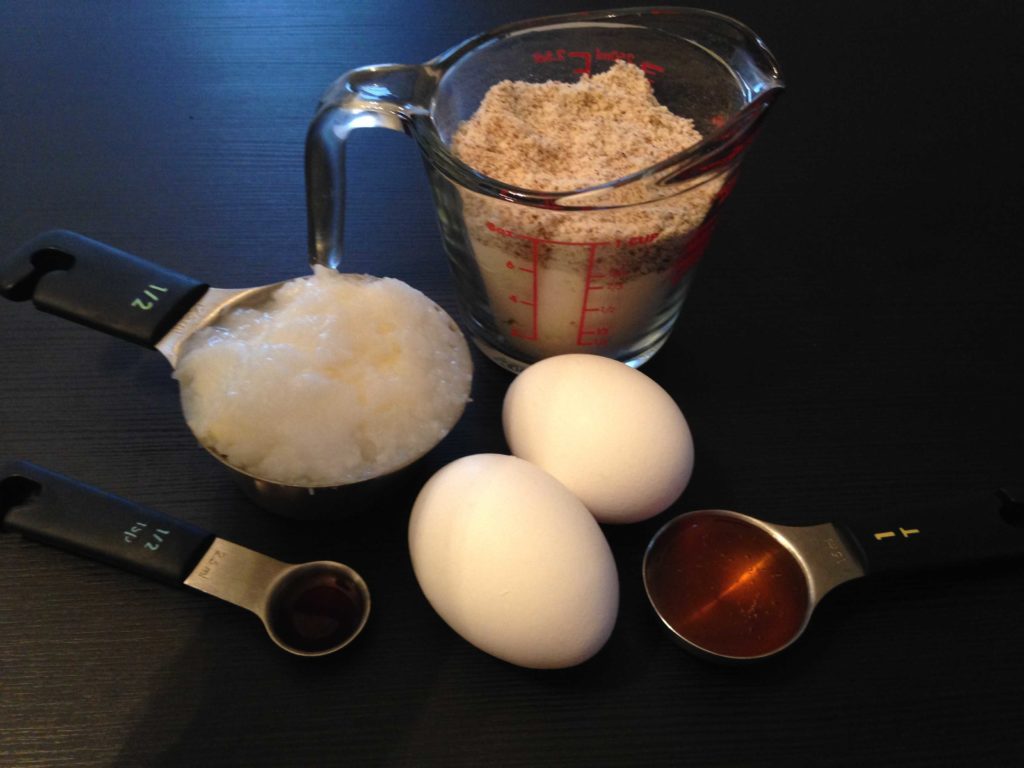 For the filling:
1 ½ cups pumpkin puree

½ cup coconut milk (or evaporated milk)

3 eggs

½ cup honey or ¾ maple syrup (I've used ⅓ cup of maple syrup with a ½ tsp liquid stevia)

1 tbsp vanilla extract

1 tbsp arrowroot or cornstarch (or 2 tbsp tapioca starch)

2 tsp cinnamon

1 tsp all-spice

½ tsp nutmeg (and or ginger)

½ tsp salt
Procedure
To make the crust:
Preheat oven to 400°F

Grease 9-inch tart pan and set aside (I use a cake pan with great results)

Melt butter and or coconut oil

Add eggs, vanilla and spices. Whisk with a fork

Stir in coconut and almond flour until well combined

Press 'dough' into pan evenly going up the sides of the pan

Use fork to poke holes in the dough

Blind bake it by adding a layer of parchment paper covered in dried beans or rice

Bake for 8 minutes or until edges are brown

Cool on a wire rack
Tip: You can brush a bit of egg white on the pie crust as soon as it comes out of the oven. The egg white will cook and create a seal to prevent the crust from getting soggy.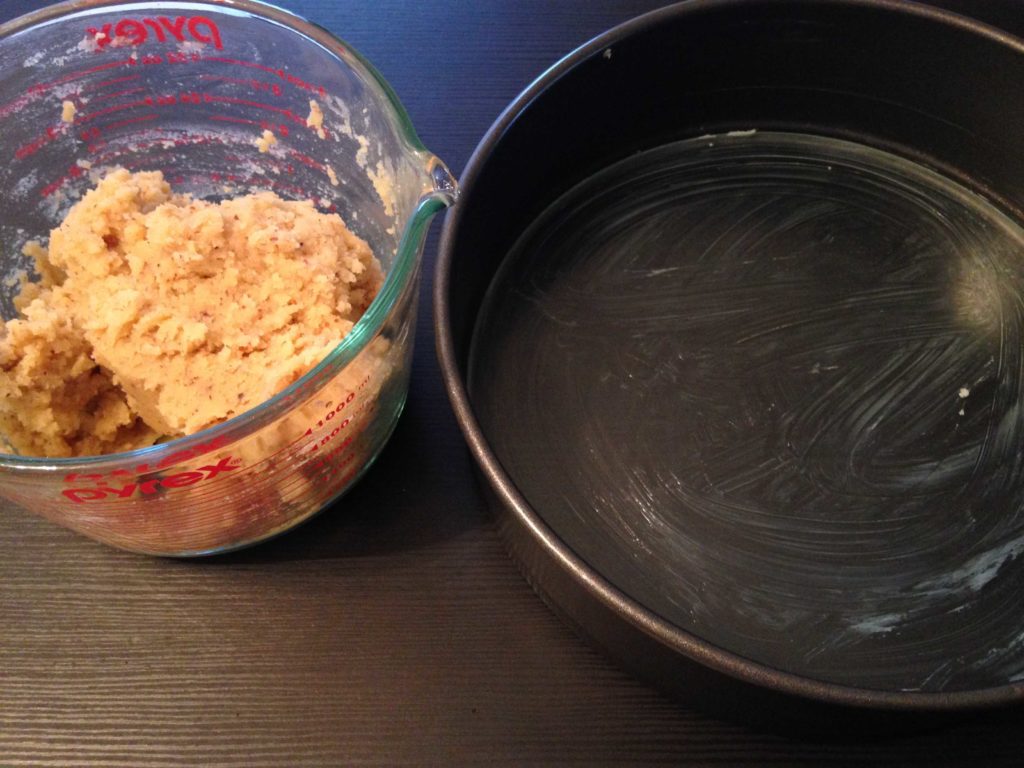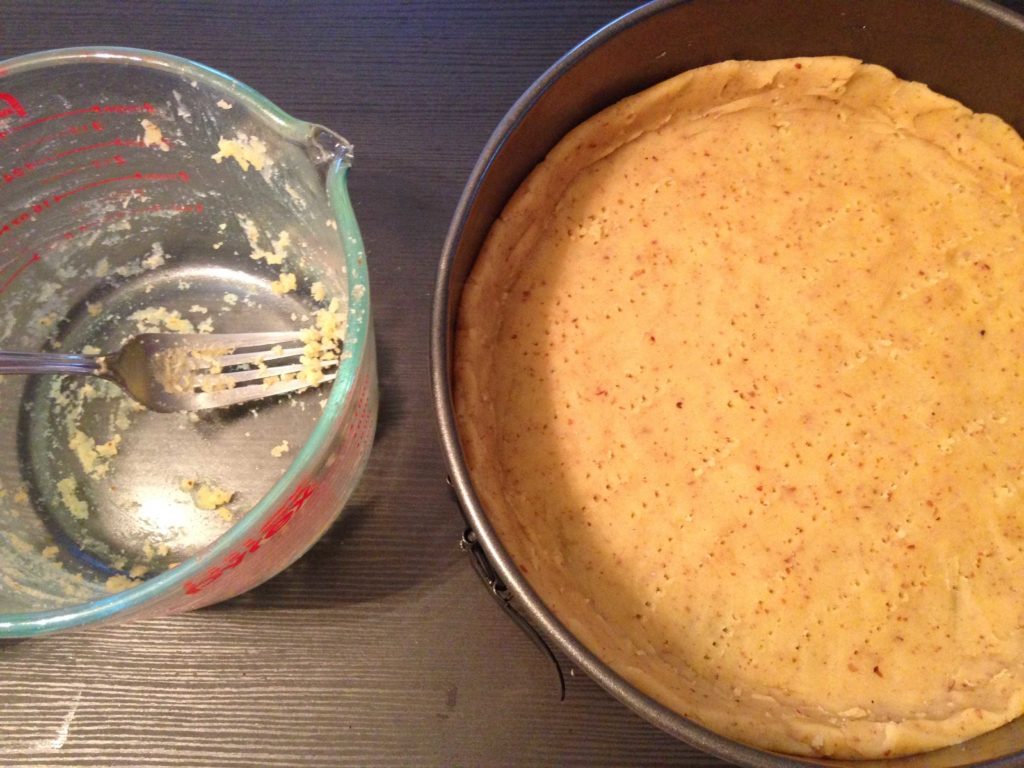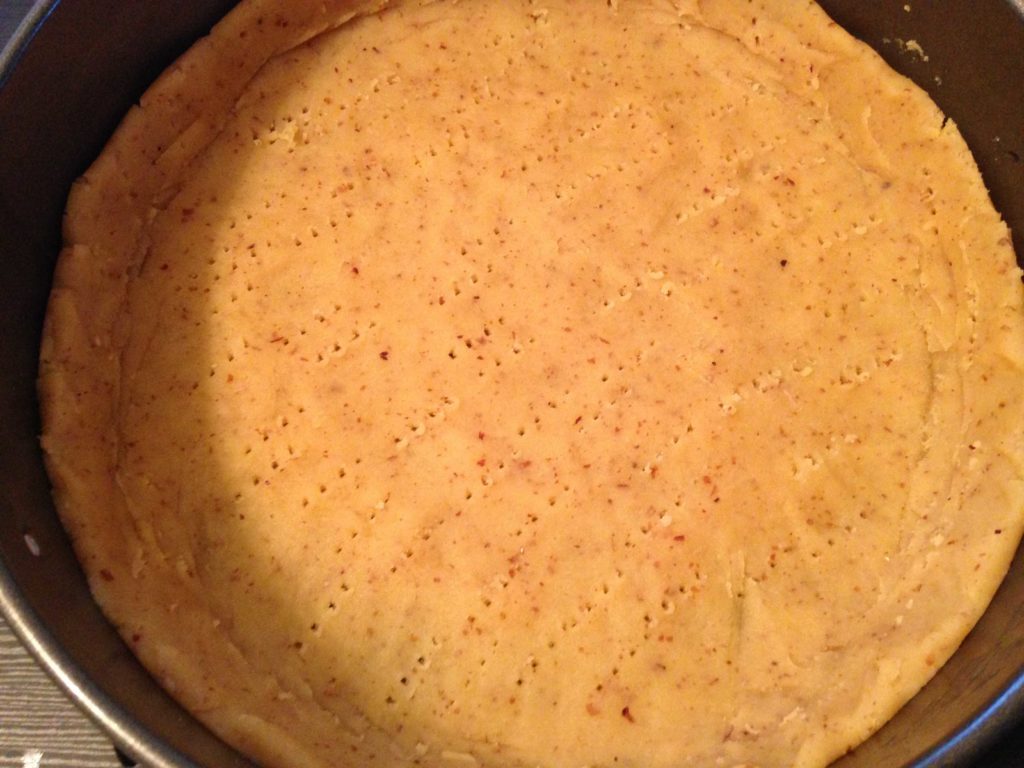 To make the filling:
Turn down oven to 325°F

Combine spices, salt and arrowroot/cornstarch and whisk with a fork until combined.

In a bowl, add pumpkin puree, eggs, and vanilla. Stir until combined.

Add spice mix and combine.

Add maple syrup and coconut milk and whisk until well combined.

Poor filling in cooled pie crust.

Bake pie for 45 minutes or until set in center and browned on top.

Let cool completely on wire rack and refrigerate 5 hours or overnight.

Enjoy with some coconut whipped cream and a spiced hot chocolate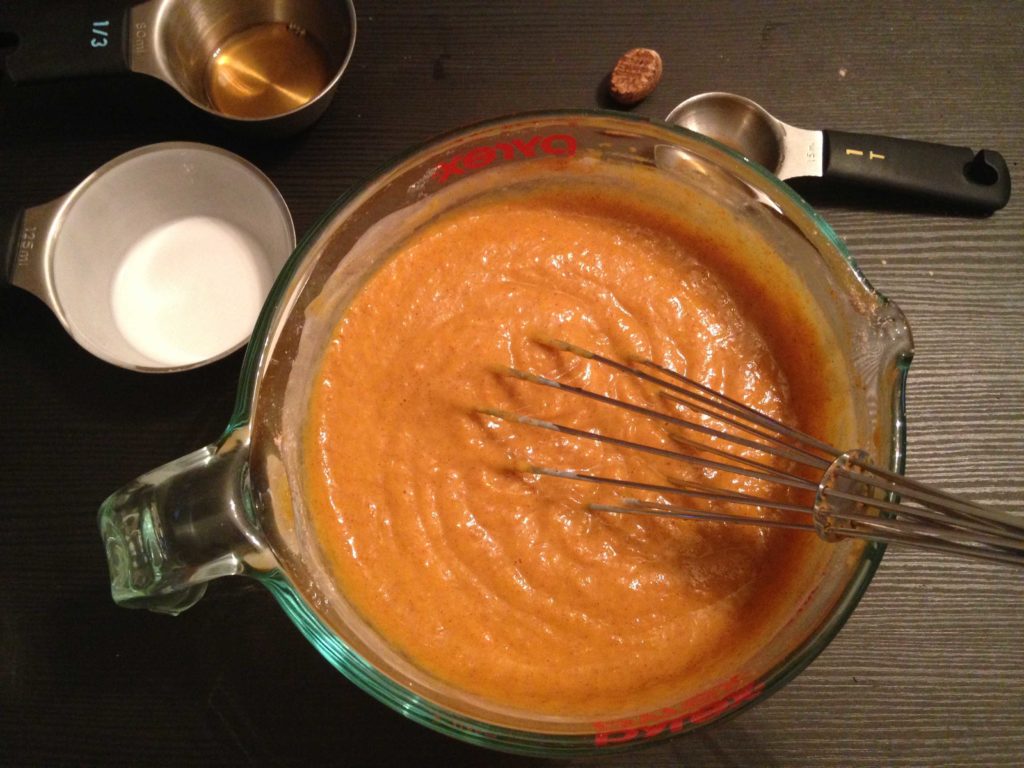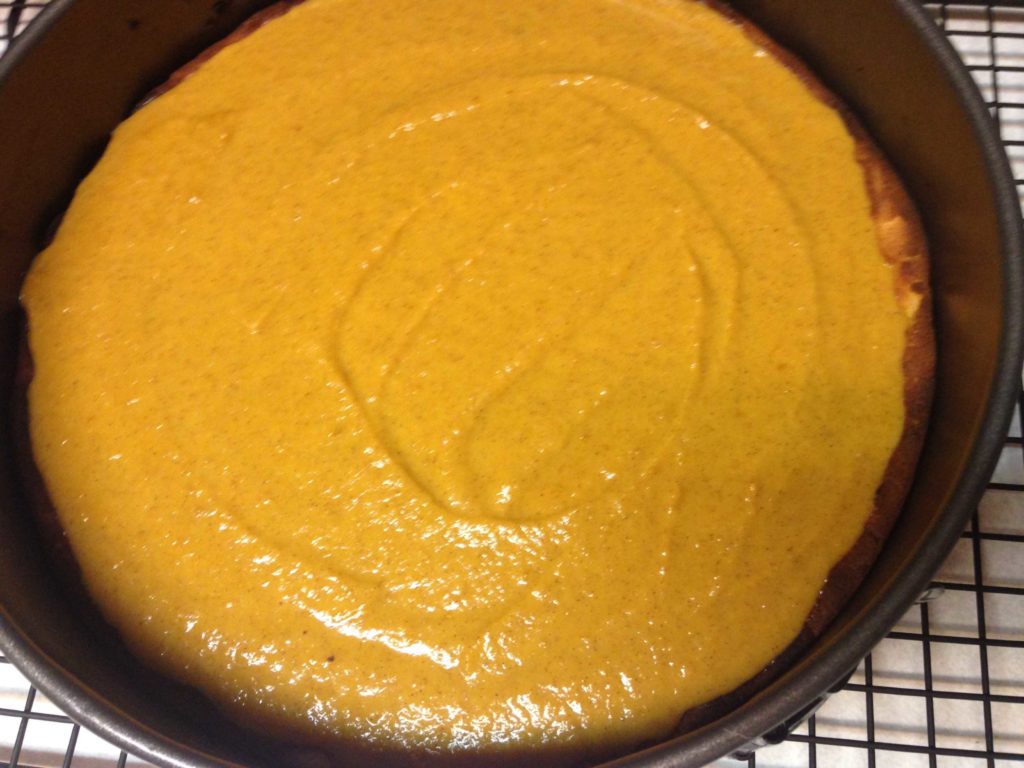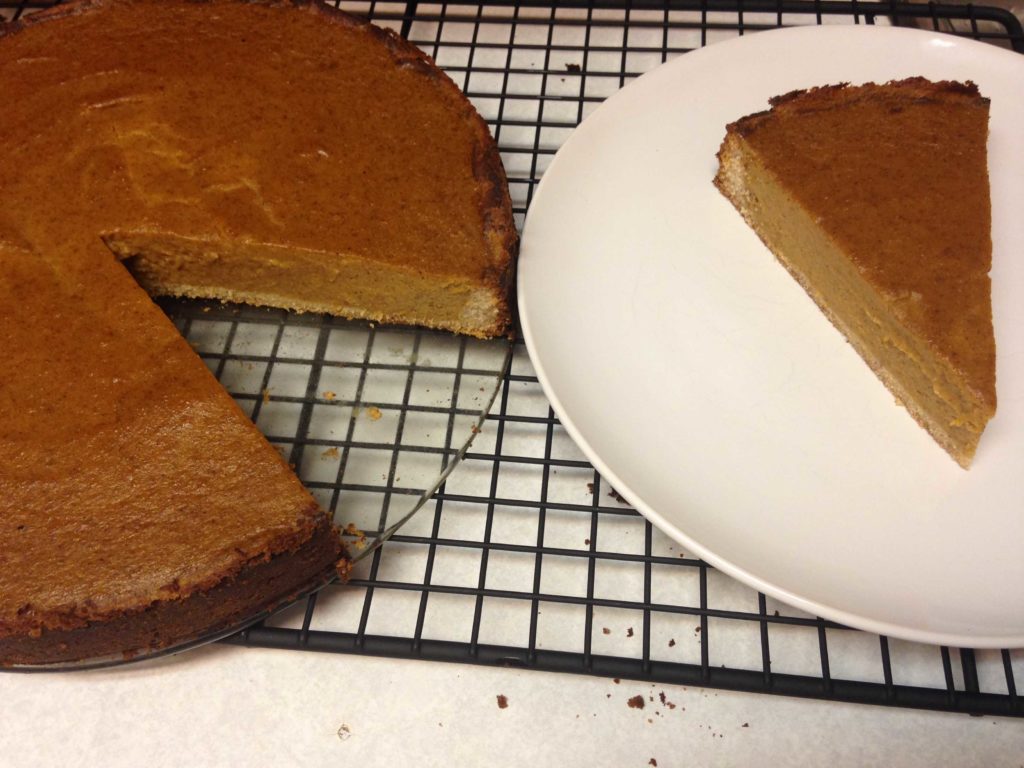 Bonus: No-Bake Vegan Version!
Sometimes, one does not have time to bake. This version is super fast, healthy, vegan and gluten free! You will need a food processor for this recipe but it requires no baking! You are essential making a no-bake crust with a pudding filling! I mostly use this recipe to make little pumpkin pie bites which are a perfect snack for the fall season 🙂
Ingredients
For the crust:
2 cups pitted dates (I use half medjool and half deglet noor)

2 cups nuts (I use 1 cup raw almonds and 1 cup toasted pecans)

¼ cup fine coconut flakes or oats

1 tbsp chia seeds

½ tsp cinnamon, cloves and nutmeg (pumpkin pie spice)
For the filling:
1 cup pumpkin puree

4 tbsp arrowroot or cornstarch

½ cup maple syrup (see note)

1 tsp cinnamon

1 tsp allspice (with a pinch of nutmeg and ginger)

½ tsp salt

1 ½ cups light coconut milk (or almond milk)

1 tsp vanilla extract

Note: Can use brown sugar or coconut sugar if add 1 tbsp extra coconut milk
Procedure
In this version, we are making the filling first to give it time to cool.
To make the filling:
Combine spices, salt and arrowroot/cornstarch in a large saucepan and whisk with a fork to combined.

Add maple syrup and pumpkin puree and whisk well

Incorporate coconut milk slowly and stir until well combined

Place pan over medium heat and bring to a soft bubble whisking often.

Continue mixing until thickened and pudding-like

Remove from heat, add vanilla extract and continue stirring for 5 minutes to cool down

Pour into a glass container and cover with plastic wrap on the surface of the pudding.

Let cool completely and refrigerate
To make the crust:
While the pudding is chilling, place dates in the food processor and process until a sticky ball forms.

Removes dates and process nuts, coconut flakes, chia seeds, spices and salt until fine and crumbly.

Add in dates and process to form a 'dough'

Press the dough in pie pan (I actually make about 12 cupcake sized pies)

Set in fridge until chilled (about 10 minutes because I don't like waiting longer than that!)

Once crust and filling are chilled, scoop filling in pie filling and spread over evenly.

Chill once more to fully set

ENJOY!
I hope you give these recipes a try this holiday season and remember to be thankful for the small things in life!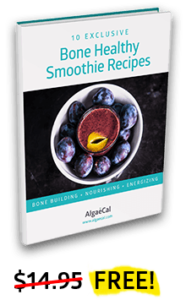 Looking for Fresh
New Smoothie Ideas?
Get your FREE eBook featuring healthy, tasty
and easy to make smoothies + extra bonuses!