3 Easy Health Tips to Avoid Getting a Santa Belly This Season

Can you believe 'tis the season already? As much as most of us do love the festive holidays, there's no denying that there is usually a price to be paid for all the good times.
The financial burden is a very real and serious issue for many this time of year. It's so easy to spend yourself into a hole throughout December.
But the dreaded double whammy is waking up in January to a vicious VISA bill e- and the suspicion that somehow all your clothes have shrunk!
Here at AlgaeCal we don't know much about financial matters. But we do know a few things about staying fit… so please read on to learn:
3 Easy Health Tips to…Avoid Getting a Santa Belly This Season
You've probably heard how the average American gains 0.4 to 1.8lbs every year during their adult lives. What's interesting is that statistics show the 0.4 to 1.8lbs is added in December, during the holidays. And despite the most sincere New Year's resolutions, the vast majority do not succeed in shedding the new pounds. (1)
Since holiday weight seems to stick around like a guest who won't leave, it makes good sense to try to avoid letting it in the door in the first place.
Here's how:
1. Never go to a Holiday Party Hungry: No doubt this sounds counter intuitive to having fun, but if you eat some wholesome foods at home then there is less opportunity to fill up on all the fatty and sugar rich foods typical of a festive feast.
Unfortunately it's not really possible to have your cake, eat it too, and not pay a price. But you can lessen the chances and the amount of overindulgence by pre eating at home. The good part on top of better health is it leaves more time for hanging around the mistletoe, or the piano singing carols!
2. Eat What Surrounds the Turkey or Ham: You will be sure to be invited back again (and be healthier for it) if you're a guest who fills your plate with the unsung heroes like brussel sprouts, salads, brazil nuts, spinach, celery and broccoli. Vitamin and mineral rich side dishes like these live in the shadow of the turkey or ham centerpiece so are often ignored. But pound for pound these are the real nutritional gems of the dinner table.
Filling up on these items creates several positive outcomes:
you are filling your body with the vitamins and minerals your body needs to thrive.
you will become too full to eat dessert, thereby doing yourself a very big favor. Sweets sure are hard to resist, but when January comes, you will be very glad you reduced your sugar intake.
you can tiptoe out of the party at a reasonable hour, undetected by guests napping from tryptophan laced turkey. Actually, turkey induced sleep is more myth than fact. It's the huge volume of carbs, sugar and alcohol at festive gatherings that is really responsible. (2)
Either way, you're good if you eat around the turkey!
3. Don't Deny Your Body Exercise: December is a renegade month, quite different from all the others. It's filled with many fun parties, shopping mall expeditions, out of town guests and the shortest, darkest days of the year.
These are all changes that interfere with your healthy habits. In fact, that's why when it comes to sticking to personal fitness goals, many say 'all bets are off' during the holidays.
And that is why the treadmills at the gym have big lineups in January.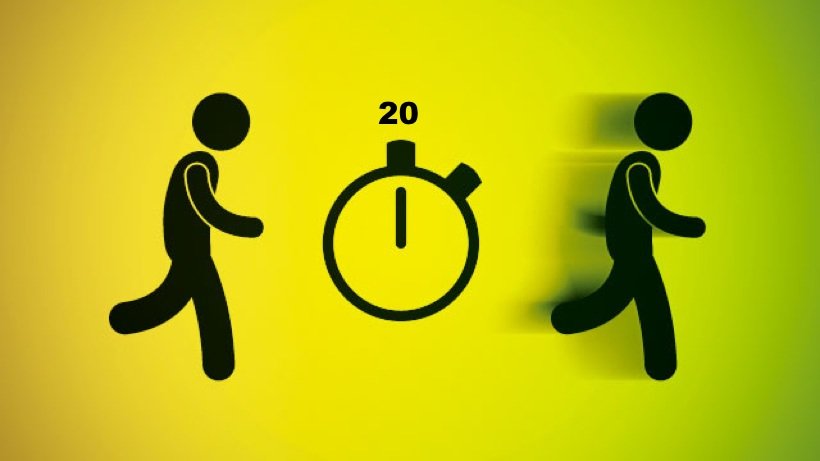 2 Percent Of Your Day Is the Way!
Most of us have about 16 waking hours every day to work with.
Thankfully, the latest fitness findings show that 20 short minutes (which is only 2 percent of 16 hours) is all the exercise you need, especially if you put your foot on the gas as you do it.
Several recent studies confirm that you burn fat much more quickly, and continually throughout the day, if you exercise briskly for 20 minutes, rather than leisurely for an hour. (3) This is great news and really worth remembering as you're trying to find the motivation and time to get to the gym.
Ever since I learned that you can get more by doing less, my workout consistency has increased. My inner voice has successfully got me out of bed and exercising more regularly with the very persuasive tactic "20 minutes? That's all?"
Consistency is one of the main pillars of reaching and maintaining your fitness goals. Recognizing this, and not compromising on it is a gift you can give to yourself, especially in December when we let our guard down.
Just keep reminding yourself that if you don't exercise, there is statistically a much greater chance you will get sick or injured, which will definitely rob you of lots more than 20 minutes! (4)
[Editor Note : Often our December diets get as crazy as a mall on Christmas eve, so making up for it with a top quality multi mineral plant calcium is just safe and affordable insurance. Try AlgaeCal Plus and Strontium Boost – heart friendly and organic, with a 97% absorption rate and the only one clinically supported to increase bone density..www.AlgaeCal.com ]
---
Sources:
1. http://news.bbc.co.uk/2/hi/health/687024.stm
2. Carroll, Aaron and Rachel Vreeman. Don't Swallow Your Gum! New York: St. Martin's Press, 2009. ISBN 0-312-53387-X (pp. 119-120).
3. https://www.sciencedaily.com/releases/2010/03/100311123639.htm
4. http://www.medicalnewstoday.com/articles/268034.php