Bone Healthy Recipe: Sweet Potatoes Stuffed With Black Bean And Corn Salad

Sweet potatoes are a storehouse of vitamins A and C and also boast a significant helping of manganese! The amount of Vitamin A that sweet potatoes have in just 200 grams adds up to 213% of your daily value! Several recent studies have shown the superior ability of sweet potatoes to raise your blood levels of vitamin A. And now that we know how much vitamin A is in each serving, we understand how it can have such an impact on your blood levels.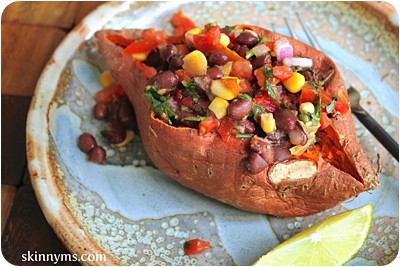 Not only does this dish have many vitamins and minerals that you need, it also has black beans, which provides 15 grams of protein and 15 grams of fibre in a one cup serving! No other food group has a more health supportive mix of proteins plus fibre than legumes. They not only give this dish the protein needed, but also gives it a nice hearty element to it as well.
Yield: 4 servings
Prep Time: 50 mins
Cook Time: 10 mins
Total Cook Time: 1 hour
Ingredients
4 small organic sweet potatoes, baked
1 (15 oz) can organic black beans, rinsed and drained
1 cup organic corn
3 organic green onions, thinly sliced
1/2 cup organic cilantro, chopped
For the Vinaigrette:
2 organic limes, zested and juiced
1 tablespoon cold-pressed extra virgin olive oil
2 teaspoons raw organic honey
2 teaspoons adobo sauce (from a can of chipotles in adobo)
1/2 teaspoon salt
1/2 teaspoon pepper
Directions
In a bowl, add the black beans, corn, onions, and cilantro
Stir to combine
In a smaller bowl, mix together the lime zest and juice, oil, honey, adobo, salt and pepper
Pour over the black bean mixture and toss to combine
Slice open the baked sweet potatoes and stuff potatoes with the chipotle black Bean and corn salad
Serve
---