Quinoa Stuffed Peppers

One of the most popular vegetable is…peppers! The main ingredient of this stuffed pepper dish is the bell pepper, which has a crunchy texture and is naturally sweet. Stuffed peppers are a fun and easy meal because you can pretty much put anything you want in them and they will turn out great! Also, bell peppers contains a high amount of Vitamin C; 1 cup of bell peppers have 156% of daily recommended intake.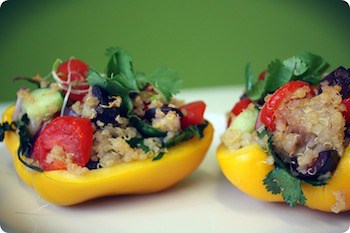 Yield : 4 servings
Prep Time : 20 mins
Cook Time : 1 hr
Total Cook : 1 hr and 20 mins
Ingredients
4 different colored organic peppers
1 cup of organic chickpeas
1/4 cup organic yellow onion, chopped
5 white organic mushrooms, sliced
1/2 cup of sliced black olives
1 clove organic garlic, chopped
1 cup organic quinoa Stuffed Peppers
1.5 cups of organic marinara sauce
1 tbsp. cold-pressed extra virgin olive oil
1 tbsp. italian spices
Salt and pepper to taste
4 slices mozzarella cheese
*Optional: lean ground turkey
Directions
Preheat oven to 350°F
Bring 2 cups of water to a boil and add quinoa, stirring occasionally until fluffy (about 20 minutes)
Cut the tops off of your peppers and scrape inside clean
Place peppers on tray and into the oven (20 minutes)
Saute onion, mushrooms, garlic and olive oil in pan
Add chickpeas, olives, quinoa, marinara sauce, italian seasoning and salt and pepper
Take out peppers and stuff with mixture
Top with cheese slices
Put peppers back in the oven for 10 minutes
*Did you know each color of pepper is associated with a different family of phytochemicals?
---