Bone Healthy Recipe: Paella

Paella is a Valencian rice dish that originated on the east coast of Spain. This recipe is a mixed paella that includes seafood and chicken. For all types of paellas olive oil is the basic cooking ingredient. According to the Olive Oil Times, olive oil helps calcium absorption and plays an important role in aiding sufferers and in preventing the onset of Osteoporosis.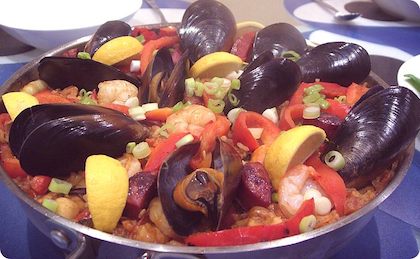 Saffron is also a traditional ingredient to this dish. Saffron is one of the most highly prized spices in the world. The active components in saffron have many therapeutic uses and boasts digestive properties and anti-oxidants. This spice is a good source of minerals such as calcium, potassium, manganese, iron and magnesium. If you've tried saffron before, then you know of its lovely distinct flavor! [1]
Yield: 4 – 6 servings
Prep Time: 30 mins
Cook Time: 1 hr
Total Cook Time: 1 hr 30 mins
Ingredients:
1 tsp. dried oregano
2 cloves organic garlic, minced
Salt and pepper to taste
3 tbsp. olive oil
1 pound organic grass-fed boneless, skinless chicken thighs
1/2 pound low-fat chorizo sausage
1 large organic onion, chopped
1 rorganic red bell pepper, chopped
2 1/4 cups long grain rice
4 cups low-sodium organic chicken broth
1/2 teaspoon saffron threads
2 cups (1 package) frozen organic peas
1 cup diced, organic tomatoes with their juices
1 pound wild shrimp, peeled and deveined
2 dozen cherrystone clams, scrubbed
2 pounds mussels, scrubbed
Directions:
Combine the oregano, garlic, salt and pepper with 1 tbsp. of olive oil and rub the chicken with it.
Heat 2 tbsp. of olive oil in a deep skillet over moderate heat. Brown the chicken lightly on both sides.
Add the chorizo, onion, green and red peppers and cook until the vegetables are soft, about 10 minutes.
Add the tomatoes and rice and cook 5 minutes more. Add the chicken broth and saffron, mix well, cover with foil and cook until the liquid is almost absorbed, about 15 minutes.
Add the shrimp, cherrystones, mussels and peas. Cover and cook until the mussels and clams are opened, about 10 minutes more.
Serve in a large shallow dish or in individual bowls.
---
SOURCES: