Bone Healthy Recipe: No Crust Spinach Pie

This no-crust spinach pie is a healthy and simple recipe to put in your lunch or dinner rotation! Spinach provides a fully loaded, nutrient-rich package in a small amount of calories. Dark leafy greens such as spinach are important for skin, hair and bone health and also provide iron and vitamins and minerals.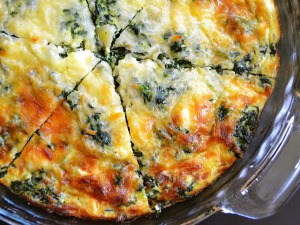 If you are worried about spinach being high in oxalates, don't be. While there have been studies indicating that oxalate foods such as spinach inhibit calcium absorption, the reduction is quite small and should not prevent you from eating spinach. The many valuable nutrients it contains far outweighs this concern. If you would like an alternative though, you can use kale instead, which also is a nutrient-dense vegetable boasting high amounts of calcium and vitamin K.

---
packed with bone-building vitamins and minerals.
Course
Main Course
Prep Time

20

minutes

Cook Time

40

minutes

Total Time

1

hour

Servings
4 servings
Instructions
Preheat oven to 350°F.
Heat oil in a heavy nonstick skillet over medium-high heat.
Sauté mushrooms and peppers 5-7 minutes, or until softened.
Let it cool.
Blend all ingredients together and season with salt and pepper to taste.
Pour into a buttered pan and top with cheese blend.
Bake for 40 minutes.
Enjoy!
Ingredients
2

tbsp

olive oil

cold-pressed extra virgin

1

cup

mushrooms

organic, sliced

1

cup

red bell pepper

organic, sliced

1

lb

ricotta cheese

9

ounces

spinach

frozen, organic, drained

4

eggs

organic

1

cup

grated cheese blend