Bone Healthy Recipe: Mediterranean Shrimp Casserole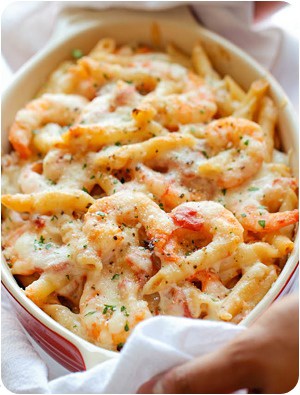 This recipe boasts 463 mg of calcium and 108 mg of magnesium all in this tasty dish!
Wild shrimp contains a significant amount of selenium (102% of your daily value) in just 4 ounces! Selenium is an important trace mineral in your body and is needed in small amounts for various functions. It has also been shown that selenium has a positive impact on bone and joint health. Another health benefit of wild shrimp is that it has astaxanthin, which is a carotenoid that is receiving notable attention from health research for both its anti-inflammatory and antioxidants properties. [1]
In addition to wild shrimp, this recipe adds plum tomatoes, crushed garlic and fresh herbs like cilantro or parsley – all these ingredients added together make a dish that is packed with vitamins and minerals in each bite!
Yield: 4 servings
Prep Time: 15 minutes
Cook Time: 25 minutes
Total Cook Time: 40 minutes
Ingredients
2 cups small whole wheat penne pasta
3 cloves organic garlic, crushed
1-1/4 lbs. organic plum tomatoes, coarsely chopped
1/3 cup white wine
5 ounces organic tomato sauce
1/8 tsp. cayenne pepper
11 ounces cooked wild shrimp, peeled, deveined, and drained
2/3 cup fresh organic cilantro or parsley finely chopped
1-1/3 cups Asiago cheese, grated
Directions
Preheat oven to 400°F
Cook pasta in a large pot of boiling water about 6 minutes, until partially cooked and drain
Combine garlic with juice from tomatoes and wine in saucepan over medium heat and bring to a boil, stirring frequently
Simmer 5-7 minutes, until most of liquid has evaporated. Stir in tomatoes, tomato sauce and cayenne. Bring to a boil
Add shrimp, pasta, dill and half the cheese. Mix thoroughly
Transfer to a shallow baking dish and sprinkle with the remaining cheese
Bake 15-20 minutes, or until heated through
---
Sources