Gluten-Free Quinoa Bites

You don't have to be a vegetarian to love these appetizers! These gluten-free quinoa bites are a great nutritious appetizer that can be made for a large gathering with friends, or a more quaint dinner with your loved one. The main ingredient, quinoa, was unfamiliar to many but the interest in quinoa has increased dramatically in recent years. Quinoa is a great source of the omega-3 fatty acids (which most commonly found in plants), vitamin E, protein, magnesium and phosphorous. [1] Most grains are considered to be inadequate protein sources – but not quinoa! Quinoa is a complete protein source that boasts many phytonutrients too!
Start cooking these tasty gluten-free quinoa bites today and let me know what you think!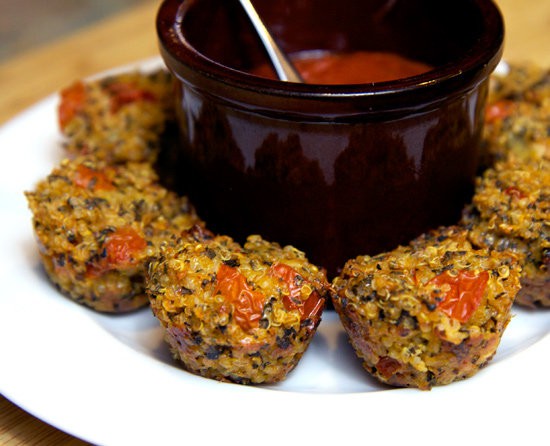 Yield: 24 mini muffins
Cook Time: 40 minutes
Calories Per Serving: 48
Ingredients
1 cup uncooked quinoa
2 large eggs
1 cup chopped onion
1 cup shredded mozzarella cheese
2 teaspoons minced garlic
1/2 cup fresh basil, chopped (or 2 tablespoons dried)
1/2 cup cherry tomatoes, diced
1/2 teaspoon salt
1 teaspoon paprika
1 teaspoon dried oregano
Pizza sauce for dipping
Directions:
Preheat oven to 350 degrees
Place the quinoa and two cups of water in a covered pot. Bring to boil and then simmer for 20 minutes or until quinoa is tender
Mix together all ingredients, except pizza sauce, in a medium mixing bowl
Distribute mixture into a greased mini muffin tin, filling each cup to the top (one heaping tablespoon each), and press down gently to compact
Bake for 15 to 20 minutes. Cool for 10 minutes before removing from the pan
Serve warm with sauce for dipping
---
Reference
http://whfoods.org/genpage.php?tname=foodspice&dbid=142