2016 Dirty Dozen: The 12 Fruits And Veggies With The Most Pesticides

The Environmental Working Group (EWG) came out with their annual report yesterday: The Shopper's Guide to Pesticides in Produce.
Each year they test thousands of samples of produce to find out how many synthetic chemicals are really in conventional produce.
Their mission is to make it easier for you to decide what foods are worth spending extra for when it comes to organic produce.
It's best to buy organic produce whenever possible, but sometimes you might not always have the choice even if you wanted to. (Depending on the time of year or where you live).
So let's see just how many pesticides are on your conventional fruits and veggies this year.
The Dirty Dozen
"More than 98 percent of strawberry samples, peaches, nectarines, and apples tested positive for at least one pesticide residue." These four fruits topped The Dirty Dozen List. And with strawberries owning the number 1 spot this year, they found that single samples of strawberries showed 17 different pesticides.
You may be thinking, "That's ok! I wash my all my fruits and veggies." But these pesticides stayed on fruits and veggies even after washing. And for some, even after peeling!
The Dirty Dozen:
Strawberries
Apples
Nectarines
Peaches
Celery
Grapes
Cherries
Spinach
Tomatoes
Sweet Bell Peppers
Cherry Tomatoes
Cucumbers
But there is some good news…
The Clean Fifteen
The EWG also puts together a list called The Clean Fifteen. This list shows produce that is least likely to hold pesticide residue. In fact, relatively few pesticides were on these foods. Take avocados for instance (which were declared #1 on the list). It was found that, "only 1 percent of avocado samples showed any detectable pesticides."
Avocados
Sweet Corn
Pineapples
Cabbage
Sweet Peas, Frozen
Onions
Asparagus
Mangos
Papayas
Kiwi
Eggplant
Honeydew Melon
Grapefruit
Cantaloupe
Cauliflower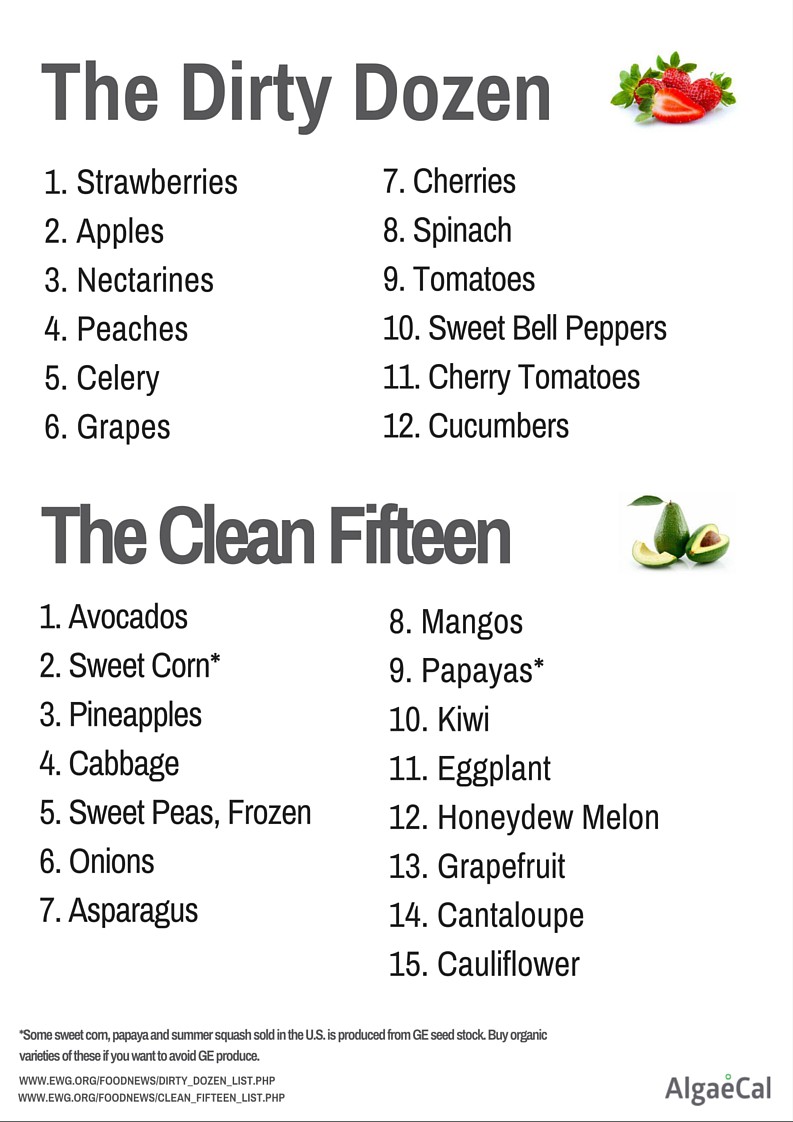 Personally, I like to use these lists when I go grocery shopping. It helps me be realistic about the foods I should go organic for and others that I probably don't have to (like the ones of The Clean Fifteen list). So I've created a downloadable (and printable) PDF for you to have, too!
Download the printable PDF of The Dirty Dozen and Clean Fifteen.