Citracal Plus Calcium Compared to AlgaeCal Plus
Citracal calcium is calcium citrate (chemically bound) to citric acid in order to offer slightly higher bio-availability than it's main competitor, calcium carbonate. Citracal is one of the leading selling brands of calcium with many celebrities seen in their advertising campaigns, but if you look closely at laboratory-made Citracal you will see that it does not compare to organic, whole food, plant-sourced AlgaeCal.
A Closer Look at the Citracal Plus and AlgaeCal Plus Formulas
| Nutritional Information | Citracal Plus with Magnesium | AlgaeCal Plus |
| --- | --- | --- |
| Daily Dosage | 2 tablets | 4 capsules |
| Calcium | 500 mg | 720 mg (from algae) |
| Magnesium | 80 mg | 350 mg |
| Vitamin D | 250 iu (D3 Cholecalciferol) | 1600 iu (D3 Cholecalciferol) |
| Vitamin K2 | – | 100 mcg (as Mk-7) |
| Trace Minerals | – | 1464 mg (from algae) |
| Zinc | 10 mg | within trace minerals |
| Manganese | 1 mg | within trace minerals |
| Copper | 1 mg | within trace minerals |
| Boron | 1 mg | within trace minerals |
Major Differences
Calcium – AlgaeCal is organic plant source calcium from marine algae – Citracal is inorganic and laboratory made. AlgaeCal is a naturally occurring calcium and mineral supplement, what you rather put in your body?
Vitamin K2 – AlgaeCal is formulated with vitamin K2, a vitamin that has been clinically proven to provide extraordinary benefits for bone health and cardiovascular health.
The reason that you will not find Vitamin K2 in most supplements including Citracal is because It costs $1.5 million per kilogram so most supplement companies find that it is not cost effective to include in their formulas more info on Vitamin K2.
Vitamin D – In 2006, three significant research papers were published in peer-reviewed medical journals by different respected authors, each coming to the same conclusion. You need more vitamin D than the recommended daily amount for adults of 400 IU per day – actually much more.1-3 A daily serving of AlgaeCal gives you 1600 IU of Vitamin D3 where Citracal Plus with Magnesium only gives you 250 IU of Vitamin D3 in a daily dosage.
Tablets – Citracal comes in tablet form rather than veggie capsules, and tablets are a less bio-available delivery system.4 The tableting requires many additives of questionable value such as "cellulose, crospovidone, FD and C blue No. 2, red No. 40, and yellow No. 6, Magnesium Stearate, polysorbate, povidone, sodium croscarmellose, starch, sucrose, titanium dioxide, triacetin".
More Reasons to Choose AlgaeCal Plus over Citracal
The AlgaeCal formula is clinically proven to GROW bone, see the results from the AlgaeCal Bone Health Program
AlgaeCal offers an iron clad guarantee! Guaranteed bone growth within 180 days or your money back.
If you are serious about your health and are concerned about bone health then you have to consider the facts. Citracal calcium does not contain the clinically proven bone building ingredient Vitamin K2 and lacks the adequate amount of Vitamin D. Also, the calcium form does not compare to organic, whole food, plant-source AlgaeCal.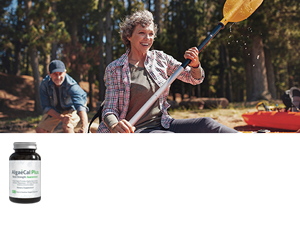 ---
References
Bischoff-Ferrari, H.A., et al. 2004. Effect of vitamin D on falls: A meta-analysis. Journal of the American Medical Association 291(April 28):1999-2006
Heaney RP, Dowell MS, Hale CA, Bendich A. Calcium absorption varies within the reference range for serum 25-hydroxyvitamin D. J Am Coll Nutr. 2003;22(2):142-146. (PubMed)
Holick MF. Vitamin D deficiency: what a pain it is. Mayo Clin Proc. 2003;78(12):1457-1459
Heaney RP. Factors influencing the measurement of bioavailability, taking calcium as a model. J Nutr. 2001 Apr;131(4 Suppl):1344S-8S