Reclast Side Effects – Reclast (Zoledronic Acid) for Osteoporosis
History of Reclast (Zoledronic Acid)
In 2007, Novartis received Federal Drug Administration approval for Reclast in the treatment of post-menopausal osteoporosis. It has had FDA approval for use in treating Paget's disease since 2001. Reclast is given as a single treatment once per year by an infusion into a vein that takes about 15 minutes. It must be administered by a doctor or nurse. You should plan to drink at least two glasses of fluid such as water within a few hours of receiving Reclast, and take 1200 mg. of calcium in divided doses and 400-800 IU of vitamin D tablets every day.
Reclast can be a good option for those who have taken oral bisphosphonates such as Boniva, Fosamax or Actonel and had gastrointestinal or esophageal issues. Since Reclast does not travel through your intestinal tract, patients usually do not have side effects relating to the stomach or esophagus.
Evidence Reclast is Working
A patient will not feel bisphosphonates working in his or her body, but progress can be monitored with a bone mineral density (BMD) test commonly called a Dexa scan. A Dexa scan is far more accurate than a regular X-ray or CAT scan and uses much less radiation. Increases in bone mass can be seen in as little as three months after therapy has started, but your doctor will recommend the frequency for any ongoing BMD tests.
he Recurrent Fracture Trial published in the New England Journal of Medicine in 2008 showed a significant 35% reduction in the risk of new clinical fractures in patients treated with Reclast. Patients participating in the study had previous hip, vertebral or other fractures. The study showed a 70% reduction in vertebral fractures and a 41 % reduction in hip fractures compared to those taking a placebo.
Reclast Side Effects
You should not take Reclast if you are already taking Zometa, as they are both the same medicine containing zoledronic acid. You should also not take Reclast if you:
Have a blood calcium level that is too low
Have kidney problems
Are not able to take daily calcium and vitamin D tablets
Have had parathyroid or thyroid surgery
Have a malabsorption syndrome
Had sections of your intestines removed
The most common side effects of Reclast include:
flu-like symptoms
fever
muscle, bone or joint pain
headache
low blood calcium evidenced by numbness, a tingling feeling or muscle spasms
asthma symptoms in aspirin-sensitive patients
Usually these side effects only occur for a few days after treatment.
With any type of bisphosphonate, you may be at an increased risk for jawbone problems known as osteonecrosis. Also called jawbone death, a small number of patients who had a tooth pulled or crowns or implants installed while taking bisphosphonates experienced pain and the inability of the jaw to heal. This is more common in bone cancer patients who are taking larger quantities intravenously, but there have been reports of osteonecrosis among those taking smaller quantities as well. It is always a good idea to have a complete dental exam and take care of any invasive dental procedures before starting treatment with a bisphosphonate.
Natural Alternative to Bisphosphonates
The AlgaeCal Bone Health Program is a natural osteoporosis treatment that combines AlgaeCal Plus, Strontium Boost and weight bearing exercise.
AlgaeCal Plus is the world's only pure plant source calcium. It also includes magnesium, trace minerals, vitamin D3 and vitamin k2.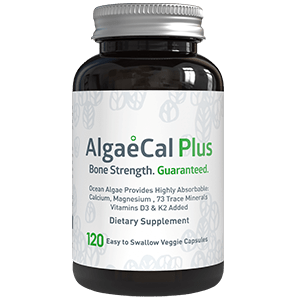 Strontium Boost is a supplement consisting of strontium citrate, learn more about strontium, a powerful bone building mineral.
AlgaeCal Plus and Strontium Boost are currently being clinically studied with excellent results in treating osteoporosis. Learn more about this natural osteoporosis treatment called the AlgaeCal Bone Health Program