Didronel Side Effects – Didronel (Etidronate) for Osteoporosis
History of Didronel (Etidronate)
Manufactured by Procter and Gamble Pharmaceuticals, Didronel is used in the treatment of Paget's disease as well as to prevent abnormal bone formation after a total hip replacement or spinal cord injury. It has not been approved by the FDA as a treatment for osteoporosis, although many doctors appear to prescribe it for this purpose. Didronel works by slowing the buildup of new bone as well as slowing the breakdown of old bones. This is very useful for treating Paget's disease where bone is broken down too quickly and the new bone is improperly formed. Bones affected by Paget's disease such as the skull, spine and legs become deformed and weaker than normal, so they can bend and break easily. Didronel is part of a class of drugs known as bisphosphonates, whose benefits in increasing bone density were discovered about 30 years ago.
Evidence Didronel is Working
A patient will not feel bisphosphonates working in his or her body, but progress can be monitored with a bone mineral density (BMD) test commonly called a Dexa scan. A Dexa scan is far more accurate than a regular X-ray or CAT scan and uses much less radiation. Increases in bone mass can be seen in as little as three months after therapy has started, but your doctor will recommend the frequency for any ongoing BMD tests.
A 2003 published in Clinical Rheumatology by Mickael Rousiere, M.D., et al, found that "the potent bisphosphonates have proven their efficacy in reducing symptoms and (Paget's) disease activity. They are currently used as the first-line treatment with the goal of normalizing bone remodeling and, hopefully, preventing late complications."
Didronel Side Effects
Possible side effects of Didronel include the following:
nausea
diarrhea
headache
bone/joint/muscle pain
painful swallowing
jaw pain
mental/mood changes
leg cramps
skin numbness/tingling
stomach pain
hair loss
You should notify your doctor if you have a history of kidney disease, difficulty swallowing, an ulcer in the esophagus/stomach, colitis or other digestive disorders, low calcium levels or Vitamin D deficiency.
With any type of bisphosphonate, you may be at an increased risk for jawbone problems known as osteonecrosis. Also called jawbone death, a small number of patients who had a tooth pulled or crowns or implants installed while taking bisphosphonates experienced pain and the inability of the jaw to heal. This is more common in bone cancer patients who are taking larger quantities intravenously, but there have been reports of osteonecrosis among those taking smaller quantities orally as well. Symptoms of osteonecrosis include:
jaw pain
swelling
numbness
loose teeth
gum infection
slow healing after surgery involving the gums
It is always a good idea to have a complete dental exam and take care of any invasive dental procedures before starting treatment with a bisphosphonate.
High dose or continuous use of Didronel can cause another bone disease called osteomalacia. Like osteoporosis, osteomalacia can lead to weak bones with increased risk of fractures. Therefore, Didronel should only prescribed in small doses and in a cyclic fashion.
Natural Alternative to Bisphosphonates
The AlgaeCal Bone Health Program is a natural osteoporosis treatment that combines AlgaeCal Plus, Strontium Boost and weight bearing exercise.
AlgaeCal Plus is the world's only pure plant source calcium and It also includes magnesium, trace minerals, vitamin D3 and vitamin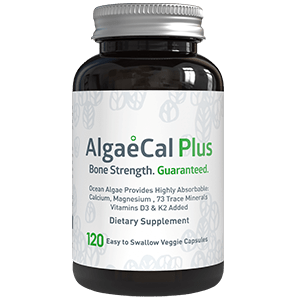 k2. Strontium Boost is a supplement consisting of strontium citrate, learn more about strontium, a powerful bone building mineral.
AlgaeCal Plus and Strontium Boost are currently being clinically studied with excellent results in treating osteoporosis. Learn more about this natural osteoporosis treatment called the AlgaeCal Bone Health Program