Boniva Side Effects – Boniva (Ibandronate) for Osteoporosis
History of Boniva (Ibandronate)
Boniva was developed by Roche Laboratories and comes in two forms, a pill or injectable. It is a type of bisphosphonate and can be taken daily or monthly. Boniva was approved for the treatment of osteoporosis and Paget's disease in 2003. Bisphosphonates such as Boniva became more popular in the treating of osteoporosis after the long-term use of hormone replacement drugs was discouraged by researchers. Today respected actress Sally Field is the spokesperson for Boniva in ads targeted to the 44 million Americans over the age of 50 who have osteoporosis.
Evidence Boniva is Working
A patient will not feel bisphosphonates working in his or her body, but progress can be monitored with a bone mineral density (BMD) test commonly called a DEXa scan. A DEXA scan is far more accurate than a regular X-ray or CAT scan and uses much less radiation. Increases in bone mass can be seen in as little as three months after therapy has started, but your doctor will recommend the frequency for any ongoing BMD tests.
A 2004 study called "Effects of Oral Ibandronate Administered Daily or Intermittently on Fracture Risk in Postmenopausal Osteoporosis" was published in the Journal of Bone and Mineral Research by Charles Chestnut III, et al. They found a "significant reduction in incident vertebral fracture risk by 62% and 50%, respectively, after 3 years."
Boniva Side Effects
You should not take Boniva if you:
Have low blood calcium
Cannot sit or stand up for at least one hour
Have kidneys that are not working properly
Possible side effects for Boniva include:
Upset stomach
rashes
difficulty breathing
back pain
muscle or joint pain
upper respiratory infections
bronchitis
urinary tract infections
pain or trouble swallowing
heartburn
ulcers in your stomach or esophagus
With any type of bisphosphonate, you may be at an increased risk for jawbone problems known as osteonecrosis. Also called jawbone death, a small number of patients who had a tooth pulled or crowns or implants installed while taking bisphosphonates experienced pain and the inability of the jaw to heal. This is more common in bone cancer patients who are taking larger quantities intravenously, but there have been reports of osteonecrosis among those taking smaller quantities orally as well.
Symptoms of osteonecrosis include:
jaw pain
swelling
numbness
loose teeth
gum infection
slow healing after surgery involving the gums
It is always a good idea to have a complete dental exam and take care of any invasive dental procedures before starting treatment with a bisphosphonate. This class of drugs has a half life of at least 10 years, so even after you discontinue taking them their effects can still put you at risk for jawbone problems after an invasive dental procedure.
Products containing calcium or other minerals such as aluminum, magnesium or iron can interfere with the absorption of Boniva. Boniva should be taken at least 60 minutes before ingesting supplements, vitamins or antacids containing these minerals.
Natural Alternative to Bisphosphonates
The AlgaeCal Bone Health Program is a natural osteoporosis treatment that combines AlgaeCal Plus, Strontium Boost and weight bearing exercise.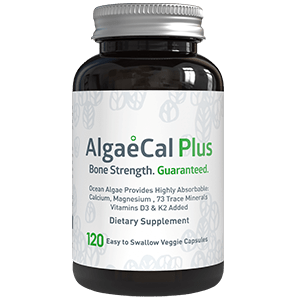 AlgaeCal Plus is the world's only pure plant source calcium. It also includes magnesium, trace minerals, vitamin D3 and vitamin k2. Strontium Boost is a supplement consisting of strontium citrate, learn more about strontium, a powerful bone building mineral.
AlgaeCal Plus and Strontium Boost are currently being clinically studied with excellent results in treating osteoporosis. Learn more about this natural osteoporosis treatment called the AlgaeCal Bone Health Program.